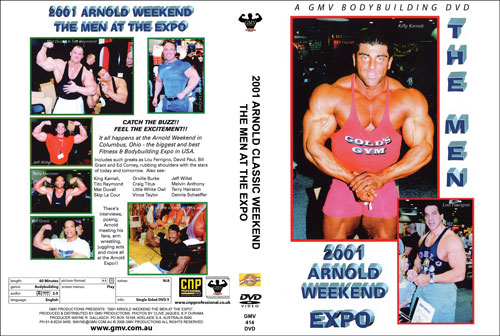 Click here for preview.

2001 Arnold Weekend: The Men at the Expo
Also on Digital Download.

CATCH THE BUZZ!! FEEL THE EXCITEMENT OF THE ARNOLD WEEKEND EXPERIENCE!!

It all happens at the Arnold Weekend in Columbus, Ohio at the biggest and best Fitness & Bodybuilding Expo in the world.

You will see such greats as Lou Ferrigno (lower front cover), David Paul, Bill Grant and Ed Corney, rubbing shoulders with the stars of today and stars of the future. GMV captures posing and/or interviews with all of these stars.

You also see the following big names in this feature:

King Kamali (upper front cover)
Tito Raymond
Mat Duvall
Skip La Cour
Orville Burke
Craig Titus
Little White Owl
Vince Taylor
Jeff Willet
Melvin Anthony
Terry Hairston
Dennis Schaeffer
Our other 2001 Arnold Classic Weekend DVDs are as follows:

2001 Arnold Classic Prejudging, Finals and Pump Room, click here for GMV-412DVD
2001 Ms International, Complete Prejudging, click here for GMV-415DVD
2001 Ms International Pump Room and Contest Posing, click here for GMV-416DVD
2001 Fitness International Prejudging, Pump Room and Backstage, click here for GMV-417DVD
2001 Arnold Weekend - The Women at the Expo, click here for GMV-413DVD
GMV has shot video at the Arnold Classic most years since 2001.
No known video release exists from the years 2003 to 2005.

Click here to see our COMPLETE INDEX LISTING OF ALL ARNOLD CLASSIC DVDs.

Running time: 60 mins

NTSC DVD, OPEN REGION

Customers who viewed this DVD also viewed:







Click here for GMV Productions complete list of Male Muscle DVDs.