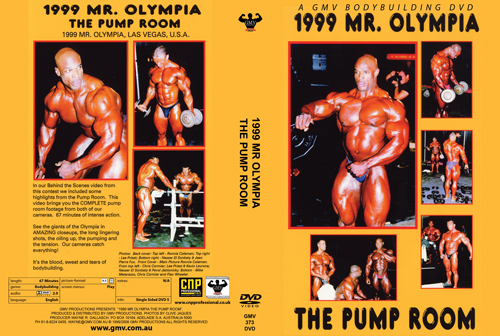 1999 Mr. Olympia: The Complete Pump Room
In our other Behind the Scenes & Pump Room DVD from this contest - the 1999 Olympia, GMV-358DVD, we included some brief highlights from the Pump Room, plus Expo and Muscle Beach footage. However this new DVD GMV-373DVD brings you the COMPLETE HARDCORE PUMP ROOM footage ONLY, from both of our cameras in the pump room. IT IS ENTIRELY NEW and DIFFERENT.

See 67 minutes of intense hard core pumping action with every second included that we shot in the back stage pumpup area.

You will also see the giants of the Olympia in AMAZING closeups, the oiling up, the pumping and the tension. Our cameras catch everything!
See photos below by Clive Jaques of GMV.

It's the blood, sweat and tears of bodybuilding. Includes the following stars, listed below in RESULTS order:

RESULTS:
Ronnie Coleman (1), Flex Wheeler (2), Chris Cormier (3), Kevin Levrone (4), Shawn Ray (5), Nasser El Sonbaty (6), Paul Dillett (7), Lee Priest (8), Dexter Jackson (9), Milos Sarcev (10). Also shown: Jay Cutler, Jean-Pierre Fux, Pavol Jablonicky, Mike Matarazzo, Markus Ruhl, Ernie Taylor.

This DVD is 100% Pump Room. Some very brief scenes from this DVD are included in our other DVD from Behind the Scenes which is GMV-358DVD, as stated above.

1999 Mr Olympia Pump Room & Behind the Scenes

This is an historic DVD of the stars of bodybuilding being our first ever Mr. Olympia Pump Room and Behind the Scenes DVD!! Enjoy all the excitement, drama and heavy back stage muscle action on show at the '99 Mr. Olympia.

Held at the Mandalay Bay Resort and Casino in Las Vegas in October 1999, this was our premiere Mr Olympia pump room video. Get up close and personal with all 16 Mr Olympia competitors in the pump room, as they prepare to go out on stage.
Click here for the FLEX WHEELER PHOTO GALLERY & BIO.

Running time: 67 mins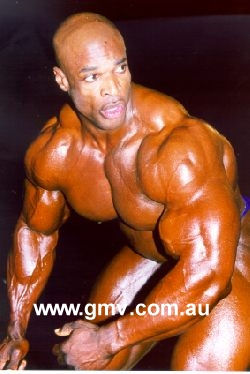 Ronnie "The King" Coleman
Lee Priest & Kevin Levrone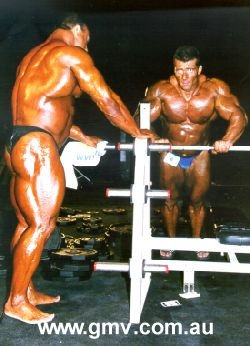 Nasser El Sonbaty & Jean Pierre Fux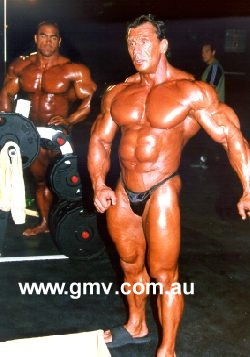 Nasser El Sonbaty & Pavel Jablonicky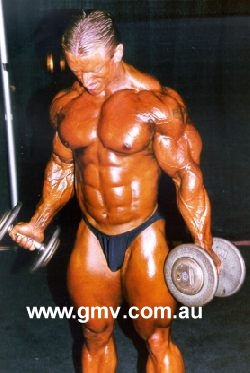 Lee Priest
Customers who viewed this DVD also viewed:



Click here
for GMV Productions complete list of Male Muscle DVDs.