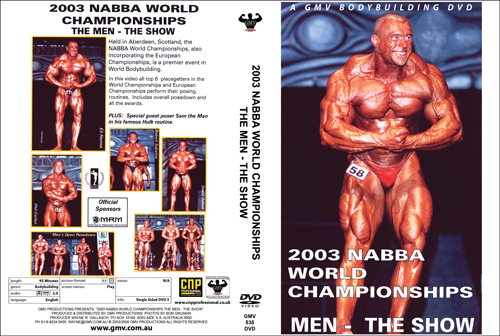 2003 NABBA World Championships: The Men - The Show

Held in Aberdeen, Scotland, the NABBA World Championships, also incorporating the European Championships, is a premier event in World Bodybuilding.
In this DVD all top 6 placegetters in the World Championships and European Championships perform their posing routines. Includes overall posedown and all the awards.

Running time: 95 mins
RESULTS
Men's Masters Over 50
1 Earl Maduro Holland
2 Dmitriy Doukor Israel
3 Ronny De Winter Belgium
4 Antonio Silva Brazil
Men's Masters: Over 40
1 Robert Sabatini Canada
2 Jan De Weerd Holland
3 Glen Purtell Australia
4 John Lee UK
5 Philippe Merit France
6 Corrie Bufton UK
7 John Citrone UK
8 Eugeno Spigno Italy
DNP, Alexandris, Gerhard Frank, Rene Van Den Bussche, Soika Zvika, George Gillan, Barry Smith, Peter Weber, Anders Dengtsson
MEN'S JUNIORS
1 Geoff Baston UK
2 Logan Robson Australia
3 Sheremeta Svyatoslav Ukraine
4 Leendert Van Delft Holland
5 Giantzoglou Greece
6 Mark Van Niekerk Scotland
7 Silash Chauhan UK
8 Stuart Garrington UK
MEN'S OPEN CLASS 4 - SHORT
1 David Dahan France
2 Ribamar Guedes Brazil
3 Steve Thompson UK
4 Luigi Tuosto Italy
5 Gary Pettersen UK
6 Jerry Koolhoven Holland
7 David Griffith UK
8 Rob Bell UK
DNP: Niall McKinley, Simon Horsell, Valeriy Svarychevskyy
MEN'S OPEN CLASS 3 - MEDIUM SHORT
1 Phil Carlon UK
2 Roy Pattison UK
3 Fernando Almeida Brazil
4 Dave Steele UK
5 Mavrodimos Greece
6 Emmanuel Patrikowski France
7 Daniele Furiosi Italy
DNP: Jeorg Fuchs, Robby Marabito, Stephen Bogle, Mark Taylor, Harry White, Andriy Khomyak, Vitaliy Kalensky
MEN'S OPEN CLASS 2 - MEDIUM TALL
1 Sergiy Dukhota Ukraine
2 Eric Overdevest Holland
3 Rob Ammersdorffer Holland
4 Luke Nichols UK
5 Barry Chamberlain UK
6 Barrie Vormawah UK
7 Jon Bridge UK
8 Mike Donnelly UK
DNP: Liam Stewart, Michael Cederqvist, Yuriy Dyetskov
MEN'S OPEN CLASS 1 - TALL
1 Eli Hanna Israel
2 Oleg Protas Ukraine
3 H Parden Holland
4 Oleg Larionov Russia
5 Stephane Machovic France
6 Antonio Bonardi Italy
7 Michael Cadogan Wales
DNP: Kors Littenbogaard, Varlik Fatih, Daniel Struller, Ralf Domke, Brendan Bradley, Olivier Van Vooren, Steven Baker, Bev Parkinson, Thierry Bidault
OVERALL CHAMPION - SERGIY DUKHOTA
MS. FIGURE CLASS 1 TALL
1 Cherie Loomes South Africa
2 Edyta Capriotti Italy
3 Karen Bricklebank UK
4 Victoria Zabourdiaeva Russia
5 Avril Cunliffe Scotland
6 Diane Shipway Australia
7 Marie Ripert France
8 Lorraine March Australia
9 Samora Schrejer Holland
DNP: Jalaine Ulsh, Valeria Aprobato, Lynne Harrison
MS FIGURE CLASS 2 SHORT
1 Lorena Bucci Italy
2 Lucie Walther Germany
3 Fiavia Crisostomo Brazil
4 Luciane Vieira Brazil
5 Flora Conte Italy
6 Romina Paoli Austria
7 Julie Waite UK
8 Lisa Mann N. Ireland
DNP: Noreen McCullough, Sue White, Angela McCluskey, Inna Bykovska, Elaine Thorpe
OVERALL FIGURE CHAMPION - CHERIE LOOMES
MS. PHYSIQUE
1 Anette Trumpa Germany
2 Desiree Dumpel Holland
3 Galina Podolneva Russia
4 Nathalie Wauts Belgium

NTSC DVD, OPEN REGION

Customers who viewed this DVD also viewed:







Click here for GMV Productions complete list of Male Muscle DVDs.