2000 NABBA Universe: The Men's Pump Room
Also Available as a Digital Download
The Millennium Universe in 2000 - with a record number of countries represented. In the cramped confines of the Pump Area back stage, 87 of the very best bodybuilders in the world pump up and oil themselves to get ready for the greatest Physique Show on earth - The NABBA Universe.
The camera can't get much closer to them as we show the tension pre contest, and the sweat and strain post-contest - amidst it all the friendly camaraderie and fun these guys have when they battle for the world's oldest and best bodybuilding title - The NABBA Mr. Universe crown.
Not to be missed, the massive arms of ELI HANNA and the brilliance of EDDY ELLWOOD.
The Men's Main Winners were:

Amateur Mr Universe: Sergei Ogorodnikov
Pro Mr Universe: Eddy Ellwood
Masters: Carl Rung
Juniors: Stuart Craig Core

Running time: 70 mins

You will see some of these MEN in this PUMP ROOM DVD, see names below:

2000 NABBA Universe Complete Men's Results
23rd September, 2000 Southport, England
Masters:
1st: CARL RUNG U.K.
2nd: JON JORDAN USA
3rd: MAX PANGERL Austria
4th: GEORGE CHAUMIER Canada
5th: PHILIPPE MERET France
6th: JOHN LEE U.K.
BRAD McMILLAN Australia
PATRICK DE WIEST Belgium
WILLI BENDEL Germany
PETER GALL New Zealand
STEVE BRITTON UK
GRANT McDONALD South Africa
VINCE D'ALLESANDRO UK
PHIL BRADSHAW USA
JOHAN GROENEWALD South Africa
FRIK SWANEPOEL South Africa
JACK WADSWORTH USA
BOY BOX Holland
Juniors:
1st: STUART CRAIG CORE U.K.
2nd: PHILIP BELL U.K.
Mr. Universe Class 4 - Short:
1st: ALISON MARIA Holland
2nd: ROY MENIG Holland
3rd: PAUL SUTTON U.K.
4th: MOHAMMED BHATTI U.K.
5th: SCOTT RAMDHANI South Africa
6th: DENNIS GIUSTO Italy
IAN BIRD UK
VITOS VANGELIS Greece
CONRAD NAGEL South Africa
MARLON MYNALS Holland
ALI FARRNOUKH Sweden
Mr. Universe Class 3 - Medium Short:
1st: HENK JON HEYNEN Holland
2nd: RONNY ROCKEL Germany
3rd: FABRIZIO FRANCESCHETTI Italy
4th: MANUEL ENRIQUE CUEVAS Spain
5th: TODD HRUBY USA
6th: HAROLD PENNIE U.K.
BRUCE McCALL UK
WAYNE PICKERING UK
LUBOS OBORNIK South Africa
PIERRE PERRIER France
ORAZIO DESIRA Malta
GEORGE CAMILLERI Malta
STEVE AZOR South Africa
ANSELMO MOURA Brazil
Mr. Universe Class 2 - Medium Tall:
1st: JOSE ACOSTA Spain
2nd: GIUSEPPE COZZI Italy
3rd: STEVE TYLEE U.K.
4th: STEFFEN MULLER Germany
5th: JULIAN CASEY U.K.
6th: PATRICK WARNER U.K.
PASCAL DELOOS France
ROBERT SABATINI Canada
MICHAEL HOLTON Australia
CLAUDIO GALEA Malta
MIKE MASSEY USA
STEPHANE BELOTTI France
TONY STEVENSON UK
RENE MAIER Germany
JURGEN SCHIRMER Germany
ERIK CANNIZZO France
Mr. Universe Class 1 - Tall:
1st: SERGEI OGORODNIKOV Russia
2nd: ELI HANNA Israel
3rd: CHRIS WALL U.K.
4th: ERIC HARTLEY U.K.
5th: KIN MITCHELL Holland
6th: ANDRE VAN DER MESCHT South Africa
HAROLD MARRILLIER UK
SCOTT BURGESS Australia
KEVIN DEVONPORT UK
RANDY VOGELZANG Holland
ERIC McENTYRE Australia
OLEG MAKSHANTSEV Belarus
PHILLIP SPOONER UK
STEFFANO PANELLA Italy
LUCA SILVESTRINI Italy
MARIO HEMMER Austria
Overall Amateur Mr Universe: SERGEI OGORODNIKOV Russia
Professional Mr. Universe:
1st: EDDY ELLWOOD U.K.
2nd: GARY LISTER U.K.
3rd: GIOVANNI THOMPSON Holland
4th: TERRY MITSOS Australia
5th. ANDREY BASOV Belarus
PRO-AM POSEDOWN FOR OVERALL MR. UNIVERSE:
1st: EDDY ELLWOOD U.K.
2nd: GARY LISTER U.K.
3rd: SERGEI OGORODNIKOV Russia

Please click here for GMV-381DVD, 2000 NABBA Universe: The Men's Prejudging

Please click here for GMV-382DVD, 2000 NABBA Universe: The Men - The Show.

See here the COMPLETE 2000 NABBA UNIVERSE RESULTS - MEN & WOMEN.


Pumping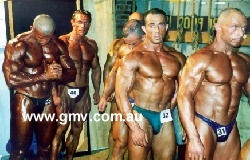 Waiting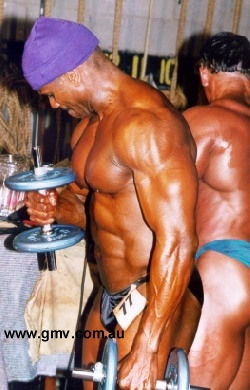 Getting ready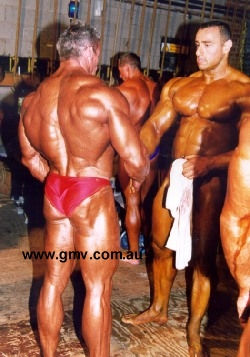 Good luck, mate!