2000 Mr. Olympia - The Pump Room # 2

Also on Digital Download.
This DVD (Part 2 of a 2 part series), was shot primarily during the tense Round 3 Pump Room Section of the Mr. Olympia evening finals. In 1999 we pioneered Mr Olympia Pump Room DVDs. This is the second year in our Olympia Pump Room series.

** Drama
** Tension
** Sweat
** Elation
** Heartbreak

See the normally private back stage pump up area and hear the final instructions to the nervous, tense competitors, all trying to gain the edge. Most fans never ever get the chance to set foot in this pump room area. This is your chance to see what really takes place back stage at the Olympia!

See the drama of Flex Wheeler in agony over a displaced vertebra in his neck. Then the final pumping and oiling - just that little bit extra that is needed to secure the crown of Mr. Olympia for 2000.

There's lots of posing for stills backstage in the photo booth, particularly by Ronnie Coleman. Wayne's camera takes full advantage of this, slowly panning over bursting, rippling muscles as the guys hit all of their best poses, veins bulging. Most of the stars of the 2000 Olympia are seen in this DVD - in closeup!!
Click here for the KEVIN LEVRONE PHOTO GALLERY.

BONUS:
Includes 2 star interviews - one with Mr Olympia founder, JOE WEIDER, and the other with CHRIS DICKERSON, winner of the 1982 Mr. Olympia.



For the rest of the 2000 Pump Room action, click here to see our PUMP ROOM DVD # 1, GMV-386DVD.


Please click here for the 2000 Mr Olympia DVD, A-1001DVD.
Please click here for GMV-388DVD, Men at the 2000 Mr Olympia Expo.
Please click here for A-1020DVD, the 2000 Masters Olympia.
Please click here for GMV-390DVD, the 2000 Ms Olympia Women's Pump Room.
Please click here to see our own DVD of Chris Dickerson at the 1982 Mr Olympia, GMV-000DVD.



Running time: 60 mins

Final Placings were as follows:
1. Ronnie Coleman
2. Kevin Levrone
3. Flex Wheeler
4. Shawn Ray
5. Nasser El Sonbaty
6. Lee Priest
7. Markus Rühl
8. Jay Cutler
9. Dexter Jackson
10. Orville Burke
11. Dennis James
12. Günter Schlierkamp
13. Oleg Zhur
NTSC DVD, OPEN REGION
All photos by Clive Jaques and Wayne Gallasch.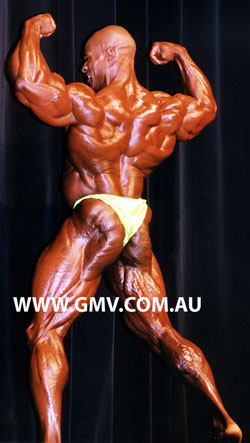 Ronnie Coleman
Orville Burke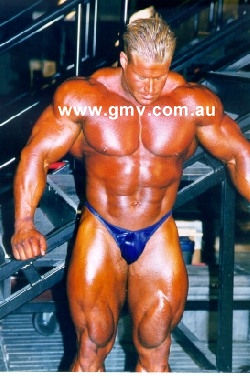 Jay Cutler
Dennis James