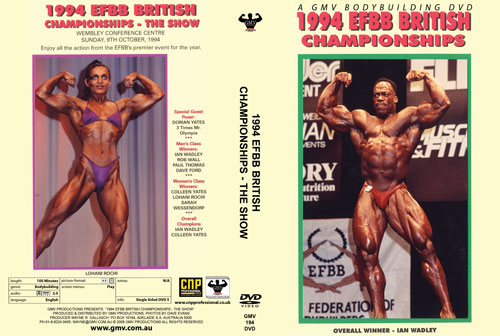 1994 EFBB British Championships: The Show -
Men & Women.

Digital Download.
Enjoy all the action from the EFBB's premier event for the year, THE BRITISH FINALS. Held on October 9th, 1994 at the Wembley Conference Centre, London, see all of the exciting contest action with posing from the top competitors, all the posedowns and awards.
Highlight of the event for many was the appearance of STAR GUEST POSER and Britain's own current Mr Olympia, DORIAN YATES. This event was very close to the Mr Olympia and accordingly you get to see Dorian in his Mr Olympia condition.
The Muscle Mountain - IAN WADLEY crushed his opposition in the heavyweight class and then in the overall-posedown in front of a capacity crowd.
COLLEEN YATES won the Overall Women's Championship, firstly defeating BEV HAHN in her own class and then defeating the other class winners LOHANI ROCHI and SARAH WESSENDORF.

Men's Class Winners: IAN WADLEY, ROB WALL, PAUL THOMAS, DAVE FORD.

Women's Class Winners: COLLEEN YATES, LOHANI ROCHI, SARAH WESSENDORF.

Overall Winners: IAN WADLEY & COLLEEN YATES.
****************************************************************

1994 EFBB British Championships Results:
Wembley Conference Centre, London. October 9th, 1994.
Overall Winners: IAN WADLEY & COLLEEN YATES.
Special guest poser – DORIAN YATES.
RESULTS – MEN
Under 70 KG
1. Dave Ford
2. Jason Carter
3. Craig Wilson
4. Darren Emery
5. Andy Shaw
6. Andy Clark
DNP:
Philip Dunne,
Mark Deane
Andrew Daniels
Under 80 Kg
1. Paul Thomas
2. Steve Clarke
3. Luke Alandale
4. John Hodgson
5. Kenny Clarke
6. Mike Sheridan
DNP:
Carlo Bernascone
Simon Fudge
David Gilfillan
Paul George
Bob Kirk
Jay Crowley
Carl Yerrel
Chris Rodaway
Under 90 Kg
1. Rob Wall
2. Peter Spencer
3. Rob Worthington
4. Tayo Coker
5. Steve Lewis
6. Cecil Croasdale
DNP:
Gary Webb
Gary Brown
Derek Morton
John Whitman
Paul House
La'Mon Amede
Sam White
Jose Antonio
Over 90 Kg
1. Ian Wadley
2. Leonard St Cyr
3. Jamo Nezzar
4. Mark Rhino Smith
5. Eddie Abbew
6. Alex Brooks
DNP:
Nigel Gaundry
Paul Baxendale
Mark Windle
Ricky Welling
RESULTS – WOMEN
Under 52 Kg
1. Sara Wessendorf
2. Maria Hobson
3. Brenda Bennett
Under 57 Kg
1. Lohani Rochi
2. Jackie Parish
3. Elaine Bell
4. Heather Smith
5. Jayne Cunniffe
6. Karen Deane
7. Heather Smith
Over 57 Kg
1. Colleen Yates
2. Bev Hahn
3. Kathy Knopp
4. Sarah Vaughn
5. Dawn Sutherland
6. Sarah Withers
DNP:
Christine Collyer
Debbie Vickers

NTSC DVD, OPEN REGION