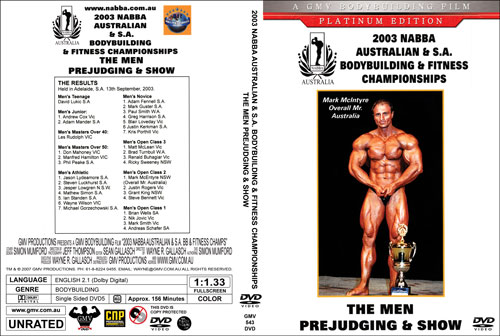 click here for the preview clip.

2003 NABBA Australian & S.A. Bodybuilding & Fitness Championships: The Men -
Prejudging & Show

Men's Prejudging Download.

Men's Show Download.

Held in Adelaide, South Australia on 13th September 2003, this prestigious contest showcased the very best physiques in Australia.
Outstanding overall winner Mark McIntyre blitzed the field to take out a very deserved victory as the new NABBA Mr Australia.

Also includes these outstanding classes: Masters Over 40 and 50, Teens, Juniors, and Novice as well as the 3 Open classes.

Includes the new Men's Athletic Class won by JASON LYDEAMORE S.A.

To see the complete Women's Contest from this event, Prejudging and Show, GMV-542DVD, please click here.

2003 NABBA Australian & S.A. Bodybuilding Championships: Women - Prejudging & Show

This prestigious contest showcased some of Australia's finest female bodybuilding talent. Overall Figure Champion was Adelaide's own Leigh Jarrett who blitzed the field with her outstanding physique.

Classes also included Women's Physique, Women's Over 35, and Novice Women. The DVD includes the state South Australian Bodybuilding and Fitness titles. Vicki Reid of NSW was an outstanding winner of the Women's Physique Class.


GMV-542DVD


See the Complete 2003 NABBA Australia results click here.

Enjoy 156 minutes of the very best male bodybuilders in Australia in 2003. We present the complete Prejudging through to all the individual posing, awards, posedowns and Overall Award at the Show.

Class Winners of the South Australian Men's Titles were:

2003 Mr. South Australia: BRIAN WELLS
Men's Novice: ADAM FENNELL S.A.
Men's Athletic: JASON LYDEAMORE S.A.
Men's Teenage: DAVID LUKIC S.A.

AUSTRALIAN MEN'S CLASS WINNERS:

Men's Teenage: DAVID LUKIC S.A.
Men's Junior: ANDREW COX VIC
Men's Novice: ADAM FENNELL S.A.
Men's Athletic: JASON LYDEAMORE S.A.
Masters Over 40: LES RUDOLF VIC
Masters Over 50: DON MAHONEY VIC
Men's Open Class 3: MATT McLEAN VIC
Men's Open Class 2: MARK McENTYRE NSW
Men's Open Class 1: BRIAN WELLS S.A.
OVERALL NABBA MR AUSTRALIA: MARK McENTYRE

2003 NABBA Australian Championships & S.A. Championships - Complete Results
Adelaide 13/9/2003
(The highest placed South Australian competitor in each class is also the S.A. Champion)

Overall Mr. Australia: Mark McEntyre NSW
Overall Australian Figure Champion: Leigh Jarrett SA

Overall Mr. South Australia: Brian Wells
Overall South Australian Figure Champion: Leigh Jarrett

Men's Teenage
1. David Lukic S.A.

Men's Junior
1. Andrew Cox VIC
2. Adam Mander S.A.

Men's Masters Over 40
1. Les Rudolph VIC

Men's Masters Over 50
1. Don Mahoney VIC
2. Manfred Hamilton VIC
3. Phil Peake S.A.

Men's Athletic
1. Jason Lydeamore S.A.
2. Steven Luckhurst S.A.
3. Jesper Lowgren N.S.W.
4. Mathew Simon S.A.
5. Ian Standen S.A.
6. Wayne Wilson VIC
7. Michael Gorzechowski S.A.

Men's Novice
1. Adam Fennell S.A.
2. Mark Guster S.A.
3. Paul Smith W.A.
4. Greg Harrison S.A.
5. Blair Loveday VIC
6. Justin Kerkman S.A.
7. Kris Porthill VIC

Men's Open Class 3
1. Matt McLean VIC
2. Brad Turnbull W.A.
3. Renald Buhagiar VIC
4. Ricky Sweeney NSW

Men's Open Class 2
1. Mark McEntyre NSW (Overall Mr. Australia)
2. Justin Rogers VIC
3. Grant King NSW
4. Steve Bennett VIC

Men's Open Class 1
1. Brian Wells SA
2. Nik Jovic VIC
3. Mark Smith VIC
4. Andreas Schafer SA

Women's Physique
1. Vicki Reid N.S.W.
2. Sandra Jose VIC

Women's Novice Figure
1. Mardi Dix SA
2. Linda Nix WA
3. Carolyn Stepp VIC
4. Janne Roenning VIC
5. Rose Flaherty NSW

Women's Figure Class 2 - Short
1. Railee Williams WA
2. Rosanna Lowgren NSW
3. Laura Clements TAS

Women's Figure Class 1 - Tall
1. Leigh Jarrett SA (Overall Figure Champion)
2. Sonya Horne SA

Women's Figure Over 35
1. Catherine Crow SA
2. Jan-Marie Larson SA
3. Esther Pedesic SA

NTSC DVD, OPEN REGION