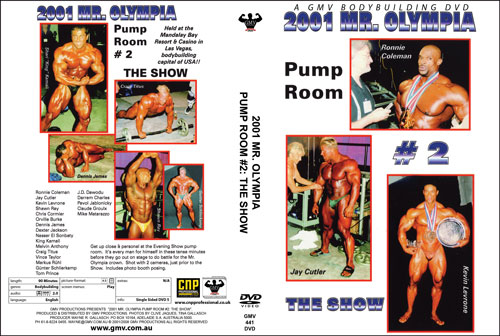 2001 Mr. Olympia: Pump Room # 2 - The Show
Held at the Mandalay Bay Resort & Casino in Las Vegas, bodybuilding capital of USA!!
This was one of the most exciting Olympias in recent history. At the end of the second round, JAY CUTLER was 6 points in front of Ronnie - but at the evening show, Ronnie posed his heart out to win the final two rounds. It was a close call, but the Master pulled it off.
Then tension on stage during the posing round is clearly mirrored back stage in this exciting pump room DVD.

Please click here for the full details on the Mr OLYMPIA FINALS DVD, A-1051DVD.

In this Show Pump Room DVD shot at the Evening FINALS, our 2 cameras catch all the action as follows:
* Pumping
* Posing
* Oiling
* Feel the tension
* Live & sweaty
Click here for the KEVIN LEVRONE is FULL BLOWN.

You will see all of the competitors in closeup at the evening FINALS pump room. This historic DVD is shot with 2 cameras before the guys go out on stage for their posing routines. Also prior to the final posedowns and presentations. There is some wonderful footage of Ronnie and Kevin Levrone, Craig Titus, Dennis James and many other big names. Any footage of Tom Prince is rare as we have very little on him. You will also see the top guys posing for photos in the PHOTO BOOTH. All of the competitors seen in the DVD are listed in the RESULTS below.

This photo below was taken in the backstage holding area by Brian Moss. Nasser is front centre.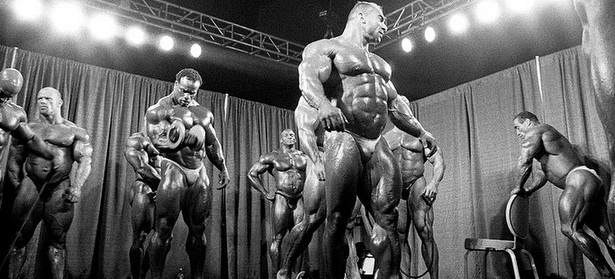 Running time: 90 mins

Click here for GMV-440DVD 2001 Mr. Olympia: Pump Room # 1 - Prejudging.

Click here for the special deal.

THE FINAL RESULTS:
1. RONNIE COLEMAN USA
2. JAY CUTLER USA
3. KEVIN LEVRONE USA
4. SHAWN RAY USA
5. CHRIS CORMIER USA
6. ORVILLE BURKE USA
7. DENNIS JAMES USA
8. DEXTER JACKSON USA
9. NASSER EL SONBATY Yugoslavia
10. SHARI 'KING' KAMALI USA
11. MELVIN ANTHONY USA
12. CRAIG TITUS USA
13. VINCE TAYLOR USA
14. MARKUS RÜHL Germany
15. GÜNTER SCHLIERKAMP Germany
16. TOM PRINCE USA.
17. J.D. DAWODU England
18. DARREM CHARLES Trinidad
19. PAVOL JABLONICKY Czech Republic
20. CLAUDE GROULX Canada
21. MIKE MATARAZZO USA
NTSC DVD, OPEN REGION
Customers who viewed this DVD also viewed:






Click here
for GMV Productions complete list of Male Muscle DVDs.