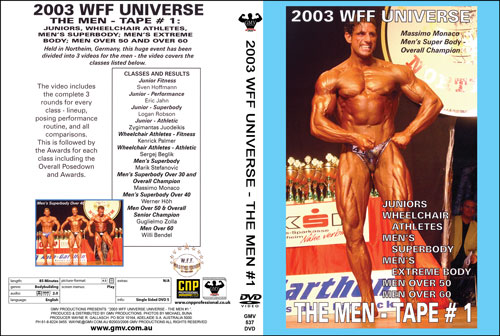 2003 WFF Universe: Men's DVD # 1

JUNIORS, WHEELCHAIR ATHLETES, MEN'S SUPERBODY;
MEN'S EXTREME BODY; MEN OVER 50 AND OVER 60.
Held in Northeim, Germany, this huge event has been divided into 3 DVDs for the men. This DVD covers the classes listed above.
The DVD includes the complete 3 rounds for every class - lineup, complete posing performance routine of every competitor, and all comparisons.
This is followed by the Awards for each class including the Overall Posedown and Awards.

Running time: 85 mins

Click here for GMV-538DVD 2003 WFF Universe: Men's DVD # 2

Click here for GMV-539DVD 2003 WFF Universe: The Men - DVD # 3


CLASS WINNERS AND RESULTS:


Junior Fitness
Sven Hoffmann


Junior - Performance
Eric Jahn


Junior - Superbody
Logan Robson


Junior - Athletic
Zygimantas Juodeikis


Wheelchair Athletes - Fitness
Kenrick Palmer


Wheelchair Athletes - Athletic
Sergej Beglik
Men's Superbody
Marik Stefanovic
Men's Superbody Over 30 and Overall Champion
Massimo Monaco


Men's Superbody Over 40
Werner Höh
Men Over 50 & Overall Senior Champion
Guglielmo Zolla


Men Over 60
Willi Bendel
**********************************************

Men's Juniors - Fitness
1 Sven Hoffmann
2 Konstantin Chomutov

Men's Juniors - Performance
1 Eric Jahn
2 Mark Van Niekerk
3 Tobias Abele

Men's Juniors - Athletic
1 Zygimantas Juodeikis
2 Miroslav Yonchev


Men's Juniors - Superbody
1 Logan Robson

Wheelchair Athletes - Fitness
1 Kenrik Palmer
2 Torsten Petersen

Wheelchair Athletes - Athletic
1 Sergej Beglik
2 Garib Younis
3 Alexsandr Koroljov


Men's Superbody
1 Marik Stefanovic
2 Logan Robson

Men's Superbody Over 30
1 Massimo Monaco (Overall winner)
2 German Shelest
3 Christophe Ducos
4 Robert Meyer
5 Thomas Terlaak
6 Erik Heijnen

Men's Superbody Over 40
1 Werner Höh
2 Axel Decker
3 Antonio Vergiani
4 Andreas Hemmann

Men Over 50
1 Guglielmo Zolla (Overall winner)
2 Reinhard Hess

Men Over 60
1 Willi Bendel
2 Biagio Filizola
3 Alexander Encell

Men's Extreme Body Over 30
1 Olaf Michaelis
2 Oliver Popp

Men's Extreme Body Over 40
1 Jurijs Karsectjans
2 Glenn Purtell
3 Mimmo Lampidecchia
4 Michael Cederqvist
For a complete list of results, click here.

NTSC DVD, OPEN REGION