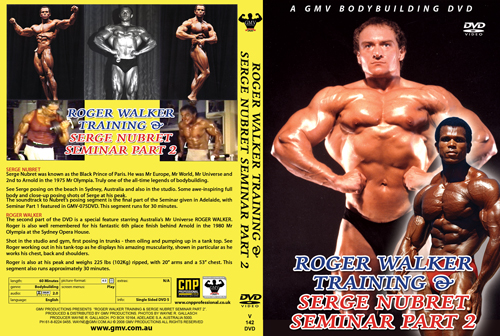 ROGER WALKER - MR UNIVERSE - TRAINING & POSING plus
SERGE NUBRET SEMINAR PART 2
Also on Digital Download. Preview clip.

SERGE NUBRET

Serge Nubret was known as the Black Prince of Paris. He was Mr Europe, Mr World, Mr Universe and 2nd to Arnold in the 1975 Mr Olympia. (In the Olympia he placed second twice and third twice.) Truly one of the all-time legends of bodybuilding. (See Serge in the '75 Olympia in Pumping Iron, A-1071DVD).
The video opens with Serge posing on the beach in Sydney, Australia and also in the studio. This segment was shot by the famous lensman Robert Nailon. Some awe-inspiring full body and close-up shots of him in pumping and posing action - at his peak.
The GMV recorded soundtrack to Nubret's posing segment is the final part of the Nubret Seminar given in Adelaide, South Australia.
This Seminar Part 1 was featured in GMV-075DVD. Please click here for more details.


Serge Nubret - Seminar Part 1 and Posing.

The Black Prince Of Paris: Mr. Europe - Mr. World - Mr. Universe. Nubret is a legend in the world of bodybuilding! A master poser who presents the perfection of a seasoned champion, and the powerful muscular display of a world class physique.

His superb classical posing is designed to show off the flawless symmetry and beauty of his body. Truly one of the all time legends of bodybuilding!


Serge's
Contest History
is listed below.
The Nubret section runs for 30 minutes.
ROGER WALKER
The second part of the DVD is a special feature starring one of Australia's greatest ever bodybuilders - Mr Universe winner, ROGER WALKER. Roger is well remembered for his fantastic 6th place finish behind Arnold in the 1980 Mr Olympia at the Sydney Opera House. Also his third place finish in the heavyweight class of the 1979 Mr. Olympia, see V-127DVD.

(See Roger in the 1980 Mr Olympia, V-103DVDSP.)

1980 Mr. Olympia - 2 DVD set

SPECIAL EDITION DVD DIGITALLY REMASTERED. Besides Arnold, the line up also included Mike Mentzer, Chris Dickerson, Frank Zane, Boyer Coe, Roy Duval, Casey Viator, Roger Walker, Roy Callender, Ken Waller, Samir Bannout, Tom Platz, Danny Padilla, etc.

Includes prejudging footage plus the show. The most controversial Mr. Olympia of all time! Strictly a hard core contest DVD showing all competitors.


Our footage was shot in the studio and gym, first in posing trunks - then oiling, pumping up and training in a tank-top. Roger's great muscularity is particularly evident as he trains his chest, back and shoulders.
Roger is at his peak and weighs in at 225 lbs (102Kg) ripped with 20" arms and a 53" chest. We added a photo below of Roger when he won the Mr. Southern Hemisphere contest in Melbourne, Australia in 1974 on the night that Arnold was guest poser.
(These photos by Wayne Gallasch were not shot at the filming sessions portrayed in the DVD.)
On March 22nd, 2015, Roger received a VIP Guest Award from Graeme Lancefield on behalf of NABBA/WFF Australia for his outstanding record and his services to Australian bodybuilding. (This award and interview is a segment in our 2015 Lee Priest Classic Pro-Am DVD available now.)
Roger's feature was shot on film with background music added and digitally transferred to DVD.
The Walker section runs approximately 30 minutes.
Roger Walker Contest History
1972
NABBA Mr Britain, 3rd
1973
Mr Australia, Winner
1974
IFBB Mr Southern Hemisphere (Melbourne), Winner
IFBB Universe, Tall, 4th
1975
IFBB Asian Amateur Championships, Tall, 1st
IFBB Asian Amateur Championships, Overall Winner
Mr Australia, Overall Winner
IFBB Universe, Tall, 2nd
1976
IFBB Universe, HeavyWeight, 1st
1977
IFBB Olympia, HeavyWeight, 4th
1978
IFBB Olympia, HeavyWeight, 5th
1979
IFBB Olympia, HeavyWeight, 3rd
1980
IFBB Olympia, 6th
1981
IFBB Olympia, 10th
IFBB Universe - Pro, 2nd
IFBB World Pro Championships, 2nd
1982
IFBB Olympia - IFBB, 16th
**********************************
Serge Nubret Contest History
1963
NABBA Universe - Pro, Tall, 2nd
1964
NABBA Universe - Pro, Tall, 2nd
1969
NABBA Universe - Pro, Tall, 3rd
IFBB Mr World, Tall, 2nd
1970
IFBB Mr Europe, Tall, 1st
1972
IFBB Olympia, 3rd
1973
IFBB Olympia, 2nd
1974
IFBB Olympia, HeavyWeight, 3rd
1975
IFBB Olympia, HeavyWeight, 2nd
1976
WBBG Olympus, 2nd
NABBA Universe - Pro, Tall, 1st
NABBA Universe - Pro, Winner
1977
WBBG Olympus, Winner
NABBA Universe - Pro, 2nd
WBBG Pro Mr World, Winner
1978
NABBA Universe - Pro, 2nd
1981
WABBA Pro World Cup, 2nd
1983
WABBA World Championships, Professional, 1st
Total running time: 60 mins

NTSC DVD, OPEN REGION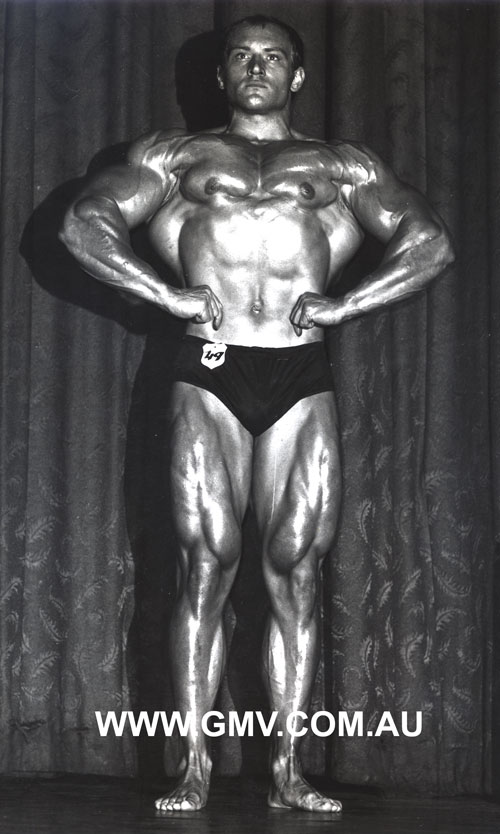 Roger winning the 1974 IFBB Mr Southern Hemisphere - all photos by Wayne Gallasch.

Sergio below, posing on the beach at Santa Monica, CA.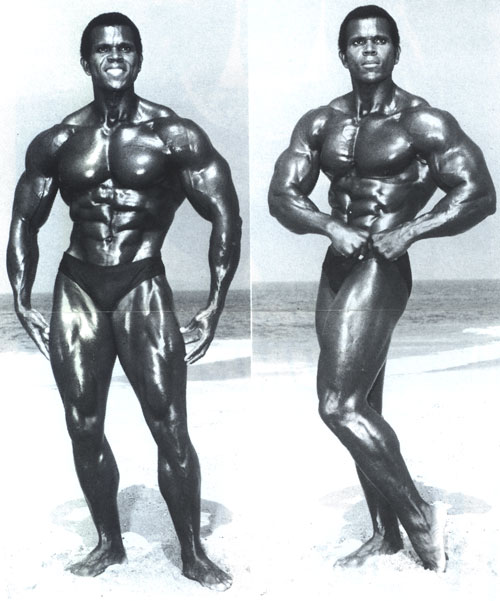 Customers who viewed this DVD also viewed:






Click here for GMV Productions complete list of Male Muscle DVDs.