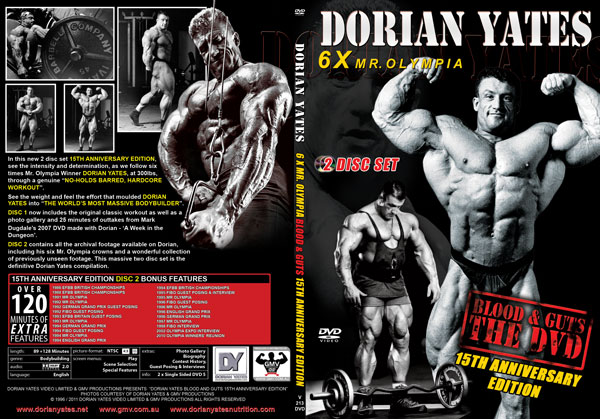 Click here for preview.


Click here for the Photo Gallery.

Dorian Yates Blood & Guts The DVD - 15th ANNIVERSARY EDITION - 2 DVD Set
This is the 15th ANNIVERSARY EDITION of the original ULTIMATE VERSION of DORIAN YATES BLOOD & GUTS DVD. The updated 2 DVD set.

*In Celebration of this updated version of the 15th Anniversary Edition of this DVD - May 2011
We have added an extra 4 minutes to the total running time with 2 new scenes, and updated the PHOTO GALLERY & BIO with some new material. We also updated the DVD cover as well!
The 2 new scenes are Dorian's Guest Posing at the 1993 EFBB British Championships and scenes of Dorian at the 2010 Mr. Olympia 45 Years Reunion.
Disc #1 is 89 mins and Disc #2 now runs for 128 mins.
TRT: 217 mins.

When we created THE ULTIMATE EDITION in 2008, we added around two and a half hours of NEW MATERIAL to present all of the life time footage that we could find featuring the fabulous career of 6 time Mr Olympia, DORIAN YATES. This constitutes Disc #2. Much of this was shot by Wayne of GMV Productions during Dorian's career and includes our last interview with him in 2002 at the Olympia Expo.

The contest footage covers his career from his first British victory in 1986, to his Olympia appearances (thanks to the generosity of Andy Olson of Magna Media) to many of his Grand Prix victories to guest posing and more.
See the superb PHOTO GALLERY here.

Not to be missed are the 25 minutes of wonderful, interesting and funny out- takes, thanks to Mark Dugdale and cameraman Joel Barham, from their shooting with Dorian recently at the Temple Gym in Birmingham. This footage was shot whilst filming Mark's latest DVD "A Week in the Dungeon", available from Mark Dugdale as well as from GMV. It has been added to Disc #1.

After we scoured our video archive for most this new material we then went back through our photo files from all the contests that we or our photographers have covered during Dorian's career. This has turned up a number of fabulous, previously unseen photos which have been scanned and added to the huge PHOTO GALLERY. It now contains around 150 photos covering every aspect of Dorian's career from training in the gym to the stage to private and informal shots.
Our thanks to Dorian, Lee Dickens and all who contributed photos. We hope that you will enjoy what is now the Ultimate Edition of the Ultimate video record of the career of the Ultimate Mr Olympia - DORIAN YATES.

Also check out Dorian's New DVD, June 2012, see details below:

Shadow Warrior – The Dorian Yates Story 2 DVD Set
In this feature-length documentary, get a rare glimpse into the life of this reclusive World Champion as Dorian speaks openly about his humble beginnings and tumultuous rise to the pinnacle of professional bodybuilding. He shares how giving up in the face of career ending injuries was never an option.

Learn little known aspects about his career as he takes us behind the scenes at Temple Gym, on a guided tour of what has become an iconic landmark for bodybuilders and fans around the world.



DISC 1.
* This contains the original 64 minutes, BLOOD & GUTS DVD. Witness the intensity and determination as we follow the near 300lb multi Mr. Olympia winner DORIAN YATES through a genuine 'no holds barred' hardcore workout. See the weights used and feel the supreme effort that has moulded Dorian Yates into the world's most massive bodybuilder.

* 25 minutes of DUGDALE OUT-TAKES where you see informal footage of Dorian at the gym, hear him coaching Mark, hear his comments on others in the industry, see Dorian coaching the massive ZACK KHAN (a top British amateur at the time who now has his Pro Card). You also see Kevin Horton who shot the original gym workout explaining why most of it was shot and presented in B&W. Plus much more.

* Approximately 150 photos in the DVD PHOTO GALLERY. Many have never been seen before.

* Dorian's Bio and full Contest History.

Running Time of Disc 1: 89 mins.

DISC 2.
This all new full colour second BLOOD & GUTS disc is packed with the posing highlights of Dorian's career. Apart from the Olympia highlights, the other footage was primarily shot by GMV's Wayne Gallasch and is from his personal archive. FIBO footage is in conjunction with Willy Zdenek of Sport Video Hits, Germany.

Contents of this disc are as follows:

1986 EFBB BRITISH CHAMPIONSHIPS
1988 EFBB BRITISH CHAMPIONSHIPS
1991 MR OLYMPIA
1992 MR OLYMPIA
1992 GERMAN GRAND PRIX GUEST POSING
1992 FIBO GUEST POSING
1993 MR OLYMPIA
1993 EFBB BRITISH CHAMPIONSHIPS GUEST POSING
1994 FIBO GUEST POSING
1994 MR OLYMPIA
1994 GERMAN GRAND PRIX
1994 ENGLISH GRAND PRIX
1994 EFBB BRITISH CHAMPIONSHIPS GUEST POSING
1995 FIBO GUEST POSING & INTERVIEW
1995 MR OLYMPIA
1996 FIBO GUEST POSING
1996 MR OLYMPIA
1996 ENGLISH GRAND PRIX
1996 GERMAN GRAND PRIX
1997 MR OLYMPIA
1998 FIBO INTERVIEW
2002 OLYMPIA EXPO INTERVIEW
2010 45 YEARS MR. OLYMPIA REUNION

Running Time of Disc 2: 128 mins.

TOTAL RUNNING TIME - 2 DVD SET: 217 MINUTES

*See the cover below that we used for the first 15 years of this DVD, updated now for the 15th ANNIVERSARY EDITION.



DORIAN YATES BRIEF BIO
Born in Hurley, Staffordshire, near Birmingham, England, Dorian Yates commenced working out in 1983. The man dubbed "The Shadow" (by FLEX Editor-in-Chief Peter McGough) shone a new light of awareness onto training methods with his brief but very high-intensity workouts.

After some important victories in England – 1985 Novice Championships and 1986 and 1988 British Championships – Yates visited New York for the 1990 Night of Champions and, in his pro debut, he took second place to Mohamed Benaziza. He vowed that next year he would return to win this contest. He did!
In 1991, Yates was the runner-up at the Olympia to Lee Haney, who won his eighth record-setting Olympia and then retired. From 1992 through 1997, Yates dominated the sport's highest title with 6 Sandows in a row. In 1994, he overcame a torn biceps to win the crown. In 1997, his most valiant victory came when he tore a triceps three weeks prior to the contest, but still battled on to victory.

Due to the injury, Yates was forced to retire at the peak of his career, with a pro record of 15 wins and two second-place finishes. Being a six-time Mr Olympia should say it all, especially when you consider the freakiness with which he redefined all the parameters of bodybuilding. He is truly a legend of the sport and to many people, the greatest bodybuilder of all time!
Dorian ran the famous Temple Gym in Birmingham and now has his own line of supplements - DY.
ABOUT DORIAN YATES
Born: April 19, 1962
Birthplace: Hurley, Staffordshire, England.
Height: 5' 10"
Off Season Weight: 290 lbs
Competition Weight: 265 lbs
DORIAN YATES' COMPLETE CONTEST RECORD:
In a pro career encompassing 17 contests, Dorian Yates scored 15 victories and 2-second places, giving him an 88% winning percentage. This is the highest percentage of any IFBB Pro.

AMATEUR CAREER
Year Event Place
1985 EFBB West Coast Championships, Morecambe 1st (intermediates) 210 pounds
1985 World Games, London 7th heavyweights 210 pounds
1986 EFBB West Coast Championships, Morecambe 1st heavyweights 216 pounds
1986 EFBB British Championships, London 1st heavyweights 214 pounds (Overall won by light heavy Chris Oskys)
1988 EFBB British Championships, London 1st heavyweights 226 pounds (And also Overall champion)
PRO CAREER
1990 Night of Champions; New York 2nd 228 pounds
1991 Night of Champions; New York 1st 235 pounds
1991 Mr. Olympia; Orlando, Florida 2nd 240 pounds
1991 English Grand Prix; Nottingham, England 1st 238 pounds
1992 Mr. Olympia; Helsinki, Finland 1st 242 pounds
1992 English Grand Prix; Nottingham, England 1st 242 pounds
1993 Mr. Olympia; Atlanta, Georgia 1st 257 pounds
1994 Mr. Olympia; Atlanta, Georgia 1st 260 pounds
1994 Spanish Grand Prix; Madrid, Spain 1st 252 pounds
1994 German Grand Prix; Duisburg, Germany 1st 252 pounds
1994 English Grand Prix; Nottingham, England 1st 252 pounds
1995 Mr. Olympia; Atlanta, Georgia 1st 255 pounds
1996 Mr. Olympia; Chicago, Illinois 1st 257 pounds
1996 Spanish Grand Prix; Madrid, Spain 1st 260 pounds
1996 German Grand Prix; Darmstadt, Germany 1st 260 pounds
1996 English Grand Prix; Nottingham, England 1st 260 pounds
1997 Mr. Olympia; Long Beach, California 1st 265 pounds
Special thanks to Peter McGough for these details.

You can also see Dorian as he appears in MARK DUGDALE'S DVD, A WEEK IN THE DUNGEON, A-1271DVD.