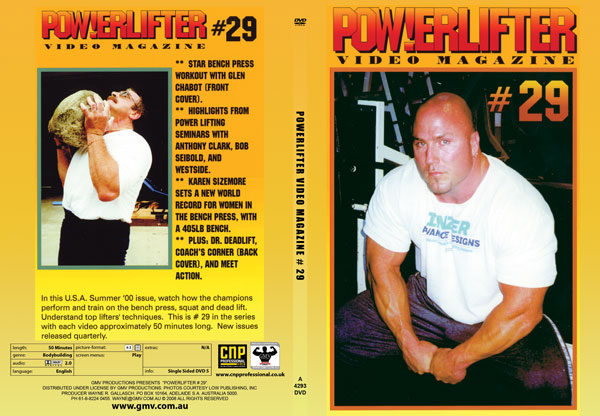 Preview clip.

Powerlifter Video Magazine Issue # 29
This is # 29 in the super popular series with each DVD around 50-55 minutes in length. This edition features some of the most popular stars and events in powerlifting such as GLEN CHABOT, ANTHONY CLARK, BOB SEIBOLD, KAREN SIZEMORE and DR DEADLIFT.

HIGHLIGHTS INCLUDE:

Star Bench Press workout with Glen Chabot.
Highlights from power lifting seminars with Anthony Clark and Bob Seibold at Westside.
Karen Sizemore sets a new world record for women in the Bench Press with a 405lb Bench.
Plus: Dr. Deadlift, Coach's Corner and Meet Action.
Running time: 50 mins

NTSC DVD, OPEN REGION