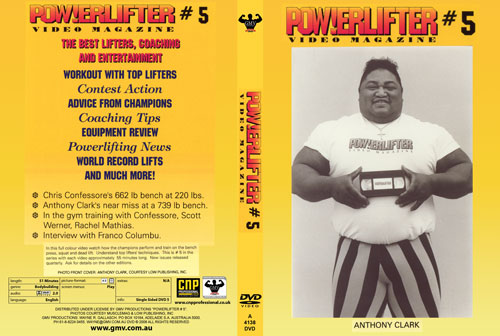 Preview clip.

Powerlifter Video Magazine Issue # 5
In this full live action DVD watch how the champions perform and train on the Bench Press, Squat and Deadlift. Understand top lifters' techniques. This is #5 in the super popular series with each DVD around 55 minutes in length. This edition features 4 of the most popular men in powerlifting and bodybuilding in ANTHONY CLARK, CHRIS CONFESSORE, SCOTT WERNER and FRANCO COLUMBU in an interview.

See the list of other POWERLIFTER VIDEO MAGAZINES. All now available on DVD and Download.

CONTENTS

Chris Confessore's 662 lb Bench @ 220 lbs;
Anthony Clark's near miss at a 739 lb Bench;
In the gym training with Chris Confessore, Scott Werner, Rachel Mathias;
Interview with Franco Columbu.

FRONT COVER PHOTO: Anthony Clark, courtesy Low Publishing, Inc.
Distributed under license by GMV Productions.
Running time: 50 mins

NTSC DVD, OPEN REGION