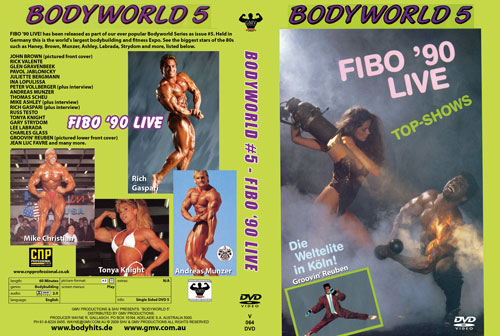 Click here for preview clip

FIBO '90 Live! - Bodyworld # 5
Also available on Digital Download.

FIBO '90 LIVE! has been released as part of our ever popular Bodyworld Series as issue #5. The 1990 FIBO, held in Cologne, Germany is the world's largest bodybuilding and fitness Expo. See the elite bodybuilders of the world and the biggest stars of the 80s such as Haney, Brown, Munzer, Ashley, Labrada, Strydom and more, all listed below.
See top posing shows by the these stars:
JOHN BROWN (pictured front cover)
RICK VALENTE
GLEN GRAVENBEEK
PAVOL JABLONICKY
JULIETTE BERGMANN
INA LOPULISSA
PETER VOLLBERGER (plus interview)
ANDREAS MUNZER
THOMAS SCHEU
MIKE ASHLEY (plus interview)
RICH GASPARI (plus interview)
RUSS TESTO
TONYA KNIGHT
GARY STRYDOM
LEE LABRADA
CHARLES GLASS
GROOVIN' REUBEN (pictured lower front cover)
JEAN LUC FAVRE and many more.

(The preview clip above features John Brown.)
See the CHARLES GLASS PHOTO GALLERY.

The final segment is a mind blowing in-depth interview with the IRON WARRIOR - MIKE CHRISTIAN, complete with a full posing routine, and his special posing of those incredible huge arms.

Running time: 60 mins

Please click here to see our complete list of FIBO DVDs.

NTSC DVD, OPEN REGION