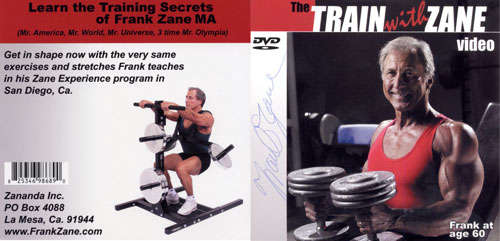 The Train with Zane Video now on DVD

Learn the exact form of all the exercise movements and stretches Frank uses in his own workouts and teaches in the Zane Experience program.
If you want to train with Zane, it's almost as good as being there!
"I have captured the way to do each of the exercises I use in my 3 way split routine. Books, printed photos and descriptions can only tell you what the exercise is, they can't show you exactly how to do it. That's what this DVD is all about: developing good form in your movements.

It's exact and concise, one set of each exercise and stretch for Back, Shoulders, Chest and Abs on Day 1,
Calves, Thighs and Abs on Day 2,
Triceps, Biceps, Forearms and Abs on Day 3.
No guesswork. My DVD is the next best thing to coming to San Diego to train with me."

Each DVD copy of TRAIN WITH ZANE has been signed by Frank.

Running time: approx 50 mins

NTSC DVD, OPEN REGION

The Legend of Wellness – Frank Zane
By: Philippe Matthews
When you mention the name Frank Zane to a fitness or bodybuilding athlete, chances are their eyes will widen in worship over the man who made bodybuilding symmetry the standard of a quality physique. Frank Zane is a native to Pennsylvania and a three-time Mr. Olympia winner from 1977-1979. He is truly one the most notable bodybuilders in the history of the sport, defeating Arnold Schwarzenneger in the 1968 Mr. Universe Competition in Miami, Florida, and won Mr. Universe two more times in London, England in 1970 and 1972. In 1968, Frank also won the Mr. America in New York City, and Mr. World 1969 in Brugge, Belgium. In his 22-year competitive career, Frank won over 150 awards and was inducted into the Joe Weider Bodybuilding Hall of Fame in 1994.
Frank Zane began bodybuilding at age 14, out of a need to improve his physical well-being and protect himself and his younger brother, Adam. As a straight 'A' student, Frank recalls, "My Brother and I were the only Protestant kids in a totally Catholic town. We were persecuted! My brother was a precocious kid, a very good athlete and he would get into a lot of fights; so, I'd have to break them up. I wanted to feel more secure so, I tried different things like boxing, wrestling and all of that stuff. Then I discovered bodybuilding." Frank trained briefly at a local YMCA. then bought a weight lifting set for home and he says, "In two weeks, muscles were coming out all over!

That really encouraged me, so I was very hungry for it. I pursued it until I was about 18, then I went into my first competition." Frank graduated first in his high school class of 1960 in Edwardsville, Pennsylvania, winning a college scholarship. He earned a Bachelor of Arts Degree in Psychology from California State University-Los Angeles in 1977. Frank also received a Bachelor of Science Degree in Education from Wilkes University, Wilkes Barre, Pennsylvania in 1964, and was awarded a Master of Arts Degree in Experimental Psychology from California State University - San Bernardino, California in 1990.
Frank taught Mathematics, Chemistry, Physics, Natural Sciences, Physical Education, and Psychology in Pennsylvania, New Jersey, Florida, and Los Angeles, California. from 1964 through 1977. Frank loved teaching because he wanted a job that would allow him to train and work at the same time. "Teaching seemed to fit the bill," says Frank. "It wasn't a lot of money, but I had he summers off." In 1969, Frank moved to California and earned a degree in psychology, while landing another teaching job while training. Shortly thereafter, Frank moved and taught in Florida where he met his wife, Christine, and soon won the Mr. Universe and Mr. America.

NOTE FROM WAYNE:
We have Frank in many contest DVDs. To see Frank winning the 1970 Overall Amateur NABBA Mr. Universe, please click here for V-108DVD.
To see Frank winning the 1979 Mr. Olympia crown - and much more, please click here for Mr. Olympia - The Golden Years, V-214DVD.
Frank Zane – Physical Perfection

This remarkable DVD is our tribute to FRANK ZANE and his outstanding life and career in bodybuilding. Frank is regarded as having the most desirable physique of all time. His physical perfection, symmetry and condition is representative of what bodybuilding truly stands for.

Frank is still in great shape today.


GMV-835DVD | $44.95
Frank Zane Contest History:

1964
North American Championships - IFBB, Medium, 3rd
1965
Mr East Coast - IFBB, Tall, 3rd
Junior Mr America - IFBB, Medium, 1st
Universe - IFBB, Medium, 1st
1966
Mr America - IFBB, Medium, 1st
Mr East Coast - IFBB, Overall Winner
Mr East Coast - IFBB, Tall, 1st
Mr Eastern America - IFBB, Medium, 2nd
North American Championships - IFBB, Medium, 1st
North American Championships - IFBB, Overall Winner
1967
Mr America - IFBB, Medium, 1st
Universe - IFBB, Tall, 3rd
1968
Mr America - IFBB, Medium, 1st
Mr America - IFBB, Overall Winner
Mr International - IFBB, Medium, 1st
Mr International - IFBB, Overall Winner
Universe - IFBB, Winner
1969
Mr World - IFBB, Medium, 1st
Mr World - IFBB, Overall Winner
1970
Mr Universe - NABBA, Medium, 1st
Mr Universe - NABBA, Overall Winner
1971
Universe - Pro - NABBA, Short, 1st
1972
Olympia - IFBB, 4th
Universe - Pro - NABBA, Overall Winner
Universe - Pro - NABBA, Short, 1st
1974
Olympia - IFBB, LightWeight, 2nd
1975
Olympia - IFBB, LightWeight, 4th
1976
Olympia - IFBB, LightWeight, 2nd
1977
Olympia - IFBB, Winner
Olympia - IFBB, LightWeight, 1st
1978
Olympia - IFBB, LightWeight, 1st
Olympia - IFBB, Winner
1979
Olympia - IFBB, LightWeight, 1st
Olympia - IFBB, Overall Winner
1980
Olympia - IFBB, 3rd
1982
Olympia - IFBB, 2nd
1983
Olympia - IFBB, 4th