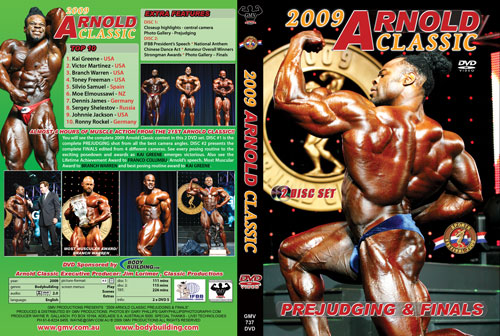 Click here to view a preview of this DVD.

2009 Arnold Classic Prejudging & Finals 2 Disc Set

ALMOST 4 HOURS OF SUPERB MUSCLE ACTION FROM THE 21ST ARNOLD CLASSIC!!
Date & Place: March 7, 2009 Veterans' Memorial Auditorium, Columbus, Ohio, USA.

You will see the complete 2009 Arnold Classic contest for men in this 2 DVD set from Prejudging to the awards at the FINALS. The Women's events and Arnold Strongman Classic will be on separate DVDs.

CONTENTS:
DISC #1 is the complete PREJUDGING shot from all the best camera angles. Plus Extra Scenes.
DISC #2 presents the complete FINALS edited from 4 different cameras. See every posing routine through to the exciting posedown and awards as KAI GREENE emerges victorious.
Also see the Lifetime Achievement Award to FRANCO COLUMBU, Arnold's speech, Most Muscular Award to BRANCH WARREN and best posing routine award to KAI GREENE.

The footage shot from Wayne's central camera position in the press pit is recorded from what is generally regarded as the best seat in the house. This footage is edited and mixed with the program feed from the 3 house cameras of LIVE TECHNOLOGIES, producing the best ever coverage for an Arnold Classic DVD set.
Of very special importance was the Lifetime Achievement Award to Arnold's long time friend and training buddy, Dr. FRANCO COLUMBU. Also in the main movie you see BRANCH WARREN receiving his Most Muscular Award, the award to KAI GREENE for the most entertaining posing routine plus Arnold's traditional speech. Arnold told Kai that his routine was the best posing routine he had ever witnessed.
* All 13 competitors are individually selectable from the menu.
Extra Features on the Finals Disc #2 are comprehensive and include the IFBB President's Opening Speech, National Anthem with the Marine Color Guard & Opera Singers, Chinese Dance Act, Presentation of the Overall Arnold Amateur Winners, Strongman Awards and the Finals photo Gallery.

The DVDs include 2 separate Photo Galleries. One each from Prejudging and Finals. All photos used are by Gary Phillips www.garyphillipsphotography.com

This 2 DVD set runs almost 4 hours. Finals MCs were Lonnie Teper and Clint Richards.

EXTRA FEATURES DISC #1:
Closeup highlights - Wayne's central camera
Photo Gallery - Prejudging 63 photos
EXTRA FEATURES DISC #2:

IFBB President's Speech
National Anthem
Chinese Dance Act
Amateur Overall Winners
Strongman Awards
Photo Gallery – Finals 95 photos
Click here for photos of Bob Kennedy and Tosca Reno at their Expo booth.

RT Disc #1 111 mins (71 mins Prejudging, 40 mins closeup camera Extra Scenes)
RT Disc #2 115 mins (90 mins Finals, 25 mins Extra Scenes)

TRT: 226 mins

All photos by Gary Phillips - www.garyphillipsphotography.com
DVD sponsored by www.bodybuilding.com and www.gmv.com.au
Arnold Classic Executive Producer: Jim Lorimer, Classic Productions www.arnoldsportsfestival.com
Please click here for the COMPLETE ARNOLD WOMEN'S EVENT DVD FOR 2009, GMV-741DVDSP.
THE RESULTS:
1. Kai Greene - USA
2. Victor Martinez - USA
3. Branch Warren - USA
4. Toney Freeman - USA
5. Silvio Samuel - Spain
6. Moe Elmoussawi - New Zealand
7. Dennis James - Germany
8. Sergey Shelestov - Russia
9. Johnnie Jackson - USA
10. Ronny Rockel – Germany
11. Gustavo Badell - USA
12. Ahmad Haidar - Lebanon
13. Marcus Haley - USA
MOST MUSCULAR AWARD: BRANCH WARREN
MOST ENTERTAINING POSING ROUTINE: KAI GREENE
To see Wayne's HARD NEWS Arnold Contest Report, Photos and Complete Event Results, please click here.

For details on GMV-692DVD, 2008 Arnold Classic DVD set, please click here.

A Classic Productions, Inc event.
Camerawork by Live Technologies and Wayne Gallasch of GMV Productions.
Special thanks to Lorz Communications – Public Relations, Shawn Loevenguth of Live Technologies and CNP Professional - Sponsors of GMV.

***********************************************************************************
Subject: Testimonial from an Arnold Classic fan and customer in UK.
Hi Wayne


Just purchased and watched the Arnold Classic 2009. Absolutely amazing quality and production, 10/10, excellent, anyone that can make pre-judging at a bodybuilding contest watchable deserves an Oscar.


Glen A Jones
UK
(August 2009)

NTSC DVD, OPEN REGION