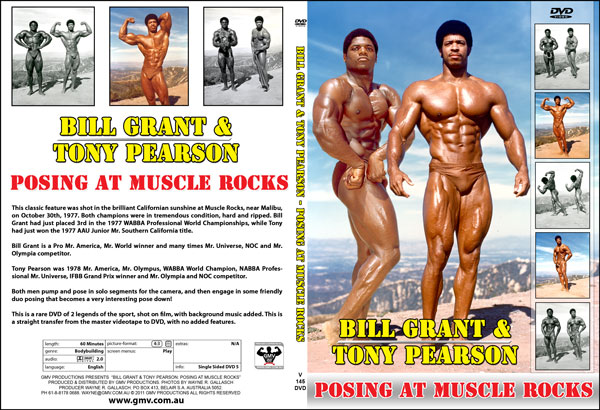 Bill Grant and Tony Pearson: Posing at Muscle Rocks

This classic feature was shot in the brilliant Californian sunshine at Muscle Rocks, near Malibu, on October 30th, 1977. Both champions were in tremendous condition, hard and ripped. Bill Grant had just placed 3rd in the 1977 WABBA Professional World Championships, while Tony had just won the 1977 AAU Junior Mr. Southern California title. Another interesting fact is that both men had successful pro careers and continued to compete up to and including 1994, see contest histories below. They are absolute legends of the sport.
Bill Grant is a Pro Mr. America, Mr. World winner and many times Mr. Universe, NOC and Mr. Olympia competitor. One of the great physiques of the last 35 years and still in fantastic shape today. See recent photo below right.
Tony Pearson was 1978 Mr. America, Mr. Olympus, WABBA World Champion, NABBA Professional Mr. Universe, IFBB Grand Prix winner and Mr. Olympia and NOC competitor. Tony is a personal trainer and you can see the great shape he is in today at the bottom of the page.

Both men pump and pose in solo segments for the camera, and then engage in some friendly duo posing that becomes a very interesting posedown! The wonderful location and the perfect angle of the sun combined in perfect harmony to best showcase these 2 great champions. This was in the early stages of Tony's career and both went on to compete for many years on the professional stage.

In the final part of the DVD both stars pose in the old natural style of physique photography, as made famous by Lon, and many of the other classical physique photographers of the early days. This is a rare DVD of 2 legends, shot on film, with background music added, and is a straight transfer from the master videotape to DVD, with no added features.
NOTE: You must be over 18 to purchase this DVD.
Running time: Approximately 1 hour



Also see Tony Pearson in V-140DVD.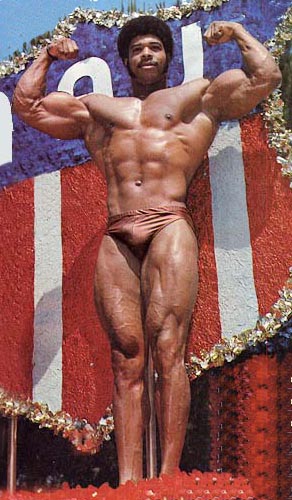 Bill Grant Contest History
Height 5'9", Contest Weight 195lbs

1967
Mr USA - AAU, 10th
1968
Mr America - AAU, 17th
Mr New Jersey - AAU, Overall Winner
Mr USA - AAU, Did not place
1969
Mr Los Angeles - AAU, 2nd
1970
Mr America - AAU, Most Muscular, 7th
Mr America - AAU, 12th
Junior Mr America - AAU, 7th
Junior Mr America - AAU, Most Muscular, 3rd
1971
Pro Mr America - WBBG, 2nd
1972
Pro Mr America - WBBG, Winner
North American Championships - WBBG, 2nd
Mr Universe - NABBA, Medium, 3rd
1973
Mr International - IFBB, Medium, 2nd
Mr World - IFBB, Most Muscular, 1st
Mr World - IFBB, Tall, 3rd
1974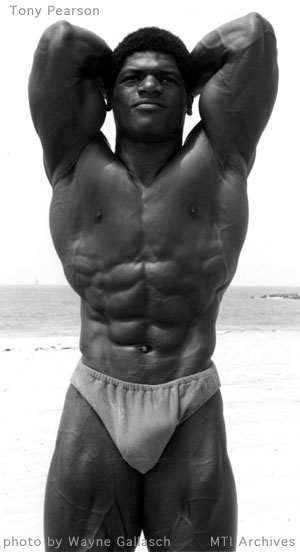 Mr International - IFBB, Medium, 1st
Mr World - IFBB, Tall, 1st
Mr World - IFBB, Overall Winner
1976
Olympia - IFBB, LightWeight, 4th
1977
Olympia - IFBB, LightWeight, 5th
Olympia - IFBB, 8th
World Championships - WABBA, Professional, 3rd
1978
Night of Champions - IFBB, 3rd
Olympia - IFBB, LightWeight, 7th
Professional World Cup - IFBB, 6th
1979
Canada Diamond Pro Cup - IFBB, 6th
Canada Pro Cup - IFBB, Did not place
Florida Pro Invitational - IFBB, 8th
Grand Prix Pennsylvania - IFBB, Did not place
Grand Prix Vancouver - IFBB, Did not place
Night of Champions - IFBB, 5th
Pittsburgh Pro Invitational - IFBB, 7th
1980
Canada Pro Cup - IFBB, 5th
Grand Prix California - IFBB, 9th
Grand Prix Pennsylvania - IFBB, 8th
Night of Champions - IFBB, 7th
1981
Grand Prix Belgium - IFBB, 7th
Grand Prix California - IFBB, Did not place
Grand Prix Wales - IFBB, 6th
Grand Prix World Cup - IFBB, Did not place
Professional World Cup - IFBB, Did not place
1982
Grand Prix Belgium - IFBB, 7th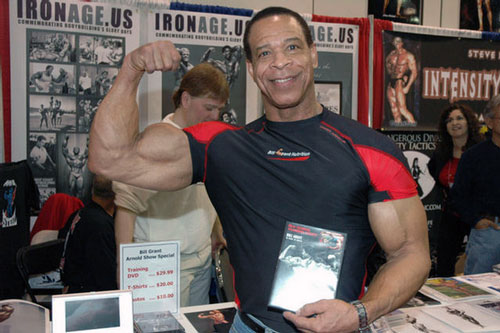 Grand Prix Sweden - IFBB, 8th
1983
Grand Prix Las Vegas - IFBB, 7th
1984
Canada Pro Cup - IFBB, 7th
Olympia - IFBB, 15th
World Grand Prix - IFBB, 7th
World Pro Championships - IFBB, 3rd
1985
Night of Champions - IFBB, 10th
1986
Night of Champions - IFBB, 9th
1988
Chicago Pro Invitational - IFBB, 13th
Night of Champions - IFBB, 13th
1994
Olympia - Masters - IFBB, 8th
****************************************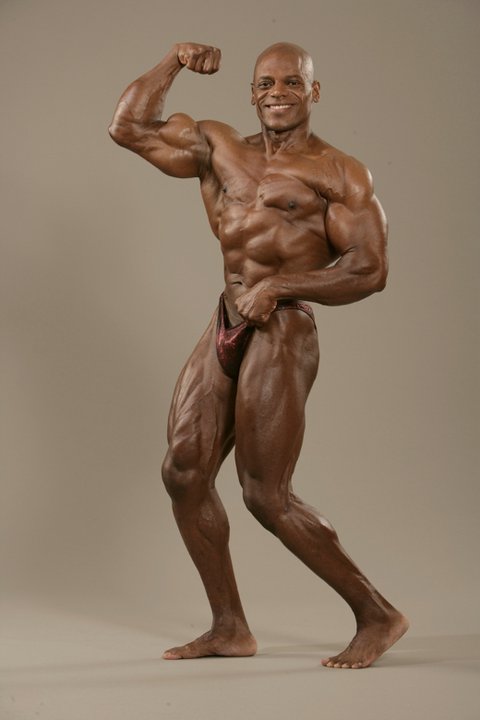 Tony Pearson Contest History
Born January 11, 1957

1976
Gold's Classic - AAU, Teen Overall Winner
Gold's Classic - AAU, Teen Short, 1st
1977
Junior Mr USA - AAU, Short, 3rd
Mr Los Angeles - AAU, Junior, 1st
Mr Southern California - AAU, Junior, 1st
1978
Mr America - AAU, Overall Winner
Mr America - AAU, Medium, 1st
Mr California - AAU, Short, 1st
Junior Mr America - AAU, Medium, 1st
Junior Mr America - AAU, Overall Winner
Junior Mr USA - AAU, Overall Winner
Junior Mr USA - AAU, Medium, 1st
USA World Qualifier - IFBB, MiddleWeight, 2nd
1979
Olympus - WBBG, Winner
Mr Universe - NABBA, Medium, 2nd
Pro Mr World - WBBG, Winner
World Championships - WABBA, Medium, 1st
World Championships - WABBA, Overall Winner
1980
Universe - Pro - NABBA, Winner
World Championships - WABBA, Professional, 3rd
Pro World Cup - WABBA, 5th
1981
Canada Pro Cup - IFBB, 4th
Grand Prix Belgium - IFBB, 6th
Grand Prix Wales - IFBB, 5th
Universe - Pro - IFBB, 3rd
Pro World Cup - WABBA, 7th
World Grand Prix - IFBB, 4th
World Pro Championships - IFBB, 3rd
1982
Night of Champions - IFBB, 6th
World Pro Championships - IFBB, 6th
1983
Grand Prix Denver - IFBB, Winner
Grand Prix England - IFBB, 4th
Grand Prix Las Vegas - IFBB, 6th
Grand Prix Portland - IFBB, 2nd
Grand Prix Sweden - IFBB, 6th
Grand Prix Switzerland - IFBB, 6th
World Pro Championships - IFBB, 8th
1984
Canada Pro Cup - IFBB, 3rd
Olympia - IFBB, 12th
World Grand Prix - IFBB, 3rd
1985
Night of Champions - IFBB, 9th
Olympia - IFBB, 12th
1986
Los Angeles Pro Championships - IFBB, 5th
Night of Champions - IFBB, 4th
World Pro Championships - IFBB, 9th
1987
Night of Champions - IFBB, Did not place
World Pro Championships - IFBB, 8th
1988
Grand Prix US Pro - IFBB, 6th
Niagara Falls Pro Invitational - IFBB, 5th
Night of Champions - IFBB, 8th
World Pro Championships - IFBB, 8th
1989
Grand Prix France - IFBB, 11th
Grand Prix Germany - IFBB, 9th
Grand Prix Spain (2) - IFBB, 9th
Grand Prix Spain - IFBB, 9th
Grand Prix Sweden - IFBB, 11th
1990
Arnold Classic - IFBB, 6th
Houston Pro Invitational - IFBB, 6th
Ironman Pro Invitational - IFBB, 8th
1991
WBF Grand Prix - WBF, 11th
1993
Chicago Pro Invitational - IFBB, 13th
Night of Champions - IFBB, Did not place
Pittsburgh Pro Invitational - IFBB, 16th
1994
Iron Man Pro Invitational - IFBB, 14th
San Jose Pro Invitational - IFBB, 16th
NTSC DVD, OPEN REGION