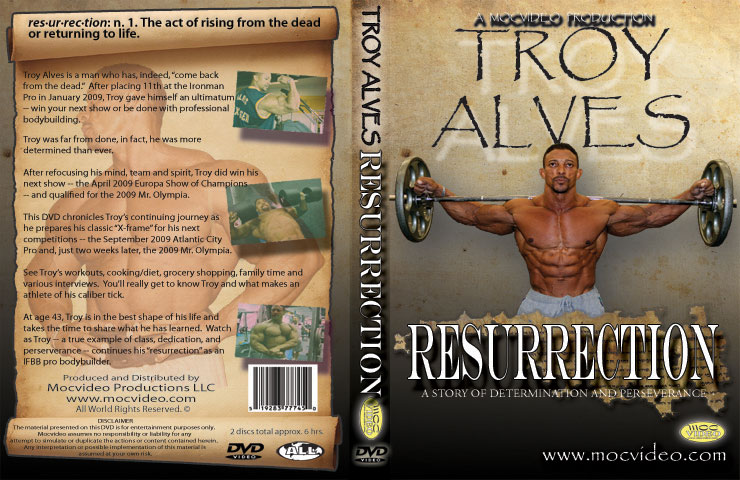 Click here for preview.




TROY ALVES RESURRECTION 2 Disc Set

VIDEO DOWNLOADS - IN 3 PARTS:
Part 1 includes Quads, Chest, Calves, Cardio, Cooking/Diet and more.
The CLIP and Part 1 Download.

Part 2 includes Hamstrings, Shoulders, Posing seminar and Back.
The CLIP and Part 2 Download.

Part 3 includes Massage, Arms, in-depth Interview, Visiting with McKenna and Guest posing 2009 Washington Iron Man.
The CLIP and Part 3 Download.
******************************************

RT: Approx. 5 hours 22 minutes / Massive Two disc set.
Released : December 24th, 2009

"res·ur·rec·tion": n. 1. The act of rising from the dead or returning to life.
Troy Alves is a man who has, indeed, "come back from the dead." After placing 11th at the Iron Man Pro in January 2009, Troy gave himself an ultimatum - win your next show or be done with professional bodybuilding.
Troy was far from done, in fact he was more determined than ever.
After refocusing his mind, team, and spirit, Troy did win his next show - the April 2009 Europa Show of Champions - and qualified for the 2009 Mr. Olympia.
This DVD chronicles Troy's continuing journey as he prepares his classic "X-frame" for his next competitions - the September 2009 Atlantic City Pro, and just two weeks later, the 2009 IFBB Mr. Olympia.
See Troy's workouts, cooking/diet, grocery shopping, family time and various interviews. You'll really get to know Troy and what makes an athlete of his caliber tick.
At age 43, Troy is in the best shape of his life and takes the time to share what he has learned. He is a highly experienced professional bodybuilder with a wealth of experience behind him.
Watch as Troy - a true example of class, dedication, and perseverance - continues his "resurrection" as an IFBB Pro Bodybuilder.
Disc 1
*Chapter 1: Legs
*Chapter 2: Grocery Shopping
*Chapter 3: Chest, Calves, Cardio
*Chapter 4: Cooking
*Chapter 5: Hamstrings
*Chapter 6: Supplement Store
*Chapter 7: Shoulders
*Chapter 8: Posing Seminar
Disc One: total running time : 3 hours 5 minutes
Disc 2
*Chapter 9: Back
*Chapter 10: Massage
*Chapter 11: Arms
*Chapter 12: Interview
*Chapter 13: McKenna
*Chapter 14: Posing at NPC Washington Iron Man
*Chapter 15: Closing Credits
Disc Two: total running time: 2 hours 17 minutes
TRT: 5 hours 22 mins

NOTE: Troy is competing in February in the 2010 Phoenix Pro (his hometown) -- and is poised to take a top spot. Troy won the 2009 Europa Show of Champions, had a top three finish at the 2009 Atlantic City Pro and competed at the 2009 Olympia. Troy is an IFBB Pro with a lot of momentum going into 2010. See CONTEST HISTORY below.


Please click here to see Troy place 2nd, 2003 AUSTRALIAN GRAND PRIX, GMV-530DVD. The first Olympia qualification.


Please click here to see ALL DVDS IN WHICH TROY ALVES IS MENTIONED.


Troy Alves Contest History
1996
USA Championships - NPC, Light-HeavyWeight, 8th
1997
Junior USA - NPC, Light-HeavyWeight, 1st
Junior USA - NPC, Overall Winner
Nationals - NPC, Light-HeavyWeight, 6th
1998
Nationals - NPC, Light-HeavyWeight, 8th
USA Championships - NPC, Light-HeavyWeight, 1st
1999
Nationals - NPC, Light-HeavyWeight, 7th
North American Championships - IFBB, Light-HeavyWeight, 3rd
2000
Nationals - NPC, HeavyWeight, 2nd
USA Championships - NPC, HeavyWeight, 2nd
2001
USA Championships - NPC, HeavyWeight, 2nd
2002
USA Championships - NPC, HeavyWeight, 1st
2003
Arnold Classic - IFBB, 10th
Grand Prix Australia - IFBB, 2nd
Grand Prix England - IFBB, 6th
Grand Prix Holland - IFBB, 6th
Grand Prix Russia - IFBB, 4th
Ironman Pro Invitational - IFBB, 4th
Maximum Pro Invitational - IFBB, 5th
Olympia - IFBB, 8th
San Francisco Pro Invitational - IFBB, 5th
2004
Olympia - IFBB, 15th
Show of Strength Pro Championship - IFBB, 5th
2005
Arnold Classic - IFBB, 8th
Ironman Pro Invitational - IFBB, 3rd
San Francisco Pro Invitational - IFBB, 4th
2006
Arnold Classic - IFBB, 10th
Colorado Pro Championships - IFBB, 8th
Ironman Pro Invitational - IFBB, 3rd
Olympia - IFBB, 15th
2007
Atlantic City Pro - IFBB, 10th
Montreal Pro Championships - IFBB, 6th
2008
Grand Prix Australia - IFBB, 5th
Grand Prix New Zealand - IFBB, 5th
Ironman Pro Invitational - IFBB, 9th
2009
Atlantic City Pro - IFBB, 3rd
Ironman Pro Invitational - IFBB, 11th
Olympia - IFBB, Did not place
Orlando Show of Champions - IFBB, Winner

2010
Battle of Champions - IFBB, Open, 2nd
Olympia - IFBB, 15th
Phoenix Pro - IFBB, Open, 5th
Tampa Bay Pro - IFBB, Open, 2nd

2011
Battle of Champions - IFBB, Winner
Olympia - IFBB, Did not place
Phoenix Pro - IFBB, Winner

A MOCVIDEO produced by Bruce and Lee Lester.

NTSC DVD, OPEN REGION