Preview clip.




Eduardo Correa – Revealed! Training & Shredded Posing
Eduardo Correa won his debut Pro contest, the 2009 IFBB Pittsburgh Pro 202 event and is destined for much greater honours. He is also a NABBA Universe winner from his Junior competition days.
He is one of the most outstanding new young physique stars to come on the scene in many years. His physique looks like it has been carved out of granite, with rock hard muscularity, bulging veins, great size and symmetry, "striations on his striations" and leg and back development the envy of Mr. Olympia competitors.
To top it all off, his Latin good looks!
See the latest on Eduardo in the 212 Class of the 2012 Olympia, A-1413DVD.
This training DVD was shot immediately after Eduardo placed 3rd in the 2009 Olympia 202 Showdown. Please click here to see him in the 2009 Mr. Olympia DVD, A-1326DVD.

Day 1 was Eduardo's shredded poolside posing, tensing and pumping in the brilliant Las Vegas sunshine.
Day 2 was his full body hardcore workout where he used his usual heavy weights, turning on a virtuoso training performance in the gym. We have not shot with anyone in this 100% contest condition in years. It was an awesome physical display.
All gym training photos and video shot at the fantastic Gold's Gym - Lake Mead, Las Vegas. Front cover photos by Richard Rossan.

Eduardo has sensational leg development with ripped, massive quads and fully rounded hamstrings along with good calves. His posing style is powerful and aggressive to match his outstanding physique. In Eduardo's first professional contest in the 2009 Pittsburgh 202, he surprised the highly credentialed MARK DUGDALE and very experienced JASON ARNTZ by finishing in front of them.
In 2002 the writing was on the wall that Eduardo was going to be a serious threat in the open ranks. When he won the 2002 NABBA Junior Mr. Universe, he was a class above all the other competitors with his mature, ripped physique. Then in 2007 he won the IFBB World Championships and followed this up by winning his class at the 2008 Arnold Classic Amateur Contest. His 3rd placing in his first Olympia 202 Showdown was thoroughly deserved and augurs well for the future.
As an added bonus see Eduardo and his complete class in the Light-Heavyweigh finals of the 2008 Arnold Amateurs contest.
DVD Contents in order seen:
2002 NABBA Junior Universe, pump room, posing, first place award.
2009 Poolside shredded posing – Las Vegas.
2009 Full body hard core workout post Olympia 202 Class.
2009 Olympia 202 Showdown – prejudging, pumping, posing & 3rd place award.
Extras:
Massive photo gallery.
Eduardo at 2008 Arnold Amateur Contest, the posing and posedown.
Format: Shot in Widescreen 16:9
Running Time: 90 mins main movie
Extra Scenes: 17 mins
Total Running Time: 107 mins


LIKE A MACHINE – EDUARDO CORRÊA.

This is a total training DVD that showcases Eduardo's preparation for the 212 Showdown at the 2012 Olympia, from his participation in the Flex Pro in LA in early 2012, to his food preparation at home, to his supplements, chiropractic, words of wisdom from his coach and guru CHRIS ACETO, posing practice - to his heavy duty training in the gym in Brazil.

As the camera follows Eduardo's every move, it shows you what goes into the making of a champion.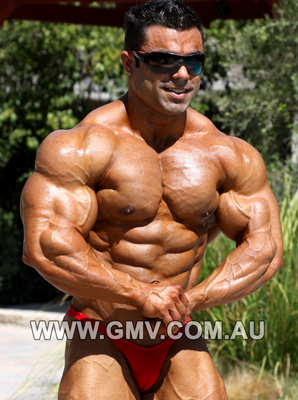 Photos by Richard Rossan, Tina Gallasch, Wayne Gallasch.
Special thanks to Richard Rossan for making the Gold's Gym video and photo session possible and thanks also to Andy Olson for the use of his pool and garden.

EDUARDO CORRÊA - IFBB PROFESSIONAL BODYBUILDER

Full name: Eduardo Corrêa da Silva
Place of birth: Florianópolis - Brazil
Date of birth: June 20, 1981
Heigth: 1.70 m (5'8")
Weight off-season: 238 pounds
Weight Competition: 202 pounds

CONTEST HISTORY
Professional
2009
IFBB Mr. Olympia 202 - 3rd place
IFBB New York Pro 202 - 4th place
IFBB Pittsburgh Pro 202 – winner (Debut Contest)

2010
IFBB Olympia, 202 Class, 3rd
IFBB Orlando Show of Champions, 202 Class, 1st
2012
IFBB Arnold Classic, Did not place
IFBB British Grand Prix, LightWeight, 4th
IFBB Flex Pro (Santa Monica), 5th
IFBB Olympia, 212 Class, 3rd
IFBB Prague Pro Championships, 212 Class, 3rd
IFBB Valenti Gold Cup Pro, 212 Class, 1st

2013
IFBB Olympia, LightWeight, 5th
2014
IFBB Olympia, LightWeight, 2nd
2015
IFBB Arnold Classic, LightWeight, 3rd
IFBB Olympia, LightWeight, 5th

Amateur
2008 Arnold Classic Amateur – LHW winner
2008 MD Cyber Classic 2008 – winner
2007 IFBB World Championship – winner
2006 IFBB World Championship – 2nd place
2006 IFBB South American Championship - winner
2004 Excalibur Contest – winner
2003 South Florida Contest - winner
2002 NABBA Junior Mr. Universe – winner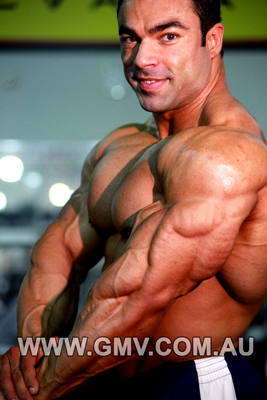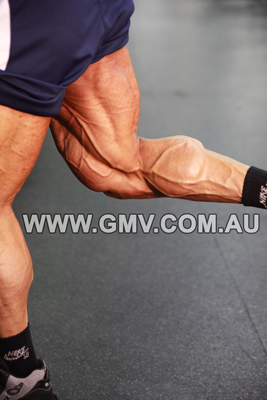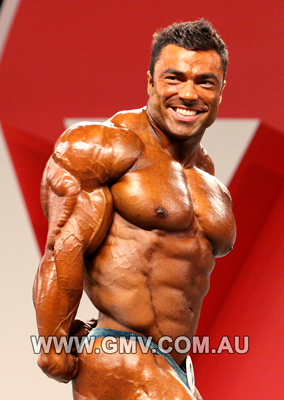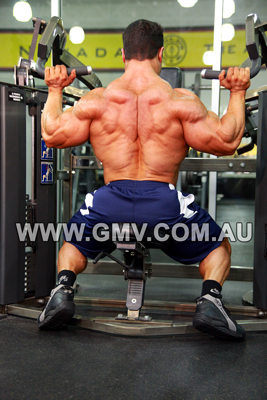 NTSC DVD, OPEN REGION