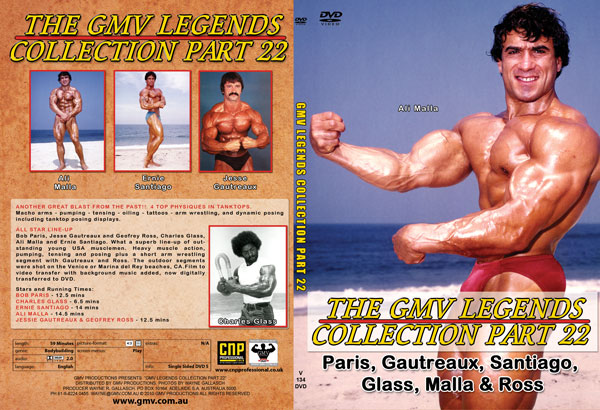 The GMV Legends Collection # 22:
Paris, Gautreaux, Santiago, Glass, Malla & Ross

Also available on Digital Download.

ANOTHER GREAT BLAST FROM THE PAST!! 4 TOP PHYSIQUES IN TANKTOPS.

Macho arms - pumping - tensing - oiling - tattoos - arm wrestling, and dynamic posing including tanktop posing displays.

ALL STAR LINE-UP
Bob Paris, Jesse Gautreaux and Geofrey Ross, Charles Glass, Ali Malla and Ernie Santiago. What a superb line-up of outstanding young USA musclemen.
Heavy muscle action, pumping, tensing and posing plus a short arm wrestling segment with Gautreaux and Ross. (We are looking for an image of Geofrey Ross for this page, if anyone can help us.)

See the CHARLES GLASS PHOTO GALLERY.

See the ERNIE SANTIAGO PHOTO GALLERY.

The outdoor segments were shot on the Venice or Marina del Rey beaches, CA.
Film to video transfer with background music added, now digitally transferred to DVD.
Jesse Gautreaux and Bob Paris are also pictured lower right.
Stars and Running Times:

BOB PARIS - 12.5 mins
CHARLES GLASS - 6.5 mins
ERNIE SANTIAGO - 14 mins
ALI MALLA - 14.5 mins
JESSIE GAUTREAUX & GEOFREY ROSS - 12.5 mins

Total Running Time: Approx 60 mins
Please Note: The Bob Paris footage is the same as the first 12.5 mins seen in the BOB PARIS FEATURE which is V-110DVD. It is classic footage in a tanktop, well worth seeing again.


To see more of CHARLES GLASS, please click here for his own DVD, GMV-005DVD.

Please click here for the 1983 IFBB Mr. Universe Prejudging, GMV-265DVD.

Please click here for the complete 1983 IFBB Mr. Universe Finals, GMV-266DVD.
BOB PARIS is also in the above 2 DVDs as he was the Overall Winner at the 1983 Mr. Universe in Singapore.

Please click here for LEGENDS COLLECTION PART 11, V-101/102DVD.





To see more on ERNIE SANTIAGO and ALI MALLA, please click here for V-118DVD.




Please click here for Ernie in GMV Legends Collection #17, GMV-004DVD.




Please click here for more of Ernie & Jesse in GMV Legends Collection Part 11, V-101/102DVD.











PHOTOS: Outdoor photos by Wayne Gallasch, copyright GMV.

See 3 CONTEST HISTORIES BELOW.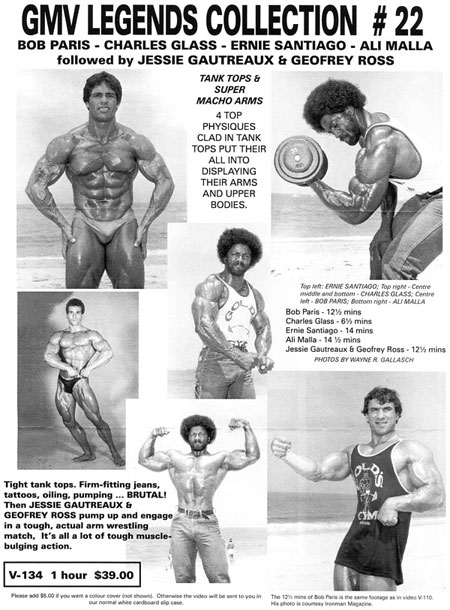 Charles Glass

1976
Iron Man, Winner
1977
Mr Southern California - AAU, Winner
1978
Mr California - AAU, Tall, 2nd
Junior Mr USA - AAU, Medium, 3rd
1979
Junior Mr America - AAU, Medium, 1st
1980
Mr America - AAU, Light-HeavyWeight, 4th
1981
Mr America - AAU, Light-HeavyWeight, 5th
1982
Nationals - NPC, Light-HeavyWeight, 3rd
1983
Nationals - NPC, MiddleWeight, 1st
USA Championships - NPC, Light-HeavyWeight, 5th
World Amateur Championships - IFBB, MiddleWeight, 1st
Ali Malla
1981
Grand Prix California - IFBB, Did not place
Mr International - IFBB, Light-HeavyWeight, 1st
1982
World Pro Championships - IFBB, 11th
1983
Grand Prix Denver - IFBB, 3rd
Grand Prix Las Vegas - IFBB, Did not place
Grand Prix Portland - IFBB, 8th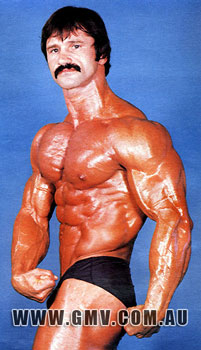 Night of Champions - IFBB, 8th
World Pro Championships - IFBB, 9th
1985
Night of Champions - IFBB, 7th
Olympia - IFBB, 17th
1986
Los Angeles Pro Championships - IFBB, Did not place
Night of Champions - IFBB, 11th
World Pro Championships - IFBB, 15th
1987
Detroit Pro Invitational - IFBB, 7th
Night of Champions - IFBB, Did not place
1988
Grand Prix US Pro - IFBB, 11th
1997
Olympia - Masters - IFBB, 8th
2001
Iron Man Pro Invitational - IFBB, Did not place

1984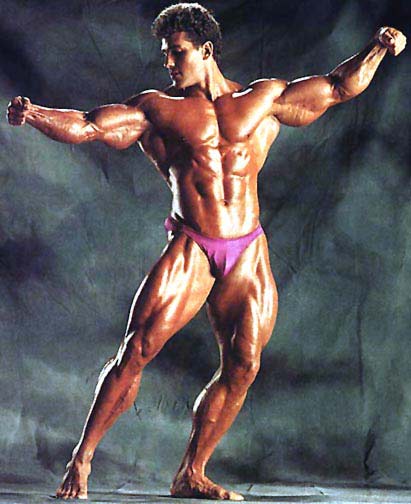 Canada Pro Cup - IFBB, 8th
Olympia - IFBB, 16th
World Grand Prix - IFBB, 8th
1985
Night of Champions - IFBB, 13th
1986
Night of Champions - IFBB, 10th
World Pro Championships - IFBB, 10th
1987
Detroit Pro Invitational - IFBB, 5th
1988
Chicago Pro Invitational - IFBB, 12th
1989
Night of Champions - IFBB, 10th
1990
Houston Pro Invitational - IFBB, 9th
Pittsburgh Pro Invitational - IFBB, 7th
1995
Olympia - Masters - IFBB, 4th
Jesse Gautreaux

1979
Mr America - AAU, Medium, 10th
1980
Mr America - AAU, Light-HeavyWeight, 11th
1981
Mr America - AAU, Light-HeavyWeight, 7th
Junior Mr America - AAU, Light-HeavyWeight, 1st
North American Championships - IFBB, Light-HeavyWeight, 1st
Mr USA - AAU, Light-HeavyWeight, 1st
Mr USA - AAU, Overall Winner
World Games, Light-HeavyWeight, 2nd
1982
Mr America - AAU, Medium, 1st
Mr Universe - NABBA, Medium, 6th
1983
Mr America - AAU, Medium, 1st
1985
Mr America - AAU, Medium, 1st
1987
Universe - AAU, Light-HeavyWeight, 1st
Universe - AAU, Overall Winner
NTSC DVD, OPEN REGION