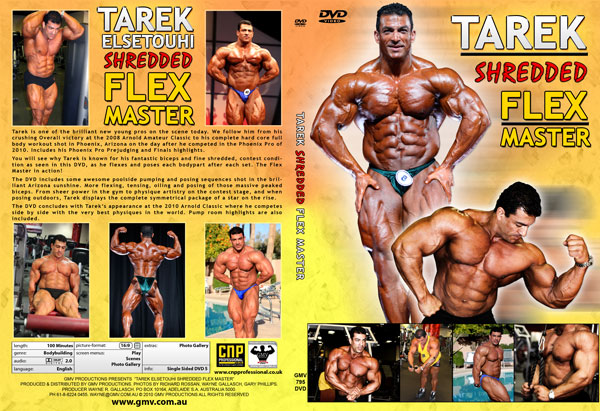 Click here for preview.

TAREK ELSETOUHI – Shredded Flex Master

Also on Digital Download.
Tarek Elsetouhi is one of the brilliant new young pros on the scene today. We follow him from his crushing Overall victory at the 2008 Arnold Amateur Classic to his complete hard core full body workout shot in Phoenix, Arizona on the day after he competed in the 2010 Phoenix Pro.
We include his Phoenix Pro Prejudging and Finals highlights.
You will see why Tarek is known for his fantastic biceps and fine shredded, contest condition
as shown in this DVD, as he flexes and poses each bodypart after every set. The Flex Master in action at his brilliant best!
POSING & TRAINING: Shot over 2 days.
Day 1 was Tarek's shredded poolside posing, tensing and pumping in the brilliant Phoenix sunshine.
Day 2 was his full body hardcore ripped to shreds gym workout at the Fitness Factory, Gilbert, Arizona. It is not often he have the privilege of shooting with a star bodybuilder in his 100% contest condition.
The DVD includes some awesome T-shirt poolside pumping and posing sequences shot in the brilliant Arizona sunshine. More flexing, tensing, oiling and posing of those massive peaked biceps. From sheer power in the gym to physique artistry on the contest stage, and when posing outdoors, Tarek displays the complete symmetrical package of a star on the rise.
The DVD concludes with Tarek's appearance at the 2010 Arnold Classic -
See him compete side by side with the very best physiques in the world.
Includes pumping and posing in Columbus, Ohio.
This is a classic Wayne Gallasch feature film for GMV Productions.
Special thanks to Richard Rossan for making the gym shoot and poolside video and photo session possible.
Massive photo gallery.
Running Time: 100 mins
Photographers:
Richard Rossan
Wayne Gallasch
Gary Phillips
Contest History:
2002
World Amateur Championships - IFBB, HeavyWeight, 11th
2004
European Amateur Championships - IFBB, Super-HeavyWeight, 5th
2008
Arnold Amateur - IFBB, Super-HeavyWeight, 1st
Arnold Amateur - IFBB, Overall Winner
Atlantic City Pro - IFBB, 10th
Europa Supershow - IFBB, Open, 5th
New York Pro Championships - IFBB, Open, 12th
Tampa Bay Pro - IFBB, Open, 6th
2009
Europa Supershow - IFBB, Open, 8th
New York Pro Championships - IFBB, Open, 6th
Tampa Bay Pro - IFBB, Open, 6th
2010
Arnold Classic - IFBB, 11th
Orlando Show of Champions - IFBB, Open, 6th
Phoenix Pro - IFBB, Open, 9th

NTSC DVD, OPEN REGION