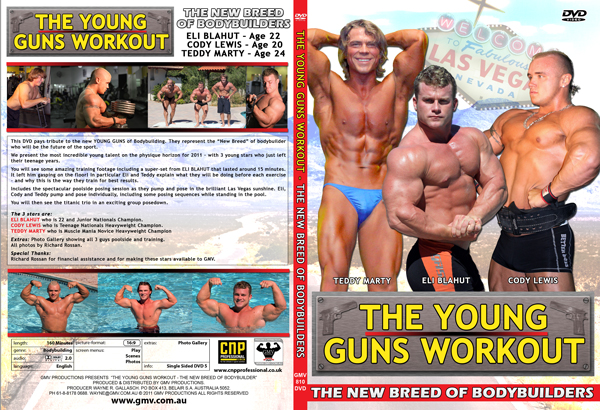 Click here for preview.
The Young Guns Workout

Also on Digital Download.
"The new breed of bodybuilders"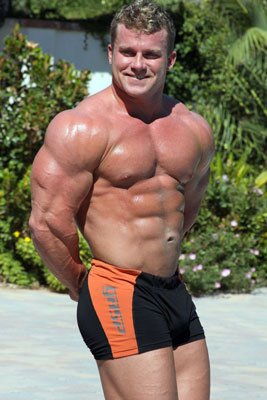 Featuring:
ELI BLAHUT – Age 22
CODY LEWIS – Age 20
TEDDY MARTY – Age 24

This DVD pays tribute to the new YOUNG GUNS of BODYBUILDING. They represent the "New Breed" of bodybuilder who will be the future of the sport.

We present the most incredible young talent on the physique horizon for 2011 – with 3 young stars who just left their teenage years. The DVD's main focus is on their Hard Core Workout at Gold's Gym, Las Vegas, immediately after the 2010 Olympia.

You will see some amazing training footage including a super-set from ELI BLAHUT that lasted around 15 minutes. It left him gasping on the floor! In particular, Eli and Teddy explain what they will be doing before each exercise - and why this is the way they train for best results.

Includes the spectacular poolside posing session as they pump and pose in the brilliant Las Vegas sunshine. Eli, Cody and Teddy pump and pose individually, including some posing sequences while standing in the pool.
You will then see the titanic trio in an exciting group posedown. This is a fun, light heated segment, capturing the exciting mood of the Olympia weekend.

The 3 stars are:
ELI BLAHUT who is 22 and Junior Nationals Champion. (Pictured top right)
CODY LEWIS who is Teenage Nationals Heavyweight Champion. (Second to top right)
TEDDY MARTY who is Muscle Mania Novice Heavyweight Champion. (Pictured 3rd to top right)

Extras:
Photo Gallery - all 3 poolside posing, gym and informal photos too.
All photos by Richard Rossan.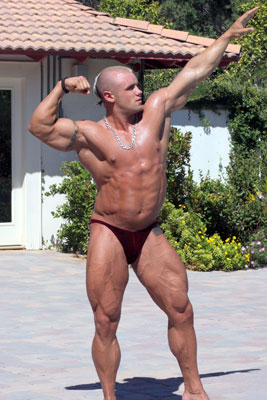 Special Thanks:
Richard Rossan for financial assistance and for making these stars available to GMV.
Andy Olson for his hospitality, and use of his pool and garden.
Running Time: 2 hours 40 mins


Young Guns DVD Menu
OPENING
ELI & TEDDY WORKOUT
CHEST
BACK
SHOULDERS
BICEPS & TRICEPS
(This workout's running time is 84 mins)

CODY WORKOUT
CHEST
BACK
SHOULDERS
TRICEPS
BICEPS
LEGS

(Cody's workout's running time is 40 mins)
POOLSIDE PUMPING & POSING

CODY PUMPS & POSES
ELI PUMPS & POSES
TEDDY PUMPS & POSES
ALL 3 PUMP & POSE TOGETHER
CREDITS

Then you have the massive PHOTO GALLERY showcasing all 3 stars.

***********************************************************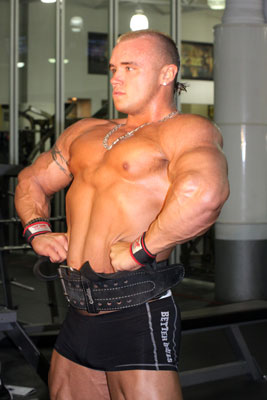 Now for some brief bio onformation on each of our young stars:

Name: Eli "Smokin' Aces" Blahut

DOB: 9/30/87

Current Residence: Venice, CA

Contest History:
08'- NPC VA/DC State Championships – lightweight - 1st
09'- NPC Excalibur Bodybuilding Championships – Welterweight - 1st
10'- NPC JR. Nationals – Middleweight - 1st
10'- NPC West Coast Classic – Light Heavyweight - 1st and Overall

Has Been Featured in:
Iron Man Magazine
Reps Magazine
Muscle and Performance Magazine
Muscle and Fitness Magazine
Exercise for Men Magazine

Favorite Quotes:
"Dreams can be made real with firm belief and continual effort."
"All men search for happiness, truly, it is found within."
"When you can no longer move the weight, keep trying."
"Pain is simply uncomfortable sensation. Making the body grow can be an uncomfortable process"

Favorite Meal:
10oz turkey burger with salt and pepper with zucchini and garlic sauteed in olive oil.

Personal: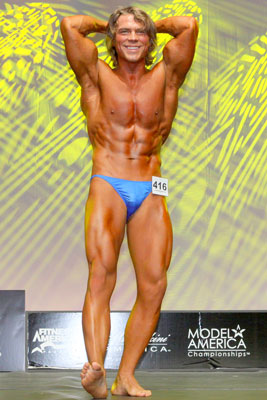 Eli Blahut Graduated from Virginia Commonwealth University in 2009 cum laude' with a bachelors degree in Psychology and Religious Studies.
This was a week after he won his class at the 09' Excalibur. Without a moments hesitation, he kept his sights set on bodybuilding success and drove to Venice, CA with his brother in a 1983 VW Camper to live behind Gold's gym and pursue the 2010' Jr. Nationals and West Coast Classic.
After giving it all up, he came out with victories and magazine publications. Now he is preparing for the 2011 USA's in hopes for his pro card and prays it is just one more stepping stone to the 202 Mr. Olympia stage and title. Eli has a solid sense of willpower and perseverance, and believes that great things come with great sacrifice.
He has never worked with a trainer or nutritionist and takes pride in his ability to research and apply, leading to well deserved consecutive wins. Currently, he is working at a nutritional store, doing personal training, and studying acting while training for the USA's. He does love his fans and can be reached at contact@eliblahut.com.
+++++++++++++++++++++++++++++++++++
CODY LEWIS BIO

Age 20

DOB: 11/01/1990

Birthplace: Modesto CA

Height: 5'11"

Off season weight: 285lbs

Contest weight: 225lbs

Goals: To attain a pro card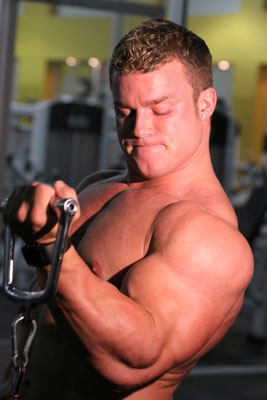 Started training at age 13

Training out of Intersport Fitness

Competition list:

2007 Contra Costa Championships overall teen champion

2007 California Championships overall teen champion

2010 Teen Nationals Teen Heavyweight champion

2010 IFBB North American Nationals Teen Overall champion

Plans to compete in the 2011 Contra Costa Championships
++++++++++++++++++++++++++++++++++++++++++
TEDDY MARTY BIO


Teddy Marty is a natural bodybuilder from Buffalo, New York. He is an independent trainer at World Gym.

Teddy Has competed in 3 bodybuilding shows, having done the Mr. Buffalo twice in 2007 and 2010, placing 4th in 07 and 5th in 10.

Teddy recently competed in the Musclemania competition held in Las Vegas, winning his class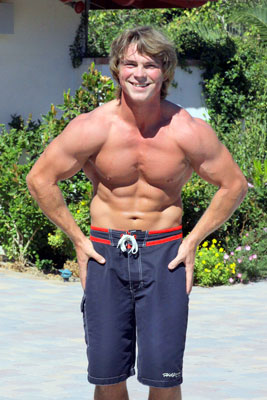 as a novice
heavyweight.

Teddy is pursuing many things today.
Motivational Speaking is a passion of his, and he attributes his progression in the sport of bodybuilding as a key factor in the development of his story.
DOB is Dec. 23, 1985.
NTSC DVD, OPEN REGION