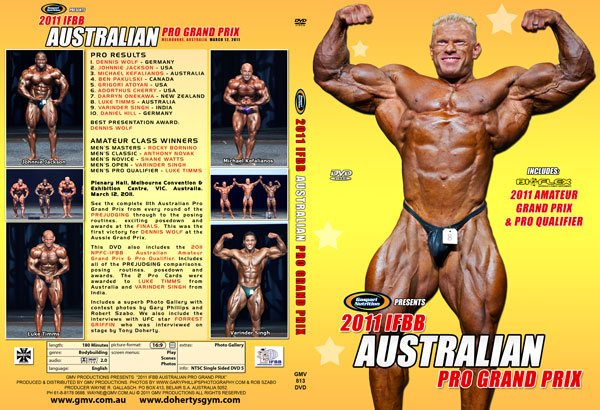 Click here for preview clip.



2011 Australian Pro Grand Prix # 11 & Amateur Grand Prix and Pro Qualifier
Plenary Hall, Melbourne Convention & Exhibition Centre, VIC. Australia. March 12, 2011.

See the complete 11th Australian Pro Grand Prix from every round of the PREJUDGING through to the posing routines, exciting posedown and awards at the FINALS. This was the first victory for DENNIS WOLF at the Aussie Grand Prix.
This DVD also includes the 2011 NPFC-IFBB Australian Men's Amateur Grand Prix and Pro Qualifier. Includes all of the PREJUDGING comparisons, posing routines, posedown and awards.

The 2 Pro Cards were awarded to Luke Timms from Australia and Varinder Singh from India.
Promoted by Tony Doherty, the professional class was sponsored by Gaspari Nutrition and the Amateur Grand Prix and Pro Qualifier was sponsored by BIOFLEX.
Includes a superb Photo Gallery with contest photos by Gary Phillips of garyphillipsphotography.com, and Robert Szabo. We also include Tony Doherty's on stage interview with UFC star Forrest Griffin.
There is a separate DVD from the Women's Sections of this event including the PRO FIGURE CLASS & AMATEUR WOMEN, GMV-814DVD.

NTSC DVD, OPEN REGION

See the COMPLETE EVENT
RESULTS plus more photos.

PRO RESULTS:
1. Dennis Wolf - Germany
2. Johnnie Jackson - USA
3. Michael Kefalianos - Australia
4. Ben Pakulski - Canada
5. Grigori Atoyan - USA
6. Adorthus Cherry - USA
7. Darryn Onekawa - New Zealand
8. Luke Timms - Australia
9. Varinder Singh – India
10. Daniel Hill – Germany

Best Presentation Award: Dennis Wolf
AMATEUR CLASS WINNERS:
MEN'S MASTERS - Rocky Bornino
MEN'S CLASSIC - Anthony Novak
MEN'S NOVICE - Shane Watts
MEN'S OPEN - Varinder Singh
MEN'S PRO QUALIFIER - Luke Timms (Australia)
SECOND PRO CARD – Varinder Singh (India)
EXTRAS: Photo Gallery
Running Time: 180 mins











2011 IFBB Australian Amateur Grand Prix
MEN'S MASTERS BODYBUILDING
1. Rocky Bornino
2. Michael Mackay
3. Kieran Norquay
Michael Gregoriou
Steve Papps
Yoram Kalev
MEN'S CLASSIC BODYBUILDING
1. Anthony Novak
2. Ryan Quinn
3. Hothi Pinder
Luke Trainor
Ricardo Fernandez
Michael Handley
MEN'S NOVICE BODYBUILDING
1. Shane Watts
2. Jason Wells
3. Michael Surace
Jeremy McLay
Daniel Oakford
David Cuffe
Dilshan Perera
Anthony Krklinski
Afa Wilson
Chris Schmid
Jafar Mohseni
Anthony Finn
Billy McGee
Nathans Rocks
Phil Thornber
Paul Formosa
MEN'S OPEN BODYBUILDING
1. Varinder Singh
2. Mark Grech
3. Rohan Reid
Justin Eming
Pual Jayilian
Jean Francois Marion
Arkin Kaman
Jonathon Tether
Mohammad Mohensi
Adam Powell
MEN'S PRO QUALIFIER
1. Luke Timms
Lucky Hatzipantelis