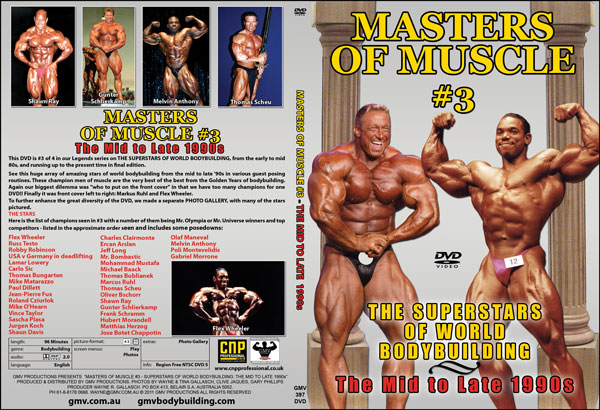 Click here for preview clip
MASTERS OF MUSCLE # 3: The Superstars of World Bodybuilding
Mid to Late 1990s - The Best Men from FIBO.
Also available as a Digital Download
This DVD is #3 out of 4 in our Legends series on THE SUPERSTARS OF WORLD BODYBUILDING, from the early to mid 80s in #1, and running up to the present time in the final edition, #4.
See this huge array of amazing stars of world bodybuilding from the mid to late '90s in various guest posing routines. These champion men of muscle are the very best of the best from the Golden Years of bodybuilding. Again our biggest dilemma was "who to put on the front cover" in that we have too many champions for one DVD!! Finally it was front cover left to right: Markus Ruhl and Flex Wheeler.
Click here for the FLEX WHEELER PHOTO GALLERY.


Click here to see some of the EXTRA PHOTOS in the PHOTO GALLERY #3 FOR THIS DVD.

EXTRAS: The DVD also has a superb PHOTO GALLERY.
See #4 in this series - MASTERS OF MUSCLE #4 - SUPERSTARS OF WORLD BODYBUILDING - THE 2000s, GMV-461DVD.
See #1 in this series - MASTERS OF MUSCLE #1 - SUPERSTARS OF WORLD BODYBUILDING - THE 1980s, GMV-395DVD.
See #2 in this series - MASTERS OF MUSCLE #2 - SUPERSTARS OF WORLD BODYBUILDING - THE 1990s, GMV-396DVD.
THE STARS:
Here is the list of champions seen in #3 with a number of them being Mr. Olympia or Mr. Universe winners and top competitors - listed in the approximate order seen in the DVD. Also includes some group posedowns and brief interviews:
Flex Wheeler
Russ Testo
Robby Robinson
USA v Germany in deadlifting
Lamar Lowery
Carlo Sic
Thomas Bungarten
Mike Matarazzo
Paul Dillett
Jean-Pierre Fux
Roland Cziurlok
Mike O'Hearn
Vince Taylor
Sascha Plasa
Jurgen Koch
Shaun Davis
Charles Clairmonte
Ercan Arslan
Jeff Long
Mr. Bombastic
Mohammad Mustafa
Michael Baack
Thomas Bublianek
Marcus Ruhl
Thomas Scheu
Oliver Bschorr
Shawn Ray
Gunter Schlierkamp
Frank Schramm
Hubert Morandell
Matthias Herzog
Jose Botet Chappotin
Olaf Maneval
Melvin Anthony
Poli Montevelidis
Gabriel Morrone
Running time: 96 mins.
Photos by Wayne & Tina Gallasch, Clive Jaques, Alex McKenna, Gary Phillips, Timo Sorger.
NTSC DVD, OPEN REGION