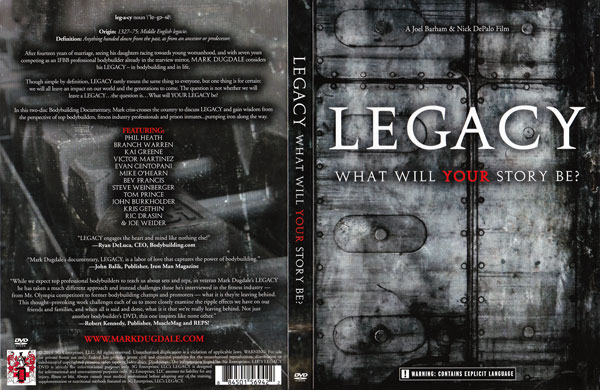 Click here for preview clip #1.


Click here for preview clip #2.
Mark Dugdale - Legacy 2 DVD Set
Dual price US$39.95 or A$49.95

In this 2 disc documentary, Mark Dugdale criss crosses USA to discuss LEGACY and gain wisdom from the perspective of top bodybuilders, and fitness industry professionals.... pumping iron along the way. This is Mark's 5th DVD production. The other DVDs and more images are shown below.
Disc 1
This insightful story features: Phil Heath, Branch Warren, Kai Greene, Victor Martinez, Evan Centopani, Mike O'Hearn, Bev Francis, Steve Weinberger, Tom Prince, John Burkholder, Kris Gethin, Ric Drasin, and Joe Weider.
Plus many SPECIAL FEATURES. See more details and REVIEWS below.

Disc 1 Running time: 102 mins
Disc 2
Bonus disc includes the seminar at the Monroe Correctional Facillity, and workouts as follows:
Legs - Evan and Mark
Arms - Christina and Mark
Back & Arms - Kris & Mark
Legs - Mike & Mark
Chest, Back and Arms - Phil & Mark
Back - Victor & Mark
Legs - Kris & Mark
Shoulders - Kris, Branch & Mark
Full Body Circuit - Mark

Disc 2 Running time: 160 mins

TRT for the 2 DVD set: 262 mins

MARK DUGDALE CLASSIC DVDs.
Mark Dugdale has done it the hard way! He has been DRIVEN, BEYOND DRIVEN, and has spent A WEEK IN THE DUNGEON.
See Mark in his 4th and most informative film compilation yet, MARK IS NUMERO 202! Go behind the scenes as Mark gives us a glimpse into his life; with an exclusive all-access pass into the 2009 OLYMPIA 202 SHOWDOWN.

For full details on Mark's first DVD, "Driven", please click here for A-1139DVD.
To see Mark take a brilliant second place in the 2007 Iron Man Pro, please click here for V-203DVD.
For all of the details on Dorian's Blood & Guts DVD, please click here for A-4215DVD.

REVIEWS:
Wayne, March 21, 2012

I just finished watching Legacy. This has to be the BEST DVD I have ever seen!
Greg Capace
********************************
"LEGACY" IS A MUST - SEE DVD!
Review courtesy Iron Man magazine.
"Legacy" produced by Mark Dugdale is probably the most unique bodybuilding DVD ever released. Mixing training beliefs with gym action, the DVD explores how you live your life and how you treat and interact with others during your life determines one's legacy. As well as Dugdale, other notables appearing in the DVD include Phil Heath, Branch Warren, Tom Prince, Mike O'Hearn, Evan Centopani, Kai Greene, Victor Martinez, Steve Weinberger, Bev Francis and even Joe Weider.
Expertly filmed and edited by Joel Barham, this isn't just another bodybuilding DVD. It uses bodybuilding as a backdrop to probe into deeper areas and, in my opinion, it's a documentary that would be enjoyed and appreciated by a mainstream audience.
NTSC DVD, OPEN REGION
Important GMV Dual pricing policy.
* All customers outside of Australia/New Zealand will be charged in US dollars. If an imported item has dual pricing, (that is in Australian and US dollars), all customers OUTSIDE of Australia and New Zealand will only be charged the US dollar price.

Unfortunately, our site cannot automatically cope with dual pricing based on your country of residence and will default to the US dollar price on the order form you see displayed. Regardless of this, all customers will be manually charged the correct price based on the above.
To refer to our FAQ section for this and any other questions, please click here.