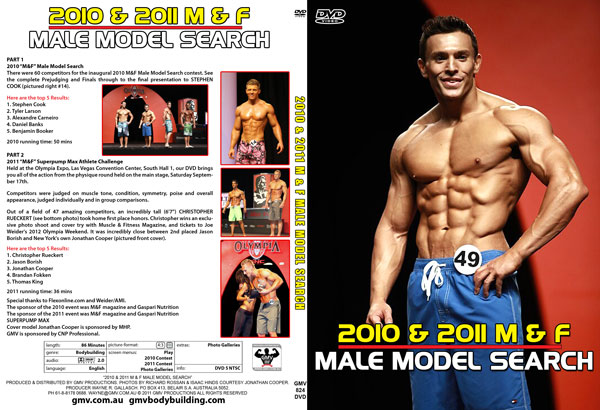 Click here for preview clip
2010 & 2011 "M & F" Male Model Search
(2010 Muscle & Fitness Male Model Search & 2011 Muscle & Fitness Superpump Max Athlete Challenge)
PART 1
2010 "M&F" Male Model Search
There were 60 competitors for the inaugural 2010 "M&F" Male Model Search contest. In this special DVD see the complete Prejudging and Finals through to the final presentation to STEPHEN COOK (pictured #14 rear cover above).
TOP 5 RESULTS:
1. Stephen Cook
2. Tyler Larson
3. Alexandre Carneiro
4. Daniel Banks
5. Benjamin Booker
Part 1 2010 running time: 50 mins
Click here for the 2010/2011 PHOTO GALLERY.
PART 2
2011 "M&F" Superpump Max Athlete Challenge
Again in 2011 this event was held at the Olympia Expo, Las Vegas Convention Center, South Hall 1. Our DVD brings you all of the action from the physique round held on the main stage, Saturday September 17th.
Competitors were judged on muscle tone, condition, symmetry, poise and overall appearance - judged individually and in group comparisons. (No footage was recorded of the Friday Athlete Challenge Round)
Out of a field of 47 amazing competitors, an extremely tall and ripped (6'7") Christopher Rueckert (see bottom photo rear cover) took home first place honors. Christopher wins an exclusive photo shoot and cover try with Muscle & Fitness Magazine, and tickets to Joe Weider's 2012 Olympia Weekend. It was incredibly close between 2nd placed Jason Borish and New York's own Jonathan Cooper (pictured front cover).
The best 10 guys were as follows: Christopher Rueckert, Jason Borish, Jonathan Cooper, Brandan Fokken, Thomas King, Jordan Tomblin, Daniel Zigler, Steven Costa, Tyler Larson and Kade Lingermann.
TOP 5 RESULTS:
1. Christopher Rueckert
2. Jason Borish
3. Jonathan Cooper
4. Brandan Fokken
5. Thomas King

Click here for more RESULTS information.
Part 2 2011 running time: 36 mins
TRT: 86 mins
EXTRAS:
Photo Galleries for each year

PHOTOGRAPHY
Richard Rossan
Isaac Hinds

Also see the 2011 MR. OLYMPIA DVD, A-1371DVD.



Click here for the 2010/2011 "FLEX" BIKINI MODEL SEARCH, GMV-825DVD.
GMV's SPECIAL THANKS TO:
RICHARD ROSSAN FOR HIS ASSISTANCE IN THE PRODUCTION OF THIS DVD.
WEIDER/MUSCLE & FITNESS MAGAZINE/MR. OLYMPIA LLC. MROLYMPIA.COM
ROBIN CHANG, FLEXONLINE.COM & WEIDER/AMI
ANDY OLSON, MAGNA MEDIA INTERNATIONAL INC. IFBBTV.COM
GASPARI NUTRITION
The sponsor of the 2010 event was "M&F" magazine and Gaspari Nutrition
The sponsor of the 2011 event was "M&F" magazine and Gaspari Nutrition Superpump Max
GMV'S SPONSOR, CNP PROFESSIONAL CNPPROFESSIONAL.CO.UK
Front cover model Jonathan Cooper is sponsored by MHP. Front cover photo supplied by Cooper.

To see the 2012 version of this event, get your Olympia tickets and all of your 2012 Olympia Weekend details here at http://www.mrolympia.com/
NTSC DVD, OPEN REGION