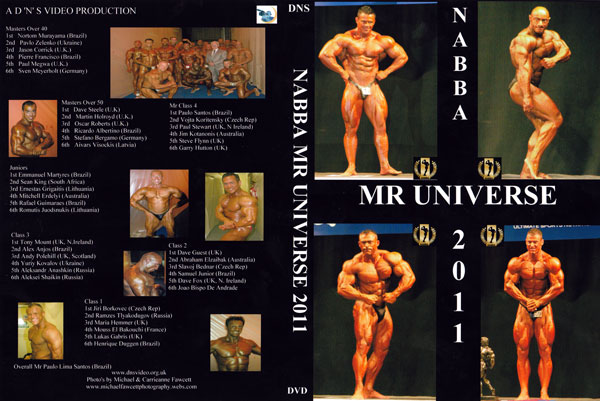 Click here to view a preview clip.

2011 NABBA Universe: Men - The Show
(Dual Price US$39.95 or A$44.95)

Held in Southport, England on October 29th, the 2011 NABBA Universe celebrated another amazing contest. The Men: The Show provides an in-depth look at some of the best amateur competitors in the world.

You will see the posing routines of all top 6 amateur competitors in all classes. There was no Professional Class this year.
The DVD includes the posedown for the Overall Amateur Mr. Universe, won by the amazing Paulo Lima Santos from Brazil, plus all awards including OHF Best Presentation Award to Aleksei Shaikin - Russia.


See our 2011 NABBA Universe Report by Wayne Gallasch with help from Alex Mac.
Running time: 76 mins
Click here to see some MEN'S PHOTOS FROM THIS CONTEST by Alex McKenna, alexmac.biz
THE BEEF MAGAZINE Available here at the App Store
This is a DNS Production.
Click here for the 2011 NABBA UNIVERSE MEN'S PREJUDGING, A-1398DVD.
Click here for the 2011 NABBA UNIVERSE WOMEN'S DVD, A-1400DVD.

Please click here for the 60TH ANNIVERSARY NABBA UNIVERSE DINNER, GMV-800DVD.
Please click here for our THE COMPLETE LISTING OF ALL NABBA UNIVERSE DVDs - MEN & WOMEN from 1970 to now.
Please click here for THE COMPLETE LIST OF ALL NABBA UNIVERSE WINNERS - MEN & WOMEN.
Please click here for THE COMPLETE SET OF 2011 UNIVERSE RESULTS FOR MEN & WOMEN.


MEN'S RESULTS

Overall NABBA Amateur Mr. Universe: Paulo Lima Santos - Brazil

Men's Best Presentation Award: Aleksei Shaikin - Russia
MASTERS OVER 40
1. Nortom James Murayama Brazil
2. Pavlo Zelenko Ukraine
3. Jason Corrick UK
4. Pierre Cesar Francisco Brazil
5. Paul Megwa UK
6. Swen Meyerholt Germany
NP
Zdenek Branis Czech Rep
Carl Stevens UK
Jurans Normunds Latvia
Vadim Zakharov Russia
Marco Parisi Italy
Etienne Schutte South Africa
Tony Hanson UK
Dominic Schieda Malta
Gennadii Gorbatenko Russia
Richard Louis USA
Mario Venter South Africa
Ivo Havir Czech Rep
Lourival de Oliveira Brazil
Vladimir Belousov Russia
Ioannis Anagnostou Greece
MASTERS OVER 50
1. Dave Steele UK
2. Martin Holroyd UK
3. Oscar Roberts UK
4. Ricardo Magalhaes Brazil
5. Nigel Cox UK
6. Aivars Visockis Latvia
NP
Stefano Bergamo Germany
Kevin Welch UK
Igor Sliusarenko Ukraine
John Lee UK
Robert Gras Holland
Gary Noakes UK
Ali Kazemi Sweden
Phil Kuklinski New Zealand
Graham Park Scotland/UK
Terry Fisher UK
JUNIORS
1. Emmanuel Knabben dos Martyres Brazil
2. Sean King South Africa
3. Ernestas Grigaitis Lithuania
4. Mitchell Erdelyi Australia
5. Rafael Pires Guimaraes Brazil
6. Romutis Juodsnukis Lithuania
NP
Kevin Gebhardt Germany
Mark Powell UK
David Young UK
Tom Imlah Wales/UK
Malcolm Tinsley UK
Stephen Jones UK
Richard Cienky Rep. of Ireland
Dominic Castellano UK
MR. CLASS 4
1. Paulo Lima Santos Brazil
2. Vojtech Koritensky Czech Rep.
3. Paul Stewart N. Ireland/UK
4. Jim Kotantonis Australia
5. Steve Flynn UK
6. Gary Hutton UK
NP
Uwe Hörter Germany
Terrence Pillay South Africa
Olzirio Anibal Junior Brazil
Alexandre De Luca France
Ian Sturrock Scotland/UK
MR. CLASS 3
1. Tony Mount N. Ireland/UK
2. Alex dos Anjos Brazil
3. Andy Polhill Scotland/UK
4. Yuriy Kovalov Ukraine
5. Aleksandr Anashkin Russia
6. Aleksei Shaikin Russia
NP
Plisko Hermanis Latvia
Tony Brown Rep. of Ireland
Jonathan Chessum UK
Dean Hoban Rep. of Ireland
Steve Cart UK
Niall Kinsella Rep. of Ireland
Anthony Ng China
Samoel Oliveira Munhoz Brazil
Bruce McCall UK
Alfredo Lorenzo Spain
Dominique Verney France
Marko Dimitrijevic Serbia

MR. CLASS 2
1. Dave Guest UK
2. Abraham Elzaibak Australia
3. Slavoj Bednar Czech Rep.
4. Samuel Vieira Pinto Junior Brazil
5. Dave Fox N. Ireland/UK
6. Joao Bispo de Andrade Brazil
NP
Wayne Bridge UK
Sergii Dukhota Ukraine
Edilson de Oliveira Brazil
Patrick William UK
Michal Smejda Czech Rep.
Janis Skribans Latvia
Gerald Lopez France
Alon Zukerman Israel
Ondrej Mlaka Czech Rep
Emilio Scoop Holland
MR. CLASS 1
1. Jiri Borkovec Czech Rep.
2. Ramzes Tlyakodugov Russia
3. Mario Hemmer Austria
4. Mouss El Bakouchi France
5. Lukas Gabris UK
6. Henrique Andre Duggen Brazil
NP
Maik Waltenberg Germany
Armin Gangl Austria
David O'Neil Rep. of Ireland
Robert Smutny Czech Rep
Loughlin Gannon Rep. of Ireland
Martin Fannan UK
Hugh O'Donovan Rep. of Ireland
Jiri Janostik Czech Rep.
Evgeny Petrov Russia
Bogdan Gryshyn Ukraine
NTSC DVD, OPEN REGION
Important GMV Dual pricing policy.
* All customers outside of Australia/New Zealand will be charged in US dollars. If an imported item has dual pricing, (that is in Australian and US dollars), all customers OUTSIDE of Australia and New Zealand will only be charged the US dollar price.

Unfortunately, our site cannot automatically cope with dual pricing based on your country of residence and will default to the US dollar price on the order form you see displayed. Regardless of this, all customers will be manually charged the correct price based on the above.
To refer to our FAQ section for this and any other questions, please click here.