Click here for preview clip.
2013 Arnold Strongman Classic
(Dual price US$39.95, A$49.95)
The 2013 IFBB Arnold Classic & Arnold Sports Festival are Presented by Classic Productions.
Celebrating the 25th Anniversary of the Arnold Classic.
www.arnoldsportsfestival.com
The Arnold Strongman Classic was part of the 2013 Arnold Sports Festival and the 25th Anniversary Arnold Classic. The first 4 events took place on Friday, March 1st at the Fitness Expo at the Greater Columbus Convention Center. The final event was staged at the Arnold Classic Finals on Saturday night at the Veterans Memorial Auditorium, Columbus, Ohio.
DVD CONTENTS:

Enjoy the complete coverage of this incredible display of skill and strength from Days 1 and 2. This DVD covers every moment of each of the 5 events. You will see the world's greatest Strongmen in action as they pit their skills against each other in these unique challenges of strength, power, stamina and determination. The events are designed to test brute strength and determine which competitor is the strongest man!
New world records were set, and the exciting final event, the Circus Dumbbell Lift, was held on the Veterans stage in front of thousands of fans. The first time winner, VYTAUTAS LALAS of Lithuania was presented his award by Arnold Schwarzenegger. (See photo below of Lalas)
The DVD includes the COMPLETE ACTION from all four events: AUSTRIAN OAK - SMALL LOG, MANHOOD STONE, TIRE DEADLIFT and CIRCUS DUMBBELL LIFT.
In the Extra Scenes you see the Amateur Strongman - heavyweight class, doing 'Stone for reps' and ''Giant Dumbbell Press''.

See the ARNOLD STRONGMAN CLASSIC PHOTO GALLERY. Thanks to Jason Breeze for the great photos.

The events held at the Expo stage were shot with standard definition cameras and include the sponsors logos across the bottom of the screen. The final event, the Circus DB Lift, was shot with HD cameras at the Veterans Memorial stage.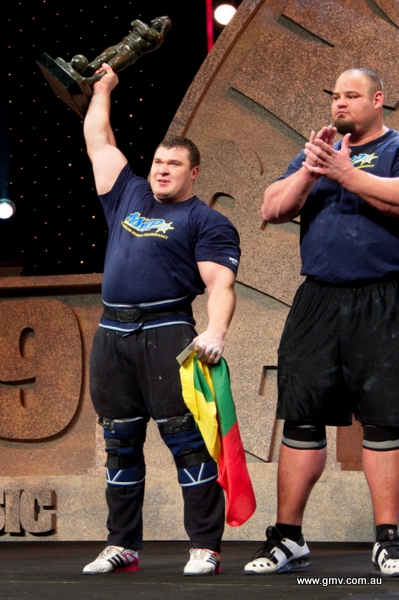 EXTRAS
Amateur Strongman Highlights (Heavyweights)
Pro Strongman Photo Gallery
RUNNING TIMES:
Pro Strongman Event: 140mins
Amateur Strongman Highlights: 22 mins
Total Running Time: 162 mins
2013 Arnold Strongman Classic - Results
1. Vytautas Lalas - Lithuania: 35 points
2. Brian Shaw - USA: 34 points
3. Mikhail Koklyaev - Russia: 31 points
4. Krzysztof Radzikowski - Poland: 26 points
5. Mike Burke - USA: 21 points
6. Mark Felix - UK: 20.5 points
7. Jerry Pritchett - USA: 18.5 points
8. Hafþór Júlíus Björnsson - Iceland: 17 points
9. Derek Poundstone - USA: 11 points
10. Adam Scherr - USA: 1 point
Description of Events
Manhood Stones
Contestants lift round stones weighing up to approximately 550 lbs pounds.
All men try to lift the stone over a bar no higher than 125 cm or 49" (same for both stones), as often as possible in 60 seconds.
The Stones weighed 454 lbs (206 kilos) and 540 lbs (245 kilos).
The Austrian Oak - Small Log Lift
From the Floor to Arms' Length Overhead, two different logs are used.
The "Small" log weighs between 374 pounds (170 kg) and 385 pounds (175 kg).
The "Large" log weighs between 441 pounds (200 kg) and 452 pounds. The challenge to the athletes is to take the log from the platform and lift it to arms' length overhead for as many repetitions as possible in 90 seconds.
The Tire Deadlift
This is a brute strength left for Maximum Weight.
The tires on a new Hummer weigh approximately 100 pounds (45 kg) each, and the lightest weight available in this event was a little over 600 pounds (270 kg). By adding barbell plates and additional tires, the weight of the bar was increased in increments of between ten and twenty pounds (five and ten kg) so that the competitors can take whatever they want as the weight on the bar goes up.
Each man will have three attempts, and we will use the "round" system, in which the lightest first attempt will be done first, followed by the next heaviest, and so on.
The Circus Dumbbell
This year this brute of a dumbbell weighed 264 Pounds!
Competitors will have 1.5 minutes (90 seconds) from the time their name is announced and the whistle has blown to lift the Bell from the floor to overhead, as many repetitions as possible.
The dumbbell has a very big handle 3 inches in diameter. The men may only use one hand at a time to actually lift the dumbbell overhead, as many times as possible in 90 sec. As this was a new heavier DB, the winning total of 5 repetitions was a new WR in this lift, set by Vytautas Lalas.
2013 Arnold Classic – Celebrating 25 Years

The 25th Anniversary Arnold Classic was held at the Veterans Memorial Auditorium, Columbus, Ohio on March 1st & 2nd, 2013. Congratulations to the winner Dexter Jackson who also won the Arnold Classic in 2005, 2006 and 2008. This DVD presents the COMPLETE PREJUDGING with all of the compulsory poses and callouts, plus the complete FINALS and the Final Event of the Pro Strongman, the Circus DB Lift. See this complete Circus Lift contest, along with the winner's award by Arnold to Vytautas Lalas of Lithuania.
2013 Arnold Classic - The Women

This year we are offering a massive DVD of over FOUR HOURS from the Prejudging and Finals of the Arnold Classic Women's Events. This disc contains the complete coverage of all rounds from the 4 WOMEN'S CONTESTS, plus awards presentations from each of these contests, featuring the IFBB's top professional female athletes. The 4 International winners were: Ms. International: Iris Kyle Fitness International: Tanji Johnson Figure International: Candice Keene Bikini International: India Paulino.



GMV-853DVD
2013 Arnold Classic Amateur Men

This massive contest DVD of over 4 hours has something for everyone. There are world class athletes in every category from lighter style Men's Physique through to the super heavyweight Men's Bodybuilding stars. This is an international event with the top amateur guys from around the world. See all of the lineups, key comparisons and callouts plus posing by the top guys, and all awards and posedowns.


See the Complete List of all available Arnold Classic DVDs, and Past Winners.

Click here for the COMPLETE RESULTS FROM DAY 1.
Click here for the COMPLETE RESULTS FROM DAY 2.

www.arnoldsportsfestival.com
www.arnoldclassicbrasil.com.br
www.arnoldclassiceurope.es
Event Promoters
Jim Lorimer
Bob Lorimer
Classic Productions
Meet Director
Arnold Schwarzenegger
Video footage
LIVE! TECHNOLOGIES
Columbus, Ohio
www.reallivepros.com
2013 Arnold Sports Festival Crew List
Veteran's Memorial
Event Producer Shawn Loevenguth
Production Assistant Sarah Joyce
Stage Manager Adriana Berger
Stage Manager Carrie Chew
Stage Manager Maxine Mendelson
FOH Audio Engineer Steve Jones
Audio Engineer Scott Robinson
Audio Engineers for
Amateur Events John McKown
FOH Lighting Technician Michael Hesmond
Lighting Technician Nathan Martin
Video Director Tim Jarmain
Tape Operator James Lewis
Camera Operator Ron Caruso
Camera Operator Randy Silcott
Camera Operator Eric Obert
Head Carpenter Dave Steinmetz
Carpenter Marce Righthouse
Set Design Jocelyn McDaniel
Expo Stage
Site Supervisor Andrew Stever
Audio Technician Gus Caulk
Lighting Technician Dayna Schlefstein
Video Director Brandon Mendenhall
Tape Operator Jerry Jack
Camera Operator Ryan Scott
Camera Operator Matt Gault
Masters of Ceremony
Clint Richards
Terry Todd
Photography for DVD
Jason Breeze jasonbreeze.com
Major Event Sponsor
GNC
Major Strongman Sponsors
MHP
Slaters Hardware
Sorinex Exercise Equipment
Arnold Sports Festival 2013

GMV would like to thank:
Bob Lorimer
Brent LaLonde
Jerman Abney
Sarah Joyce
Jason Breeze
NTSC DVD, OPEN REGION
Important GMV Dual pricing policy.
*All customers outside of Australia/New Zealand will be charged in US dollars. If the item has dual pricing (that is in Australian and US dollars), all customers outside of Australia and New Zealand will only be charged the US dollar price.
Unfortunately, our site cannot cope with dual pricing and will default to the US dollar price. Regardless of this, all customers will be charged the correct price. Please refer to our FAQ section for any other questions, click here.