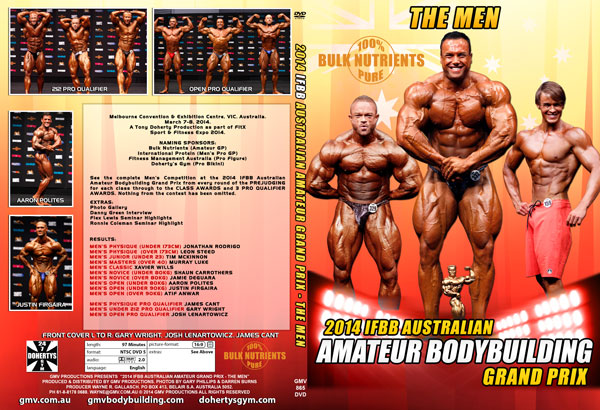 Click here for preview clip
2014 IFBB Australian Amateur Bodybuilding Grand Prix
The Men
Melbourne Convention & Exhibition Centre, VIC. Australia. March 7-8, 2014.
A Tony Doherty Production as part of FitX - Sport & Fitness Expo 2014.

NAMING SPONSORS:
Bulk Nutrients (Amateur GP)
International Protein (Men's Pro GP)
Fitness Management Australia (Pro Figure)
Doherty's Gym (Pro Bikini)
See the complete Men's Competition at the 2014 IFBB Australian Amateur Bodybuilding Grand Prix. We include every round of the PREJUDGING for each class through to the CLASS AWARDS and 3 PRO QUALIFIER AWARDS. Nothing from the contest has been omitted.


The 3 Pro Qualifiers were Josh Lenartowicz - Men's Open, Gary Wright - Men's 212 and James Cant in Men's Physique.

See the AMATEUR MEN'S PHOTO GALLERY.

SEE THE COMPLETE MEN'S RESULTS BELOW.

EXTRAS
Flex Lewis demonstrates arm training in the Super Gym
Ronnie Coleman demonstrating back training in the Super Gym
Danny Green interview
Photo Gallery
Total running time: 97 mins
A Wide Screen 16:9 production.
CLASS WINNERS:
MEN'S PHYSIQUE (UNDER 173cm) Jonathan Rodrigo
MEN'S PHYSIQUE (OVER 173cm) Leon Steed
MEN'S JUNIOR (UNDER 23) Tim McKinnon
MEN'S MASTERS (OVER 40) Murray Luke
MEN'S CLASSIC Xavier Wills
MEN'S NOVICE (UNDER 80kg) Shaun Carrothers
MEN'S NOVICE (OVER 80kg) Jamie Deguara
MEN'S OPEN (UNDER 80kg) Aaron Polites
MEN'S OPEN (UNDER 90kg) Justin Firgaira
MEN'S OPEN (OVER 90kg) Atif Anwar
MEN'S OPEN PRO QUALIFIER Josh Lenartowicz (pictured right)
MEN'S UNDER 212 PRO QUALIFIER Gary Wright
MEN'S PHYSIQUE PRO QUALIFIER James Cant
See our COMPLETE INDEX OF DVDs FROM AUSTRALIAN GRAND PRIX EVENTS.
See the COMPLETE 2014 IFBB AUSTRALIAN PRO GRAND PRIX RESULTS.


2014 IFBB Australian Pro Grand Prix XIV - Pro Men – Pro Figure – Pro Bikini

See the complete 14th Australian IFBB Pro Grand Prix event from every round of the PREJUDGING for each class through to the posing routines, exciting posedown and awards at the FINALS.

This was a first ever victory in Australia for SHAWN RHODEN and ASHLEY KALTWASSER with CANDICE KEENE repeating her victory of last year in the Pro Figure Classic.



GMV-864DVD
2014 IFBB Australian Amateur Bodybuilding Grand Prix - The Women

See the complete Women's Competition at the 2014 Australian Amateur Bodybuilding Grand Prix, from every round of the PREJUDGING for each class through to the CLASS AWARDS and 3 PRO QUALIFIER AWARDS.

Nothing from the contest has been omitted. EXTRAS include: Amanda Doherty and Larissa Reis training seminar highlights and the Photo Gallery.



GMV-866DVD
2014 IFBB Australian Amateur Bodybuilding Grand Prix: Complete Men's Results
MEN'S PHYSIQUE (UNDER 173cm)
1. Jonathan Rodrigo
2. Adam Farrugia
3. Sal Hassan
4. Amin Shrifi
5. Gavin Heal
6. James Harbis
7. Matthew Seegers
MEN'S PHYSIQUE (OVER 173cm)
1. Leon Steed
2. Rigo Gasio
3. Adam Rogers
4. Paul Downie
5. Luke Matias
6. Stent Card
Shane Anderson
Chase Baker
Erros Chiodo
Steven Condidorio
Craig Fisher
Daniel Fletcher
Matthew Franklin
Matthew Frenkel
Omiros Kakalias
Justin Lawler
Dave Llewellyn
Hensley Louison
Callum Maclachlan
Chris Mason
Andrew Mcdevitt
Al Nuttall
Brendon Osborne
Darrell Ramnuth
Dariusz Rusiecki
Aurelio Signoriello
Simran Singh
Isza Maximilion
John-Peter Pipicella
MEN'S JUNIOR (UNDER 23)
1. Tim McKinnon
2. Papas Azwell
3. Daniel Castrucci
4. Wade Coetzer
5. Jackson Li
6. Yuya Hirakawa
MEN'S MASTERS (OVER 40)
1. Murray Luke
2. Robert Reed
3. Kieran Norquay
4. Frank Loschiavo
5. Darren Natale
6. Jason Cooper
7. Anthony Da Silva
MEN'S CLASSIC
1. Xavier Wills
2. Adam Waite
3. Rohan Untersteiner
4. Dion Monkivitch
5. Chris May
6. Stuart Macaulay
Aron S Akca
Costa Kostadinos
Luke Smith
Paul Wotherspoon
MEN'S NOVICE (UNDER 80kg)
1. Shaun Carrothers
2. Greg Zilberman
3. Fady Naguib
MEN'S NOVICE (OVER 80kg)
1. Jamie Deguara
2. James Garner
3. Julian Gaylor
4. Christian Caldwell
5. Nate Hageman
6. Phillip Thornber
7. Paul Verlander (EQUAL 6TH)
Corey Baldock
Demitri Bessems
Anders Graudins
Stephen Mizzi
Lachlan Peggie
Shane Rolls
Jarrod Sanderson
Curtis Simmons
James Smith
Kurt Smith
Xavier Stephens
Julius Toole
Avni Tumay
MEN'S OPEN (UNDER 80kg)
1. Aaron Polites
2. Dominic Sellwood
3. Paul Jayilian
4. Warren Fernandez
5. Steven McComb
6. Ben Sellars
Anthony Maitre
Andrew Moore
Pedro Relvas
Brent Tomlinson
MEN'S OPEN (UNDER 90kg)
1. Justin Firgaira
2. Harry Vlahos
3. Matt Stevenson
4. Sonny Ramkomuth
5. Tim Martin
6. Mathew Jones
Michael Innis
Daniel Saenz
Oscar Saenz
MEN'S OPEN (OVER 90kg)
1. Atif Anwar
2. Nathan Williamson
3. Nathan Rocks
4. Michael Hayes
5. Jonathan Milne
6. Joshua Thomas
7. Robert Rosner
MEN'S PHYSIQUE PRO QUALIFIER
1. James Cant
Peter Lupica
Daniel Mazzola
Joe Pitt
Anthony Rufus
Joey Wills
MEN'S UNDER 212 PRO QUALIFIER
1. Gary Wright
Adam Browner
David Cutler
Mark Grech
Rohan Reid
MEN'S OPEN PRO QUALIFIER
1. Josh Lenartowicz
Scott Goble
Andrew Crawford
Ben Townson
PHOTOGRAPHERS
Gary Phillips
www.garyphillipsphotography.com
www.flexonline.com
Darren Burns
AUSTRALIAN DIRECTOR
Tony Doherty

IFBB AUSTRALIA PRESIDENT
Paul Graham
PRODUCER & MC
Tony Doherty
www.dohertysgym.com
arnoldclassicaustralia.com.au
www.fitx.com.au

HEAD JUDGE
Lee Thompson

NAMING SPONSORS
Bulk Nutrients (Amateur GP)
International Protein (Men's Pro GP)
Fitness Management Australia (Pro Figure)
Doherty's Gym (Pro Bikini)
SPONSORS
GASPARI NUTRITION
BULK NUTRIENTS
INTERNATIONAL PROTEIN
AAA SUPPLEMENTS
DYMATIZE
BLACK AND BLUE
BSN
BLITZ PUBLICATIONS
DERRIMUT GYM
GEN-TEC
BODY RIPPED
MASSIVE JOES
PLATINUM LABS
VIDEOGRAPHY
Wayne R. Gallasch

EDITING, GRAPHICS & AUTHORING
Ollie Parke

EXECUTIVE PRODUCER
Wayne R. Gallasch
ASSISTANT PRODUCER
Tina Gallasch
SPECIAL THANKS
Tony Doherty
Darren Burns
Gary Phillips
Tina Gallasch
NTSC DVD, OPEN REGION