Preview clip.

2014 Mr. Olympia 2 DVD Set

Celebrate the 50th Anniversary of Joe Weider's MR. OLYMPIA Contest!
Las Vegas, NV September 18-21, 2014

This year's competitions awarded more than $1.1 MILLION dollars to the athletes in eight different divisions: Mr. Olympia, 212 Showdown, Men's Physique Olympia, Ms. Olympia, Fitness Olympia, Figure Olympia, Women's Physique Olympia and Bikini Olympia.

Each DVD product (men or women) includes over SIX HOURS of uncompressed action-packed contest coverage in a Double-DVD package – the most complete and comprehensive Olympia video release ever! For the first time ever catch all the action in this 2 disc set including the three men's Olympia divisions.
Includes a special presentation by Arnold Schwarzenegger and Betty Weider celebrating the 50th year of Joe Weider's Olympia along with Franco Columbu, Samir Bannout, Lee Haney, Ronnie Coleman and Jay Cutler, plus the opening speech by David Pecker, and a tribute to legendary IFBB Pro and NPC chairman Jim Manion.
Plus emotional retirement speeches from 10-time Ms. Olympia Iris Kyle after her victory on stage, and 8-time Fitness Olympia Adela Garcia … these DVDs are full of history, excitement, passion, and reflection as the celebration of fitness worldwide continues. Very special moments and special memories of this most special of all bodybuilding contests!
Each DVD for men and women has OVER SIX HOURS of content – a very complete Men's show including the many wonderful features of the finals, with complete coverage of the 212 Showdown and the Olympia Men's Physique – and coverage of the Muscle & Fitness Male Model Search. Men in every size are covered in full!
(The Saturday Expo stage saw the following men's action, shot by GMV for consideration by the Olympia DVD editors:
Men's Physique PJ
Men's Physique Top 5 – Comparisons, awards and winner's interview with Bob Cicherillo
212 Showdown PJ – All individual posing routines
212 Showdown Comparisons
M&F Male Model Search Finals and presentation)
Total running time: Over 6 hours


2014 Olympia Women 2 DVD Set

WOMEN'S OLYMPIA – Ms. Olympia, Physique Olympia, Figure Olympia, Fitness Olympia and Bikini Olympia. See NINETY-FIVE fabulous female athletes with every introduction, every comparison, every pose - the posing routines, the fabulous Fitness routines … from Prejudging to Finals, you get it all!

10-time Ms. Olympia Iris Kyle ends her reign with a sensational victory, and 8-time Fitness Olympia winner Adela Garcia returns to make her emotional retirement speech.


The 3 Classes of Men's Results at the 2014 Olympia: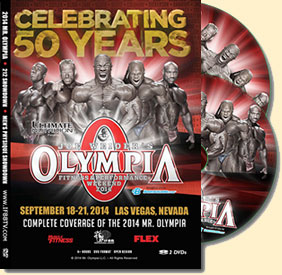 Las Vegas, NV September 18-21, 2014
2014 Mr. Olympia
1. Phil Heath - USA
2. Kai Greene - USA
3. Shawn Rhoden - USA
4. Dennis Wolf - Germany
5. Dexter Jackson - USA
6. Branch Warren - USA
7. Mamdouh Elssbiay - Egypt
8. Victor Martinez - Dominican Rep.
9. Stephen Kuclo - USA
10. Juan Morel - USA
11. Johnnie Jackson - USA
12. Roelly Winklaar - Curacao
13. Fred Smalls - USA
14. Jonathan Delarosa - USA
15. William Bonac - Netherlands
16. Ibrahim Sami Fahim - Egypt
16. Jojo Ntiforo - USA
212 Olympia Showdown
1. James Flex Lewis - UK
2. Eduardo Correa - Brazil
3. Jose Raymond - USA
4. Hidetada Yamagishi - Japan
5. Baitollah Abbaspour - Iran
6. Aaron Clark - USA
7. Sami Al Haddad - Bahrain
8. Gaetano Cisternino - USA
9. David Henry - USA
10. Charles Dixon - USA
11. Ahmad Ahmad - Sweden
12. Mark Dugdale - USA
13. Mboya Edwards - Canada
14. Raul Carrasco - Spain
Men's Physique
1. Jeremy Buendia - USA
2. Sadik Hadzovic - USA
3. Jason Poston - USA
4. Matt Acton - USA
5. Steve Cook - USA
6. Mark Anthony Wingson - USA
7. Anton Antipov - USA
8. Michael Anderson - USA
9. Xavisus Gayden - USA
10. Tyler Anderson - USA
11. Tory Woodward - USA
12. German Pacheco - USA
13. Jeff Seid - USA
14. Arya Saffaie - USA
15. Felipe Franco - Brazil
16. Jonathan Sebastian - USA
16. Matt Christianer - USA
16. Tonnell Rodrigue - USA

Muscle & Fitness Model Search
1. Phillip Blow - USA
See the COMPLETE 2014 OLYMPIA RESULTS FOR MEN & WOMEN including both MODEL SEARCHES.

See the Complete Mr. Olympia Collection on DVD from 1971.

See our GMV's Camera Team History at the Olympia since 1999.


NTSC DVD, OPEN REGION