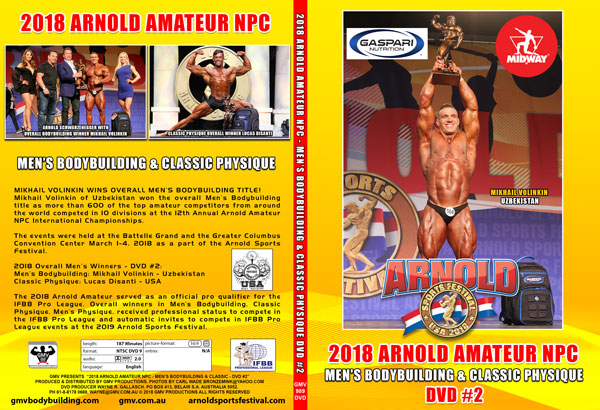 2018 Arnold Amateur NPC Men's Bodybuilding & Classic Physique
Men's DVD #2

MIKHAIL VOLINKIN WINS OVERALL MEN'S BODYBUILDING TITLE!

Mikhail Volinkin of Uzbekistan won the overall Men's Bodybuilding title as more than 600 of the top amateur competitors from around the world competed in 10 divisions at the 12th Annual Arnold Amateur NPC International Championships.
The events were held at the Battelle Grand and the Greater Columbus Convention Center March 1-4, 2018 as a part of the Arnold Sports Festival.

VIDEO FILES:
YOU MAY ALSO ORDER AN HD VIDEO FILE OF ANY CLASS OF YOUR CHOICE INCLUDING THE CLASS AWARDS, TO BE EMAILED TO YOUR INBOX, US$35 PER CLASS.
EMAIL tina@gmv.com.au for a PayPal invoice.
2018 Overall Men's Winners - DVD #2:
Men's Bodybuilding: Mikhail Volinkin - Uzbekistan
Classic Physique: Lucas DiSanti - USA

Class Winners in Men's DVD #2:
BODYBUILDING
Bantam Weight: Daniel Hibbs
Lightweight: Hemradj Mulai
Welterweight: Ali Albolishi
Middleweight: Abdullah Alsaif
Lightheavy Weight: Diego Spivey
Heavyweight: Andrew Bell
Super Heavyweight: Mikhail Volinkin (Overall Winner)
MEN'S CLASSIC PHYSIQUE
Class A: Abdullah Alsaif
Class B: Lucas DiSanti (Overall Winner)
Class C: Justin Huyghue


THE COMPLETE COLLECTION OF ARNOLD CLASSIC USA DVDs & DOWNLOADS.
See the COMPLETE 2018 ARNOLD AMATEUR NPC MEN'S RESULTS FOR ALL CLASSES.

DVD CONTENT:
See the lineups, comparisons and callouts for each class and division, and all awards through to the 2 OVERALL AWARDS to Volinkin and DiSanti.

Special thanks to Bob Lorimer and Live Technologies for providing the video content to produce this DVD.

Running time: 187 mins


Complete Results from this Men's DVD:


Men's Bodybuilding:


Bantam Weight

1. Daniel Hibbs
2. Jeshan Fernando
3. Matt Keith
4. Vishnu Persad
5. Forman Smith
Lightweight
1. Hemradj Mulai
2. Naser Alsairafi
3. Ahmad Aljacfur
4. Nathan Ruelas
5. Raymond Maclin
Welterweight
1. Ali Albolishi
2. Ali Alzahir
3. Annaldo Libert
4. Andrew Awak
5. Muntathir Al Rubh
6. Leonidas Miguel Solorzano Hunter
Middleweight
1. Abdullah Alsaif
2. Florian Fuetterer
3. Fawwaz Al Halawa
4. Kamel Alqanbari
5. Doug Currey
6. Jeremy Rivas
7. Omar Ottarson
8. Mohammed Al Hurayasha
9. Carlos Mendoza
10. Daniel Antonopoulos
11. Terrence Pillay
12. Mohammed Alhabab
13. Jacob Apple
14. Jim Costanzo
Lightheavy Weight
1. Diego Spivey
2. Ahmed Elzaiat
3. Piotr Borecki
4. Ali Balighi
5. Diego Santos
6. Nikola Nikolov
7. Wei XU
8. Guilherme Maganinho
9. Joel Pariet
10. Motoyuki Sakabe
11. Yoshiro Iwaka
12. Paco Medrano
13. Rvy Eugenio
14. James Koepsell
15. David Ekpe
16. Ingi Por Sigurpalsson
16. Charles Duffy
16. Cristian Ueti
16. Greg Godkuhl
16. Henry Luna
16. Alex Kikel
16. Stan Craven
16. Ryan Hoff
Heavyweight
1. Andrew Bell
2. Tony Searle
3. Davide D'Alessandro
4. Lucas DiSanti
5. Mustafa Kabbani
6. Pavlo Prontenko
7. Tyler Woosley
8. Saleh Aldoub
9. Melvin Alston
10. Jair Espino
11. Amr Shoair
12. Dylan Cruckshank
13. Paul Fogg
14. Rudolf Sandoval
15. Joe Cormier
Super Heavyweight
1. Mikhail Volinkin
2. Eiren Gauley
3. Isaac Ismael
4. Shawn Smith
5. Mohammed Al Meshal
6. Carlos Rodriguez
7. Mike Pearson
8. Dana Baker
9. Justin Lovato Bearce
10. Stefan Michaelsson
11. David Small
Men's Classic Physique:
Class A
1. Abdullah Alsaif
2. Jonathan Dolly
3. Peter Hartwig
4. Tsun Feng
5. Fawwaz Al Halawa
6. Ali Albolishi
7. Mohammed Al Hurayasha
8. Hemradj Mulai
9. Zangorr Ghaderpour
10. Annaldo Libert
11. Angel Bajaha
12. Mauro Zotti
13. Andrew Awak
14. Servulo Junior
15. Brad Musto
16. Jose Luis Casado
16. Kengo Ohyma
16. Marcos Lara
16. Tsogtsaikhan Ganchimeg
16. Jamts Galdbadrakh
16. Nixon Desa
16. Naser Alsairafi
16. Mohammed Alhabab
Class B
1. Lucas DiSanti
2. Ali Alhasawi
3. Piotr Borecki
4. Cody Drobot
5. Artem Piari
6. Carl Gauthier
7. Josh Wise
8. Aaron Aramini
9. Kenneth Kotey
10. Jadale John
11. Erik Alstrup
12. Mauricio Gomez
13. Kamel Alqanbari
14. David Montoya
15. Adile Raki
16. James Elmer
16. Thomas Tourville
16. Ingi Por Sigurpalsson
16. De Montre Dudley
16. Charles Duffy
16. David Fitzpatrick
16. Brian Emerson
16. Teitur Arason
16. Bilal Abualjis
16. Greg Scampone
16. Phil Williams
16. Thor Sigurjonsson
16. Batbayar Kherlen
16. Dustin Mahaffrey
16. Abdul Abuidress
16. Ahmed Eldiasti
16. David Taylor
Class C
1. Justin Huyghue
2. David Kolo
3. Billy Reilich
4. Abdullah Alrabiah
5. Gary Keatts
6. Shawn White
7. Alireza Shirin
8. Alexander Frekey
9. Ervin Anderson
10. Bartley Weaver
11. James Patterson
12. Soheil Sangarzadeh
13. Yousif Aljaafar
14. Adrian Michalewicz
15. Gerson Mendez
16. Lucas Hyde
16. Quentin Berghmans
16. Anthony Vuckovich
16. Paul Martin
16. Nicholas Topas
16. Joshua Doherty
16. Alexsandro Freitas

*******************************

The 2018 IFBB Arnold Classic & Arnold Sports Festival are Presented by Classic Productions.
www.arnoldsportsfestival.com
www.arnoldclassicbrasil.com.br
www.arnoldclassiceurope.es
www.arnoldclassic.com.au
www.arnoldclassicafrica.com
This Event is Officially Sanctioned by the IFBB Professional League.
President
Jim Manion
Event Promoters
Jim Lorimer
Bob Lorimer
Classic Productions

Meet Director
Arnold Schwarzenegger
Amateur Contest Producers
Bob Lorimer
Mike Davies
Event Chair
Bob Lorimer
Expo & Events Coordinator
Paul Nagle
Expo & Events Director
Kathy Nagle
Director of Communications
Brent LaLonde
Strongman Contest
Dr. Terry Todd
Steve Slater
Public Relations
Lorz Communications
Matt Lorz
Masters of Ceremony
Lonnie Teper
Clint Richards
Head Judge
Steve Weinberger
Photography for Pro DVDs
Jason Breeze jasonbreeze.com
Video footage
LIVE! TECHNOLOGIES
Columbus, Ohio
www.reallivepros.com
The NPC Arnold Amateur
Masters of Ceremony
Shawn Ray
Cory Elzey
Head Judges
Gary Udit
Sandy Williamson
On Stage Expeditors
Rick Bayardi
Andy Bartolovich
Back Stage Expeditors
Cory Elzey
Evette Cano
Photographer for Amateurs
Carl Wade
GMV would like to thank:
Bob Lorimer
Brent LaLonde
Matt Lorz
Shawn Loevenguth
Live! Technologies
Alyssa Messner
NPC News Online
Jason Breeze
Wayne Gallasch for extra video content
2018 Arnold Sports Festival Crew List
Event Producer
Shawn Loevenguth
Assistant Event Producer
Alyssa Messner
Stage Managers
Ashley Harbison
Beth Siracuse
Michelle Blank
FOH Audio Engineer
Steve Jones
Audio Engineer
Kevin Brown
FOH Lighting Technician
Michael Hesmond
Lighting Technician
Jordan Auge
Video Director
Ian Martin
Video Technician
Alex Nowak
Tape Operator
Jim Miller
Camera Operators
Dave Love
Eric Obert
Randy Silcott
Head Carpenter
Dave Steinmetz
Carpenters
Rick Scholz
Shawn Scholz
Set Design
Jocelyn McDaniel
Expo Stage
Site Supervisor
Doug Maynard
Audio Technician
Gus Caulk
Lighting Technician
Matt Reid
Video Director
Casey Payne
Tape Operator
Schehera McKissack
Camera Operators
Art Hearl
Matt Gault
General Technician
Travis Haag
Seth Powell
ENG Team
Jerman Abney
Grant Lawhorn
Tyler Chapman
Jon Ebright
Jeff Martin
Catherine Quamme
Lincoln Meikle
Travis Fishburn
Jarred Lawson
Sarah Manns
******************
GMV Editing
Wayne Gallasch
Ollie Parke
Authoring & Cover Design
Ollie Parke
DVD & Blu-Ray Produced by
GMV PRODUCTIONS
Australia
WEB:
GMV.COM.AU
GMVBODYBUILDING.COM

© WORLD COPYRIGHT 2018

**********************************

2018 Arnold Classic USA Sponsors:

Presenting Sponsor: Midway Labs USA
Diamond Sponsor: ROGUE Fitness
Gold Sponsors: Animal, HOMAGE, Europa Sports Products, Jan Tana, Optimum Nutrition, VPX
Silver Sponsors: 5-Hour Energy, ALLMAX Nutrition, Blackstone Labs, BlenderBottle, Body Fortress, Bodybuilding.com, BSN, EAS Abbott Nutrition, GAT, Grunt Style, Iso-Sport, Lyft, MET-Rx, MHP, Monster Energy/Monster Muscle, Muscle & Fitness Magazine, Muscle Egg, Musclegen Research, PROSUPPS, Pure Protein, Ricart, Rivalus, Rule One, Sweet Sweat by Sports Research
Bronze Sponsors: Arena District, Black Skull USA, Body Engineers BV, BPI, Concept2 CTS, Inc., Einstein Forearm Bench, ELITE Mobility, Gorilla Wear, Jaybird, Magnum Nutraceuticals, Max Effort Muscle, Phit App, Quest Nutrition, Rich Piana 5% Nutrition, ShoulderSphere, Vital Proteins.