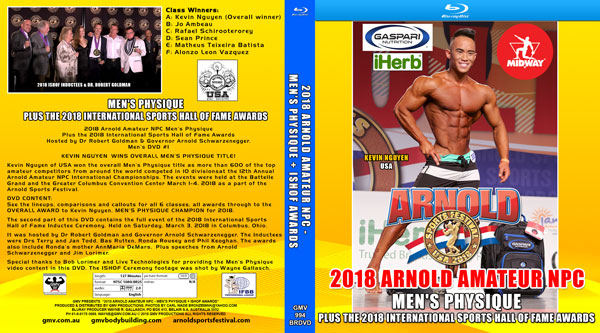 2018 Arnold Amateur NPC Men's Physique on Blu-ray
Plus the 2018 International Sports Hall of Fame Awards
Men's DVD #1
The ISHOF Awards were hosted by Dr Robert Goldman & Governor Arnold Schwarzenegger.

KEVIN NGUYEN WINS OVERALL MEN'S PHYSIQUE TITLE!

This is the Blu-ray version where Kevin Nguyen of USA won the overall Men's Physique title as more than 600 of the top amateur competitors from around the world competed in 10 divisions at the 12th Annual Arnold Amateur NPC International Championships.
The events were held at the Battelle Grand and the Greater Columbus Convention Center March 1-4, 2018 as a part of the Arnold Sports Festival.

VIDEO FILES:
YOU MAY ALSO ORDER AN HD VIDEO FILE OF ANY CLASS OF YOUR CHOICE - INCLUDING THE CLASS AWARDS, TO BE EMAILED TO YOUR INBOX, US$35 PER CLASS.
EMAIL tina@gmv.com.au for a PayPal invoice.
Class Winners in Men's DVD #1:
MEN'S PHYSIQUE:
Class A: Kevin Nguyen (Overall winner)
Class B: Jo Ambeau
Class C: Rafael Schirooterorey
Class D: Sean Prince
Class E: Matheus Teixeira Batista
Class F: Alonzo Leon Vazquez
DVD CONTENT:
See the lineups, comparisons and callouts for all 6 classes, all awards through to the OVERALL AWARD to Kevin Nguyen, MEN'S PHYSIQUE CHAMPION for 2018.
The second part of this DVD contains the full event of the 2018 International Sports Hall of Fame Inductee Ceremony. Held on Saturday, March 3, 2018 in Columbus, Ohio.
It was hosted by Dr Robert Goldman and Governor Arnold Schwarzenegger.
The Inductees were Drs Terry and Jan Todd, Bas Rutten, Ronda Rousey and Phil Keoghan. The awards also include Ronda's mother AnnMaria DeMars.
Plus speeches from Arnold Schwarzenegger and Jim Lorimer.
Special thanks to Bob Lorimer and Live Technologies for providing the Men's Physique video content in this DVD. The ISHOF Ceremony footage was shot by Wayne Gallasch of GMV.
Running time: 127 mins (Physique 75 mins + Awards 52 mins.)


THE COMPLETE COLLECTION OF ARNOLD CLASSIC USA DVDs & DOWNLOADS.
2018 Arnold Amateur NPC Men's Physique & International Sports Hall of Fame Awards - Men's DVD #1.

See the regular SD version of this DVD with the lineups, comparisons and callouts for all 6 classes, all awards through to the OVERALL AWARD to Kevin Nguyen, MEN'S PHYSIQUE CHAMPION for 2018.

The second part of this DVD contains the full event of the 2018 International Sports Hall of Fame Inductee Ceremony, hosted by Dr Robert Goldman and Governor Arnold Schwarzenegger.
Complete Results from this Men's DVD:


Men's Physique
:
Class A
1. Kevin Nguyen
2. Jean Feny
3. Chauncey Green
4. Yukihiro Yuasa
5. Youngjae Ju
6. Nixon Desa
7. Ryohei Okada
8. Rene Payongayong
9. Charles Rucker
10. Takuya Sonore
11. Shoichi Hirokawa
12. Yuki Sasou
13. Ammar Aldahan
14. Jose Rosas
15. Sungwoo Cho
16. Theyab Alteyab
16. Leonel De Castillo
16. Mujahed Alansari
16. Bruno Xenofonte
16. Jerome Shankline
16. Antone Price
16. Ayman Alibrahim
16. Kolten Martin
16. Johnathan Roddey
16. Feras Alasfoor
16. Friche Xavier
16. Tyler Delapaz
16. Ian McKeever
16. Ryosuke Ishii
16. Servulo Junior
16. Suroor Alazazi
16. Mits Boualyvongsane
16. Saiid Karimpoor
16. Juan Carlos
Class B
1. Jo Ambeau
2. Dusty Anfuso
3. Serge Victor
4. Pedro Aires
5. James Manley
6. David Sykes
7. Manaf Hasan
8. Darrell Rabess
9. Gaston Zuniga
10. Iori Nishizawa
11. Lui Mancini
12. Christopher Casner
13. Argin Alahverdi
14. Pete Yun
15. Mohammed Allhawas
16. Dalton Boggs
16. Julius Driedger
Class C
1. Rafael Schirooterorey
2. Ali Abuhasson
3. Slavi Goranchovski
4. Hassan Jenhar
5. Francisco Cota
6. Luis Enrique Valerio Dagnino
7. Bryan Blacio
8. Arash Thompson
9. Olafus Einir Birgisson
10. Chet Fortune
11. Mujid Shidvash
12. Chad Nearpass
13. Joshua Atkins
14. Amir Mirhosseini
Class D
1. Sean Prince
2. Christopher Tripp
3. Edward Kato
4. Gary Keatts
5. Jason Hawley
6. Walid Elhalafawi
7. Vladimir Cartev
8. Kevin Lisak
9. Joseph Larsen
10. Guy Finkelshtein
11. Genki Ohsashi
12. Michael McConnell
13. Lkhagvadorj Buyandelger
14. Montrel Miller
15. Jess Stancil
16. Abdelilah Ferdaduss
16. Taylor Orberg
16. Yousif Aljaafar
16. Brandon Nearpass
16. Nicholas Ratliff
16. James Elmer
16. Coles Marcell
16. Wilfredo Lopez
16. Ahmad Khaledi
16. Abdullah Albaghi
Class E
1. Matheus Teixeira Batista
2. Ahvalerii Prouopev
3. Ron Anderson
4. David Brody
5. David Provost
6. Denis Milkin
7. Hamdan Al-ghamdi
8. Michael Brown
9. Timothy Robertson
10. Lucas Hyde
11. Spencer Dickerson
12. Spencer Andrews
13. Ivan Voinese
Class F
1. Alonzo Leon Vazquez
2. Ray Holmes
3. Kedist Burnett
4. Antony Bessala
5. Mark Ghossein
6. Leo Maskesy
7. Romulo Rocha
8. Oshea Russeu
9. Billy Kimball
10. Ben Humphrey
11. Allen Thompson
12. Gary Rawlins
13. Khaled Eissa
14. Laquave Bailey
15. Marquis Johnson
16. Timothy Robertson
16. Joshu King
16. Dillon Leary
16. Mohamed Ahmed
Men's Physique Overall Winner: KEVIN NGUYEN - USA
***********************************

The 2018 IFBB Arnold Classic & Arnold Sports Festival are Presented by Classic Productions.
www.arnoldsportsfestival.com
www.arnoldclassicbrasil.com.br
www.arnoldclassiceurope.es
www.arnoldclassic.com.au
www.arnoldclassicafrica.com
This Event is Officially Sanctioned by the IFBB Professional League.
President
Jim Manion
Event Promoters
Jim Lorimer
Bob Lorimer
Classic Productions

Meet Director
Arnold Schwarzenegger
Amateur Contest Producers
Bob Lorimer
Mike Davies
Event Chair
Bob Lorimer
Expo & Events Coordinator
Paul Nagle
Expo & Events Director
Kathy Nagle
Director of Communications
Brent LaLonde
Strongman Contest
Dr. Terry Todd
Steve Slater
Public Relations
Lorz Communications
Matt Lorz
Masters of Ceremony
Lonnie Teper
Clint Richards
Head Judge
Steve Weinberger
Photography for Pro DVDs
Jason Breeze jasonbreeze.com
Contest Video footage
LIVE! TECHNOLOGIES
Columbus, Ohio
www.reallivepros.com
The NPC Arnold Amateur
Masters of Ceremony
Shawn Ray
Cory Elzey
Head Judges
Gary Udit
Sandy Williamson
On Stage Expeditors
Rick Bayardi
Andy Bartolovich
Back Stage Expeditors
Cory Elzey
Evette Cano
Photographer for Amateurs
Carl Wade
GMV would like to thank:
Bob Lorimer
Dr. Bob Goldman
Brent LaLonde
Matt Lorz
Shawn Loevenguth
Live! Technologies
Alyssa Messner
NPC News Online
Jason Breeze

ISHOF Awards:
Hosted by Dr Robert Goldman & Governor Arnold Schwarzenegger
Vice President ISHOF: Fairfax Hackley
Camerawork: Wayne Gallasch
2018 Arnold Sports Festival Crew List
Event Producer
Shawn Loevenguth
Assistant Event Producer
Alyssa Messner
Stage Managers
Ashley Harbison
Beth Siracuse
Michelle Blank
FOH Audio Engineer
Steve Jones
Audio Engineer
Kevin Brown
FOH Lighting Technician
Michael Hesmond
Lighting Technician
Jordan Auge
Video Director
Ian Martin
Video Technician
Alex Nowak
Tape Operator
Jim Miller
Camera Operators
Dave Love
Eric Obert
Randy Silcott
Head Carpenter
Dave Steinmetz
Carpenters
Rick Scholz
Shawn Scholz
Set Design
Jocelyn McDaniel
Expo Stage
Site Supervisor
Doug Maynard
Audio Technician
Gus Caulk
Lighting Technician
Matt Reid
Video Director
Casey Payne
Tape Operator
Schehera McKissack
Camera Operators
Art Hearl
Matt Gault
General Technician
Travis Haag
Seth Powell
ENG Team
Jerman Abney
Grant Lawhorn
Tyler Chapman
Jon Ebright
Jeff Martin
Catherine Quamme
Lincoln Meikle
Travis Fishburn
Jarred Lawson
Sarah Manns
******************
GMV Editing
Wayne Gallasch
Ollie Parke
Authoring & Cover Design
Ollie Parke
DVD & Blu-Ray Produced by
GMV PRODUCTIONS
Australia
WEB:
GMV.COM.AU
GMVBODYBUILDING.COM

© WORLD COPYRIGHT 2018

**********************************

2018 Arnold Classic USA Sponsors:

Presenting Sponsor: Midway Labs USA
Diamond Sponsor: ROGUE Fitness
Gold Sponsors: Animal, HOMAGE, Europa Sports Products, Jan Tana, Optimum Nutrition, VPX
Silver Sponsors: 5-Hour Energy, ALLMAX Nutrition, Blackstone Labs, BlenderBottle, Body Fortress, Bodybuilding.com, BSN, EAS Abbott Nutrition, GAT, Grunt Style, Iso-Sport, Lyft, MET-Rx, MHP, Monster Energy/Monster Muscle, Muscle & Fitness Magazine, Muscle Egg, Musclegen Research, PROSUPPS, Pure Protein, Ricart, Rivalus, Rule One, Sweet Sweat by Sports Research
Bronze Sponsors: Arena District, Black Skull USA, Body Engineers BV, BPI, Concept2 CTS, Inc., Einstein Forearm Bench, ELITE Mobility, Gorilla Wear, Jaybird, Magnum Nutraceuticals, Max Effort Muscle, Phit App, Quest Nutrition, Rich Piana 5% Nutrition, ShoulderSphere, Vital Proteins.