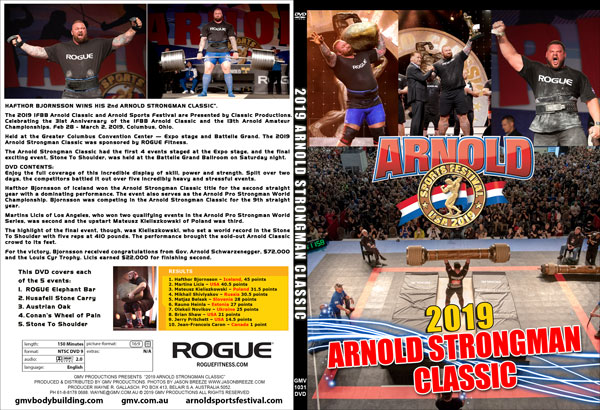 2019 Arnold Strongman Classic.
"HAFTHOR BJORNSSON WINS HIS 2nd ARNOLD STRONGMAN CLASSIC".
The 2019 IFBB Arnold Classic and Arnold Sports Festival are Presented by Classic Productions.
Celebrating the 31st Anniversary of the IFBB Arnold Classic and the 13th Arnold Amateur Championships.
Feb 28 - March 2, 2019, Columbus, Ohio.

Held at the Greater Columbus Convention Center – Expo stage and Battelle Grand. The 2019 Arnold Strongman Classic was sponsored by ROGUE Fitness.
The Arnold Strongman Classic had the first 4 events staged at the Expo stage, and the final exciting event, Stone To Shoulder, was held at the Battelle Grand Ballroom on Saturday night.
THE COMPLETE COLLECTION OF ARNOLD CLASSIC USA DVDs & DOWNLOADS.
COMPLETE RESULTS FOR EVERY PRO CLASS AT THE 2019 EVENT.
DVD CONTENTS:
Enjoy the full coverage of this incredible display of skill, power and strength. Split over two days, the competitors battled it out over five incredibly heavy and stressful events.
Hafthor Bjornsson of Iceland won the Arnold Strongman Classic title for the second straight year with a dominating performance. The event also serves as the Arnold Pro Strongman World Championship. Bjornsson was competing in the Arnold Strongman Classic for the 9th straight year.
Martins Licis of Los Angeles, who won two qualifying events in the Arnold Pro Strongman World Series, was second and the upstart Mateusz Kieliszkowski of Poland was third.
The highlight of the final event, though, was Kieliszkowski, who set a world record in the Stone To Shoulder with five reps at 410 pounds. The performance brought the sold-out Arnold Classic crowd to its feet.
For the victory, Bjornsson received congratulations from Gov. Arnold Schwarzenegger, $72,000 and the Louis Cyr Trophy. Licis earned $22,000 for finishing second.
This DVD covers each of the 5 events which were held in this order:
1. ROGUE Elephant Bar
2. Husafell Stone Carry
3. Conan's Wheel of Pain
4. Austrian Oak
5. Stone To Shoulder

Right before the Austrian Oak there is a video tribute to the late Dr Terry Todd.
Running Time: 225 mins
2019 ARNOLD PRO STRONGMAN RESULTS:
1. Hafthor Bjornsson – Iceland, 45 points
2. Martins Licis – USA 40.5 points
3. Mateusz Kieliszkowski – Poland 31.5 points
4. Mikhail Shivlyakov – Russia 30.5 points
5. Matjaz Belsak – Slovenia 28 points
6. Rauno Heinla – Estonia 27 points
7. Oleksii Novikov – Ukraine 25 points
8. Brian Shaw – USA 21 points
9. Jerry Pritchett – USA 14.5 points
10. Jean-Francois Caron – Canada 1 point
Bjornsson broke his old record in setting a new world record in the ROGUE Elephant Bar Deadlift by hoisting an amazing 1,045 pounds. This earned Hafthor a bonus of $5000 from Rogue.

Photography for the DVD
Jason Breeze jasonbreeze.com
Additional photos courtesy Arnold Sports Festival
********************************

The 2019 IFBB Arnold Classic & Arnold Sports Festival are Presented by Classic Productions.
www.arnoldsportsfestival.com
www.arnoldclassicbrasil.com.br
www.arnoldclassiceurope.es
www.arnoldclassic.com.au
www.arnoldclassicafrica.com

This Event is Officially Sanctioned by the IFBB Professional League.
President
Jim Manion
Event Promoters
Jim Lorimer
Bob Lorimer
Classic Productions

Meet Director
Arnold Schwarzenegger
Amateur Contest Producers
Bob Lorimer
Mike Davies
Event Chair
Bob Lorimer
Expo & Events Coordinator
Paul Nagle
Expo & Events Director
Kathy Nagle
Director of Communications
Brent LaLonde
Strongman Contest
Dr. Jan Todd
Public Relations
Lorz Communications
Matt Lorz
Masters of Ceremony
Tony Doherty
Clint Richards
Amanda Latona

Strongman MCs
Mark Henry
Matt Iseman

Head Judge
Steve Weinberger
Photography for the Pro DVDs
Jason Breeze jasonbreeze.com
Additional photos courtesy Arnold Sports Festival
Video footage
LIVE! TECHNOLOGIES
Columbus, Ohio
www.reallivepros.com
The NPC Arnold Amateur
Masters of Ceremony
Shawn Ray
Amanda Latona

Head Judges
Gary Udit
Sandy Williamson
On Stage Expeditors
Rick Bayardi
Andy Bartolovich
Back Stage Expeditors
Cory Elzey
Evette Cano
Photographer for Amateurs
Carl Wade
GMV would like to thank:
Bob Lorimer
Brent LaLonde
Matt Lorz
Shawn Loevenguth
Live! Technologies
Alyssa Messner
NPC News Online
Jason Breeze
Wayne Gallasch for extra video content
Richard Baldwin for interviews.
****************

2019 Live! Technologies Crew List.
Arnold Sports Festival, USA
Event Producer
Shawn Loevenguth

Assistant Event Producer
Alyssa Messner

Stage Managers
Beth Siracuse
Autumn Cleveland
Samantha Barnes

FOH Audio Engineer
Steve Jones

Audio Engineer
Kevin Brown

FOH Lighting Technician
Michael Hesmond

Lighting Technician
Jordan Auge

Video Director
Ian Martin
Video Technician
Julian Dorsett

Tape Operator
Travis Haag

Camera Operators
Jim Miller
Eric Obert
Randy Silcott

Head Carpenter
Dave Steinmetz

Carpenters
Rick Scholz
Shawn Scholz
Set Design
Jocelyn McDaniel

Expo Stage:

Site Supervisor
Doug Maynard

Audio Technician
Gus Caulk

Lighting Technician
Matt Reid

Video Director
Casey Payne
Tape Operator
Schehera McKissack

Camera Operators
Art Hearl
Steve Mitchell
General Technician
Oscar Smith
Seth Powell

ENG Team
Jerman Abney
Grant Lawhorn
Tyler Chapman
Catherine Quamme
Lincoln Meikle
Travis Fishburn
Jarred Lawson
Joshua Chandler
Jamie Comisford
****************

GMV Editing
Wayne Gallasch
Ollie Parke
Authoring & Cover Design
Ollie Parke
DVD & Blu-Ray Produced by
GMV PRODUCTIONS
Australia
WEB:
GMV.COM.AU
GMVBODYBUILDING.COM
© WORLD COPYRIGHT 2019.