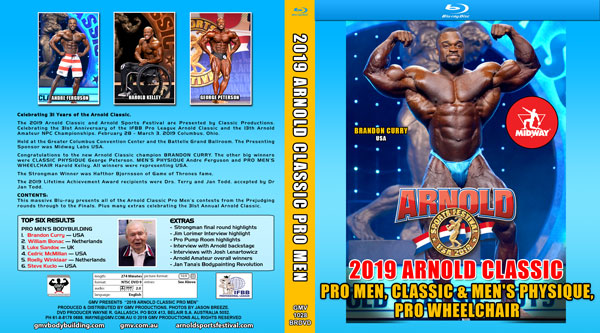 2019 Arnold Classic - on Blu-ray
Pro Men, Classic & Men's Physique, Pro Wheelchair.

Celebrating 31 Years of the Arnold Classic.
The 2019 Arnold Classic and Arnold Sports Festival are Presented by Classic Productions. Celebrating the 31st Anniversary of the IFBB Pro League Arnold Classic and the 13th Arnold Amateur NPC Championships. February 28 - March 3, 2019 Columbus, Ohio.
Held at the Greater Columbus Convention Center and the Battelle Grand Ballroom. The Presenting Sponsor was Midway Labs USA.
This year saw the greatest variety of bodybuilding, strength, fitness and sports competitions anywhere in the world. Hosting more than 22,000 athletes competing in 80 sports and events, the Arnold Sports Festival is the world's largest multi-sport festival.
Congratulations to the new Arnold Classic champion BRANDON CURRY. The other big winners were CLASSIC PHYSIQUE George Peterson, MEN'S PHYSIQUE Andre Ferguson and PRO MEN'S WHEELCHAIR Harold Kelley. All winners were representing USA.
The Strongman Winner from Iceland, Hafthor Bjornsson of Game of Thrones fame, emphatically took out his 2nd Arnold Classic Strongman title. (See the DVD of the complete Arnold Strongman Classic, GMV-1031DVD.)
The 2019 Lifetime Achievement Award recipients were Drs. Terry and Jan Todd, accepted by Dr Jan Todd.
THE COMPLETE RESULTS FOR EVERY PRO CLASS AT THE 2019 EVENT, MEN & WOMEN.
CONTENTS:
This massive DVD presents all of the Arnold Classic Pro Men's contests from the Prejudging rounds through to the Finals.
Presentation by Arnold of the Lifetime Achievement Award to Dr Jan Todd on behalf of Drs. Terry & Jan Todd.
Introduction of the Arnold Model Search contestants and the Overall Arnold Amateur Champions.
Plus many extras celebrating the 31st Annual Arnold Classic.
EXTRAS:
Arnold Strongman Past Winners Introduction
Final Strongman final round highlights & awards
Jim Lorimer Interview
Pro Pump Room
Interview with Arnold backstage
Interviews with Josh Lenartowicz & Clint Richards
Tony Nowak Original Jackets interview & Expo scenes
Arnold Sunday Showcase - highlights
RUNNING TIME: 274 mins
THE COMPLETE COLLECTION OF ARNOLD CLASSIC USA DVDs & DOWNLOADS.
This DVD is also available on regular DVD, GMV-1027DVD, as well as on Blu-ray.

DVD Photos: Jason Breeze jasonbreeze.com
2019 Arnold Classic Pro Men's Results:
ARNOLD CLASSIC
1. Brandon Curry USA
2. William Bonac Netherlands
3. Luke Sandoe United Kingdom
4. Cedric McMillan USA
5. Roelly Winklaar Netherlands
6. Steve Kuclo USA
7. Rafael Brandao Brazil
8. Joshua Lenartowicz Australia
9. Akim Williams USA
10. Victor Martinez USA
11. Charles Dixon USA
12. Mikhail Volinkin Uzbekistan
Most Muscular Award: William Bonac
Ed Corney Best Poser Award: Joshua Lenartowicz
MEN'S PHYSIQUE
1. Andre Ferguson USA
2. Raymont Edmonds USA
3. Kyron Holden USA
4. Logan Franklin USA
5. George Brown USA
6. Sadik Hadzovic USA
7. Stan Morrison USA
8. Lindon Bond USA
9. Kimani Victor Canada
10. Rodrigue Chesnier USA
11. Quincey Whittington USA
12. Michael Bevins USA
13. Anthony Gilkes USA
14. Ramses Rams Spain
15. Viet Doan Australia
16. Kevin Nguyen USA
16. Antonio Mitchell USA
16. Ricardo Paul England
16. Devon Lindner USA
16. Mark Sindayen USA
16. Clinton Barbadillo USA
16. Antonio Roseboro USA
16. Ashwin Lucas USA
16. Tave Jackson USA
16. Bader Almualim USA
16. Michael Lee USA
16. Steven Cao USA
16. Justin Woodard USA
16. Youcef Djoudi France
16. Diogo Montenegro Brazil
16. Scott Schulze USA
16. Greg Brant USA
CLASSIC PHYSIQUE
1. George Peterson USA
2. Steve Laureus USA
3. Courage Opara USA
4. Keone Pearson USA
5. Khaled Chikhaoui Canada
6. Ricky Moten USA
7. Jason Lowe USA
8. Ro'Vonte Moody USA
9. Fabio Lopes Portugal
10. Wesley Vissers Netherlands
11. Ali Emre Turkey
12. Dion Harris USA
13. Elijah Loreno USA
14. Lehjuan Jones USA
15. David Martinez Campos Spain
16. Panexce Pierre USA
16. Charles Curtis USA
2019 ARNOLD PRO MEN'S WHEELCHAIR
1. Harold Kelley USA
2. Kris Dim USA
3. Anand Arnold India
4. Joshua Rucker USA
5. Tyler Brey USA
6. Joshua Foster USA
Best Poser Award: Anand Arnold
2019 ARNOLD PRO STRONGMAN
1. Hafthor Bjornsson – Iceland, 45 points
2. Martins Licis – USA 40.5 points
3. Mateusz Kieliszkowski – Poland 31.5 points
4. Mikhail Shivlyakov – Russia 30.5 points
5. Matjaz Belsak – Slovenia 28 points
6. Rauno Heinla – Estonia 27 points
7. Oleksii Novikov – Ukraine 25 points
8. Brian Shaw – USA 21 points
9. Jerry Pritchett – USA 14.5 points
10. Jean-Francois Caron – Canada 1 point
****************************************************

The 2019 IFBB Arnold Classic & Arnold Sports Festival are Presented by Classic Productions.
www.arnoldsportsfestival.com
www.arnoldclassicbrasil.com.br
www.arnoldclassiceurope.es
www.arnoldclassic.com.au
www.arnoldclassicafrica.com

This Event is Officially Sanctioned by the IFBB Professional League.
President
Jim Manion
Event Promoters
Jim Lorimer
Bob Lorimer
Classic Productions

Meet Director
Arnold Schwarzenegger
Amateur Contest Producers
Bob Lorimer
Mike Davies
Event Chair
Bob Lorimer
Expo & Events Coordinator
Paul Nagle
Expo & Events Director
Kathy Nagle
Director of Communications
Brent LaLonde
Strongman Contest
Dr. Jan Todd
Public Relations
Lorz Communications
Matt Lorz
Masters of Ceremony
Tony Doherty
Clint Richards
Amanda Latona

Strongman MCs
Mark Henry
Matt Iseman

Head Judge
Steve Weinberger
Photography for Pro DVDs
Jason Breeze jasonbreeze.com
Video footage
LIVE! TECHNOLOGIES
Columbus, Ohio
www.reallivepros.com
The NPC Arnold Amateur
Masters of Ceremony
Shawn Ray
Amanda Latona

Head Judges
Gary Udit
Sandy Williamson
On Stage Expeditors
Rick Bayardi
Andy Bartolovich
Back Stage Expeditors
Cory Elzey
Evette Cano
Photographer for Amateurs
Carl Wade
GMV would like to thank:
Bob Lorimer
Brent LaLonde
Matt Lorz
Shawn Loevenguth
Live! Technologies
Alyssa Messner
NPC News Online
Jason Breeze
Wayne Gallasch for extra video content
Richard Baldwin for interviews.
****************

2019 Live! Technologies Crew List.
Arnold Sports Festival, USA
Event Producer
Shawn Loevenguth

Assistant Event Producer
Alyssa Messner

Stage Managers
Beth Siracuse
Autumn Cleveland
Samantha Barnes

FOH Audio Engineer
Steve Jones

Audio Engineer
Kevin Brown

FOH Lighting Technician
Michael Hesmond

Lighting Technician
Jordan Auge

Video Director
Ian Martin
Video Technician
Julian Dorsett

Tape Operator
Travis Haag

Camera Operators
Jim Miller
Eric Obert
Randy Silcott

Head Carpenter
Dave Steinmetz

Carpenters
Rick Scholz
Shawn Scholz
Set Design
Jocelyn McDaniel

Expo Stage:

Site Supervisor
Doug Maynard

Audio Technician
Gus Caulk

Lighting Technician
Matt Reid

Video Director
Casey Payne
Tape Operator
Schehera McKissack

Camera Operators
Art Hearl
Steve Mitchell
General Technician
Oscar Smith
Seth Powell

ENG Team
Jerman Abney
Grant Lawhorn
Tyler Chapman
Catherine Quamme
Lincoln Meikle
Travis Fishburn
Jarred Lawson
Joshua Chandler
Jamie Comisford
****************

GMV Editing
Wayne Gallasch
Ollie Parke
Authoring & Cover Design
Ollie Parke
DVD & Blu-Ray Produced by
GMV PRODUCTIONS
Australia
WEB:
GMV.COM.AU
GMVBODYBUILDING.COM
© WORLD COPYRIGHT 2019.