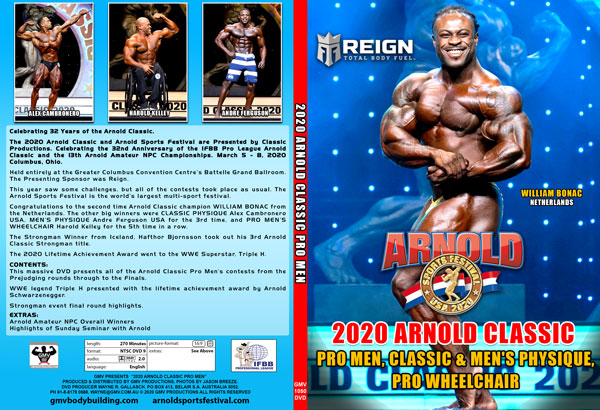 2020 Arnold Classic – Pro Men, Classic & Men's Physique, Pro Wheelchair.
Celebrating 32 Years of the Arnold Classic.
The 2020 Arnold Classic and Arnold Sports Festival are Presented by Classic Productions. Celebrating the 32nd Anniversary of the IFBB Pro League Arnold Classic and the 13th Arnold Amateur NPC Championships. March 5 - 8, 2020 Columbus, Ohio.
Held entirely at the Greater Columbus Convention Centre's Battelle Grand Ballroom. The Presenting Sponsor was Reign.
This year saw some challenges, but all of the contests took place as usual. The Arnold Sports Festival is the world's largest multi-sport festival.
Congratulations to the second time Arnold Classic champion WILLIAM BONAC from the Netherlands. The other big winners were CLASSIC PHYSIQUE Alex Cambronero USA, MEN'S PHYSIQUE Andre Ferguson USA for the 3rd time, and PRO MEN'S WHEELCHAIR Harold Kelley for the 5th time in a row.
The Strongman Winner from Iceland, Hafthor Bjornsson took out his 3rd Arnold Classic Strongman title. (See the DVD of the complete Arnold Strongman Classic, GMV-1053DVD.)
The 2020 Lifetime Achievement Award went to the WWE Superstar, Triple H.
THE COMPLETE RESULTS FOR EVERY PRO CLASS AT THE 2020 EVENT, MEN.
CONTENTS:
This massive DVD presents all of the Arnold Classic Pro Men's contests from the Prejudging rounds through to the Finals.
WWE legend Triple H presented with the lifetime achievement award by Arnold Schwarzenegger.
Strongman event final round highlights.
EXTRAS:
Presentation of Arnold Amateur Overall Winners
Highlights Sunday Seminar with Arnold.
RUNNING TIME: 266 mins.
THE COMPLETE COLLECTION OF ARNOLD CLASSIC USA DVDs & DOWNLOADS.
This DVD is also available on Blu-ray, GMV-1028BRDVD, as well as on regular DVD.
DVD Photos: Jason Breeze jasonbreeze.com
2020 Arnold Classic Pro Men's Results: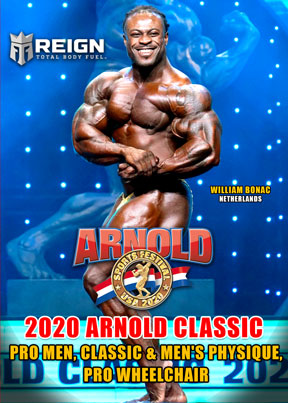 2020 Arnold Classic
1 William Bonac Netherlands
2 Dexter Jackson USA
3 Mamdouh Elssbiay Egypt
4 Stephen Kuclo USA
5 Sergio Oliva Jr USA
6 Cedric McMillan USA
7 Akim Williams USA
8 Maxx Charles USA
9 Victor Martinez USA
10 Patrick Moore USA
11 Joshua Lenartowicz Australia
12 Morgan Aste France
13 Johnnie O. Jackson USA
Franco Columbu Most Muscular Award: Mamdouh Elssbiay – Egypt
Ed Corney Best Poser Awards: Sergio Oliva Jr. – USA
Men's Physique
1 Andre Ferguson USA
2 Brandon Hendrickson USA
3 Steven Cao USA
4 George Brown USA
5 Carlos DeOliveira USA
6 Yasser Fernando Chala Blandon Colombia
7 Anthony Gilkes USA
8 Xavisus Gayden USA
9 Derrick Stevenson USA
10 Eric Wildberger Brazil
11 Ryan John-Baptiste England
12 Sunny Akhigbe USA
Classic Physique
1 Alex Cambronero USA
2 Jun Choi South Korea
3 Hyoungjoo Kwon Korea
4 Abner Logan USA
5 Ricky Moten Jr. USA
6 Terrence Ruffin USA
7 Jason Strayhand USA
8 Orlando Maldonado Puerto Rico
9 Steve Laureus USA
10 Santiago Aragon USA
11 Klaus Drescher Austria
12 Abtin Shekarabi USA
13 Brandon Kidd USA
Arnold Pro Men's Wheelchair
1 Harold Kelley USA
2 Antoni Khadraoui Sweden
3 Bradley Betts USA
4 Johnny Quinn USA
2020 Arnold Pro Strongman Winner: Hafthor Bjornsson – Iceland
*******
The 2020 IFBB Arnold Classic & Arnold Sports Festival are Presented by Classic Productions.
www.arnoldsportsfestival.com
www.arnoldclassicbrasil.com.br
www.arnoldclassiceurope.es
www.arnoldclassic.com.au
www.arnoldclassicafrica.com
This Event is Officially Sanctioned by the IFBB Professional League.
President:
Jim Manion
Event Promoters:
Jim Lorimer
Bob Lorimer
Classic Productions

Meet Director:
Arnold Schwarzenegger
Amateur Contest Producers:
Bob Lorimer
Mike Davies
Event Chair:
Bob Lorimer
Director of Communications:
Brent LaLonde
Public Relations:
Lorz Communications
Matt Lorz
Head Judges:
Steve Weinberger
Sandy Williamson
Masters of Ceremony:
Clint Richards
Tony Doherty
Amanda Latona
Strongman Contest:
Dr. Jan Todd
Steve Slater
Strongman MCs:
Matt Iseman
Magnús Ver Magnússon
Strongman Head Judge:
Karl Gillingham
Photography for Pro DVDs:
Jason Breeze jasonbreeze.com
Video footage:
LIVE! TECHNOLOGIES
Columbus, Ohio
www.reallivepros.com
Expediter - Pro Show:
Al Smith
GMV would like to thank:
Bob Lorimer
Brent LaLonde
Matt Lorz
Shawn Loevenguth
Live! Technologies
Alyssa Messner
Jason Breeze
David Baye
Wayne Gallasch for extra video content
Richard Baldwin for backstage assistance
2020 Live! Technologies Main Stage crew Battelle Hall:
Shawn Loevenguth - Producer
Alyssa Messner - Asst. Production Manager
Steve Jones- FOH audio
Kevin Brown - Audio Tech
Michael Hesmond - Lighting Programmer
Jordan Auge - Lighting Tech
Ian Martin - Video Director
Grant Lawhorn – Video Editor
Travis Haag - LED Wall Tech/ Video Tech
Julian Dorsett - Video Tech
Jay Johns - Lead Carpenter
Rick Scholz - Asst. Carpenter
Jim Miller - Camera
Randy Silcott - Camera
Eric Obert – Camera
Sarah Joyce - Director of Project Management
******************
GMV Editing:
Wayne Gallasch
Ollie Parke
Authoring & Cover Design:
Ollie Parke
DVD & Blu-Ray Produced by:
GMV PRODUCTIONS
Australia
WEB:
GMV.COM.AU
GMVBODYBUILDING.COM
© WORLD COPYRIGHT 2020.