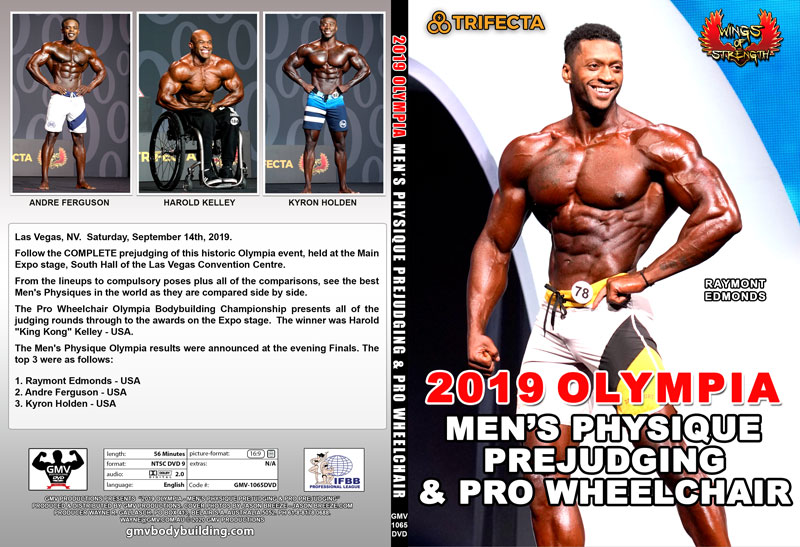 2019 MEN'S PHYSIQUE OLYMPIA PREJUDGING
Plus PRO WHEELCHAIR OLYMPIA.

DIGITAL DOWNLOAD.
Las Vegas, NV. Saturday, September 14th, 2019.
Follow the COMPLETE prejudging of this Men's Physique Olympia event, held at the Main Expo stage, South Hall of the Las Vegas Convention Centre.
From the lineups to compulsory poses plus all of the comparisons, see the best Men's Physiques in the world as they are compared side by side.
The Pro Wheelchair Olympia Bodybuilding Championship presents all of the judging rounds through to the awards on the Expo stage. The winner was Harold "King Kong" Kelley - USA.
The Men's Physique Olympia results were announced at the evening Finals. The top 3 were as follows:
1. Raymont Edmonds - USA
2. Andre Ferguson - USA
3. Kyron Holden - USA
Running Time: 56 mins
Photos: Jason Breeze and David Michael Images.
2019 Men's Physique Olympia - Full Results:
1. Raymont Edmonds - USA
2. Andre Ferguson - USA
3. Kyron Holden - USA
4. Brandon Hendrickson - USA
5. Ryan Terry - UK
6. Carlos DeOliveira - Brazil
7. Anthony Gilkes - USA
8. Xavisus Gayden - USA
9. George Brown - USA
10. Ondrej Kmostak - Czech Rep.
11. Joseph Lee - USA
12. Yasser Fernando Chala Blandon - Colombia
13. Akeem Scott - USA
14. Carl Presendieu - USA
15. Anthony Woods - USA
16. Dean Balabis - USA
16. Bhuwan Chauhan - Canada
16. Julian Colley - Canada
16. Ahmed Abdul Jalil - Egypt
16. Corey Morris - USA
16. Ramses Rams - Spain
16. Arya Saffaie - USA
16. Suruqah Shabazz - USA
16. Kimani Victor - Canada
Pro Wheelchair Olympia - Results:
1. Harold Kelley - USA
2. Gabriele Andriulli - Italy
3. Krisna Dim - USA
4. Steven Lister - USA
5. Bradley Betts - USA
6. Tyler Brey - USA
***********

This Event is Officially Sanctioned by the IFBB Professional League.
President: Jim Manion
Chief Olympia Officer: Dan Solomon
Technical Director: Martin Carrillo
Head Judges:
Steve Weinberger
Sandy Williamson
MC: Bob Cicherillo
Photography:
Jason Breeze jasonbreeze.com
David Michael Images
Wayne Gallasch
Contest Cameras:
Wayne Gallasch
Phil Carman
Dave Wellings
GMV would like to thank:
Dan Solomon
Martin Carrillo
Cayden Riley
Jason Breeze

GMV Editing:
Wayne Gallasch
Ollie Parke
Authoring & Cover Design:
Ollie Parke
DVD Produced by
GMV PRODUCTIONS
Australia
WEB:
GMV.COM.AU
GMVBODYBUILDING.COM
© WORLD COPYRIGHT GMV 2021.