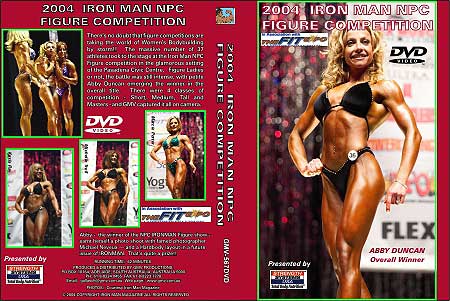 2004 IRON MAN NPC Figure Championships
Digital Download.

There's no doubt that figure competitions are taking the world of Women's Bodybuilding by storm!! The massive number of 37 athletes took to the stage at the Iron Man NPC Figure competition in the glamorous setting of the Pasadena Civic Centre. Figure Ladies or not, the battle was still intense, with petite Abby Duncan emerging the winner in the overall title. This was the first Iron Man event to be held at Pasadena.

There were 4 classes of competition - Short, Medium, Tall and Masters - and GMV captured it all on camera.
Abby - the winner of the NPC IRON MAN Figure show - earnt herself a photo shoot with famed photographer Michael Neveux — and a Hardbody layout in a future issue of IRON MAN. That's quite a prize!!

2004 Iron Man NPC Figure Championships - Complete Results

Short Class
1 Abby Duncan* (Overall winner)
2 Tracey MacDonald
3 Moorea WoIfe
4 Brandy Nemey
5 Patty Cottrell
6 Elizabeth Madoyan
7 Angle Fernwault
8 Elizabeth Barron
9 Lisa Johnson
10 Elaine Seth
11 Adrianne Pelt

Medium Class
1 Marcy Porter
2 Lome Henry
3 Karla Ray
4 Sunshine Fritzges
5 Nancy Hirsch
6 Lina Eklund
7 Tanya Peale
8 Denise Cadenas
9 Tanisha Harrison
10 Tina Graeff
11 Venus Ramos

Tall Class
1 Michelle Troll
2 Kathleen Johansson
3 Alexis Ellis
4 Vanessa Cordova
5 Kerstin Taylor
6 Michelle Wauro
7 Mary Jo Cooke
8 Erica White
9 Jessica Hatch

Masters
1 Karla Ray
2 Michelle Wauro
3 Erica White
4 Tina Graeff
5 Lisa Johnson
6 Patsy Marshall

For full contest IM Results click here

Click here for our COMPLETE LIST OF ALL IRON MAN PRO RELATED DVDs.
2004 Iron Man Pro

DEXTER "The Blade" JACKSON opened the 2004 pro season with a hard fought victory over the Blond Myth LEE PRIEST. Also qualifying for the Olympia with his 3rd place finish was Puerto Rico's GUSTAVO BADELL.

Includes key comparisons from prejudging, complete posing routines of all 20 competitors, posedown and awards.



NTSC DVD, OPEN REGION