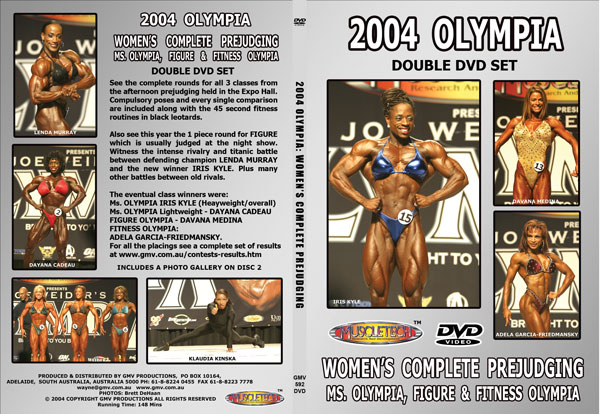 2004 Olympia: Women's Complete Prejudging: As a 2 DVD set -
Ms. Olympia, Figure & Fitness Olympia
Also on Download:
Part 1: Figure & Fitness (1st rounds Fitness). Preview clip.
Part 2: Ms. Olympia Lw & Hw + Fitness 45sec routines. Preview clip.
See the complete rounds for all three classes from the afternoon prejudging held in the Expo Hall. This is a rare treat in that usually the complete WOMEN'S PREJUDGING is not offered on DVD. GMV asked for and was granted permission to record and offer this normally unseen part of the event.
Compulsory poses and every single comparison are included along with the 45 second fitness routines in black leotards.
Also see this year the 1 piece round for FIGURE which is usually judged at the night show. Witness the intense rivalry and titanic battle between defending champion LENDA MURRAY and the new winner IRIS KYLE. Plus many other battles between old rivals. See Iris Kyle win the title again in 2009, click here.

See the following Women who finished in this order in each class:

Ms. OLYMPIA Heavyweights over 135 pounds:
Iris Kyle, Lenda Murray, Yaxeni Oriquen, Betty Pariso-Carmichael, Betty Viana, Lisa Aukland, Bonny Priest.

Ms. OLYMPIA Lightweights up to 135 pound:
Dayana Cadeau, Denise Masino, Marja Lehtonen, Joanna Thomas, Desiree Ellis, Mah Ann Mendoza, Nancy Lewis, Valentina Chepiga, Vilma Caez.
FITNESS OLYMPIA
Adela Garcia-Friedmansky, Jen Hendershott, Kelly Ryan, Kim Klein, Tracey Greenwood, Julie Palmer, Stacey Hylton, Tanji Johnson, Mindy O'Brien, Anna Level, Klaudia Kinska, Stacy Simons, Jennifer Hanke, Teri Mooney.
FIGURE OLYMPIA
Davana Medina, Jenny Lynn, Monica Brant, Jaime Franklin, Amber Littlejohn, Christine Pomponio-Pate, Mari Kudla-Donnelly, Elaine Goodlad, Zena Collins, Aleksandra Kobielak, Melissa Frabbiele, Shannon Meteraud, Dina Al-Sabah, Jaana Kotkansalo, Lisbeth Halikka.
For the full results in our RESULTS SECTION, click here
Wayne shot the complete Olympia Women's Prejudging from his special TV platform which was provided for us. It went round by round for each of the classes for Ms. Olympia, Figure Olympia and Fitness Olympia. A bonanza of female muscle running over two and a half hours.
We should highlight the Fabulous PHOTO GALLERY on disc 2 showcasing GMV team member BRETT DEHAAN's fantastic 282 photos from all 3 sections of the women's prejudging.
Of special note are the action photos of the fitness women in their black leotards where many are shown mid-air. Not to be missed! 282 glorious photos.

DISC #1 is Rounds 1 & 2 of Fitness & Figure PJ - Running time: 74 mins.
DISC #2 is Round 3 of Fitness PJ and all of the Ms. Olympia PJ + the large PHOTO GALLERY - Running time: 74 mins.

TRT: 148 mins

***************************************************************************************************************************************************************************************************



This OLYMPIA WOMEN'S FINALS set is Disc #1 FITNESS OLYMPIA and Disc #2 is FIGURE & MS. OLYMPIA in the 2 DVD Set of the 2004 Complete Women's Finals, A-1090DVDSP.

2004 MS. OLYMPIA/FIGURE OLYMPIA & FITNESS OLYMPIA FINALS - 2 DVD SET.












GMV-601DVD 2004 Olympia Womens Pump Room - Figure, Fitness, and Ms Olympia





2004 MS. OLYMPIA - RESULTS
Overall Winner: Iris Kyle

Heavyweights over 135 pounds
1 Iris Kyle USA
2 Lenda Murray USA
3 Yaxeni Oriquen Venezuela
4 Betty Pariso-Carmichael USA
5 Betty Viana Venezuela
6 Lisa Aukland USA
7 Bonny Priest USA

Lightweights up to 135 pounds
1 Dayana Cadeau Canada
2 Denise Masino USA
3 Marja Lehtonen Finland
4 Joanna Thomas England
5 Desiree Ellis Canada
6 Mah Ann Mendoza Philippines
7 Nancy Lewis USA
8 Valentina Chepiga Ukraine
9 Vilma Caez USA
2004 FITNESS OLYMPIA
1 Adela Garcia-Friedmansky USA
2 Jen Hendershott USA
3 Kelly Ryan USA
4 Kim Klein USA
5 Tracey Greenwood USA
6 Julie Palmer USA
7 Stacey Hylton USA
8 Tanji Johnson USA
9 Mindy O'Brien Canada
10 Anna Level Venezuela
11 Klaudia Kinska Slovakia
12 Stacy Simons USA
13 Jennifer Hanke USA
14 Teri Mooney USA
2004 FIGURE OLYMPIA
1 Davana Medina USA
2 Jenny Lynn USA
3 Monica Brant USA
4 Jaime Franklin USA
5 Amber Littlejohn USA
6 Christine Pomponio-Pate USA
7 Mari Kudla-Donnelly USA
8 Elaine Goodlad Canada
9 Zena Collins USA
10 Aleksandra Kobielak Poland
11 Melissa Frabbiele USA
12 Shannon Meteraud USA
13 Dina Al-Sabah Kuwait
14 Jaana Kotkansalo Finland
15 Lisbeth Halikka Finland

NTSC DVD, OPEN REGION