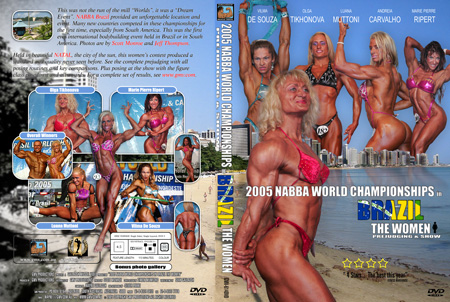 2005 NABBA World Championships: The Women - Prejudging & Show
Also on Digital Download.

If ever there was a dream event of bodybuilding, it had to be the NABBA Worlds for 2005. First of all, there was the location in the city of Natal – fantastic, unbelievable, wonderful BRAZIL. And then there was the competitors. The bodies were out of this world - truly awesome. The bodybuilding stage has never seen anything like it.

See 9 incredible competitors in the Figure Class, 8 in the Physique class and 3 each in the Fitness and Over 35 Figure. The judges had a nightmare selecting between the top 3 in each of the figure classes, they were all SO VERY GOOD!
In the Physique Class see the battle of contrasting physiques between Olga Tikhonova of Russia and the truly awesome Renne Toney of USA with her 19" arms.
Photos are primarily by Scott Monroe with some by Jeff Thompson. You will see the complete prejudging with all posing routines and key comparisons.
Plus posing at the show with the figure class posedown and all the awards.

Special Features:

Photo Gallery

* Available in NTSC (region free)

Click here for the photo CD of this event, it is item GMV-614PCD with around 200 incredible images.

Click here for the COMPLETE EVENT RESULTS FOR MEN & WOMEN.
Listed below is a complete set of women's contest results.


Please click here for the MEN'S 2 DVD SET, PJ & SHOW, GMV-615DVDSP.







THE WOMEN

Miss Physique
1 Olga Tikhonova - Russia
2 Anke Luth - Holland
3 Saskia Salemink - Holland
4 Desiree Dümpel - Holland
5 Silvina Cabrera - Argentina
6 Renne Toney - USA
7 Claudia Pecanha - Brazil
8 Valeria Cordeiro De Jesus - Brazil
Miss Figure Class II
1 Andrea Carvalho - Brazil
2 Viviane Romaguera - Brazil
3 Flavia Crisos - Brazil
4 Luciana Cardoso - Brazil
5 Noemia Francisca Abreu - Brazil
6 Rosane Gomes Braga - Brazil
Miss Figure Class I
1 Marie Pierre Ripert - France
2 Claudia Francis Souza - Brazil
3 Jolanda Mol - Holland
Miss Figure over 35
1 Vilma Ribeiro De Souza - Brazil
2 Lilian Okubo - Brazil
3 Lisa Mann - UK
Miss Fitness
1 Loana Muttoni - Brazil
2 Alexandra Aguiar - Uruguay
3 Valeria Aprobato - Brazil

OVERALL WINNER:

FIGURE MISS WORLD: Andrea Carvalho - Brazil

NTSC DVD, OPEN REGION