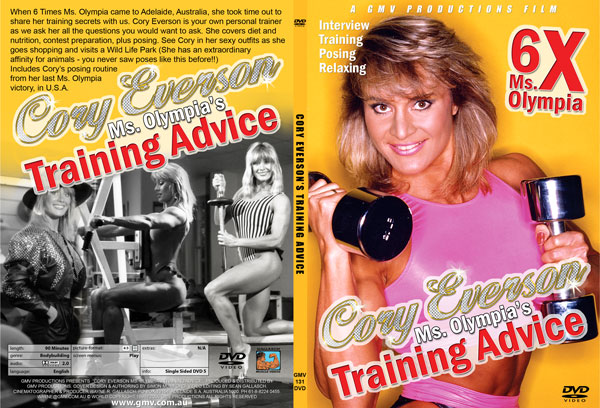 Preview clip


Cory Everson: Ms. Olympia's Training Advice & Posing

Cory Everson visited Australia, and took time out to come to Adelaide - the home of GMV Productions. From our two days of taping we released an in-depth workout (GMV-130DVD) and the second one GMV-131DVD is centred around our interview/seminar with Cory and Jeff.

Cory Everson's Workout

Our two cameras followed Cory through 2 and a half days of shooting, in our own home town of Adelaide, South Australia. We focus on the gym workout and workout seminar, and Cory demonstrates exercise after exercise for all her fans.

This DVD shows a genuine full body Cory Everson workout.
It reveals the Cory everyone wants to know, and she answers all the questions you wish you could ask her yourself. It's like a personal seminar. Where Cory gives training advice, we have shown her demonstrating the specific exercise she and Jeff are discussing. She covers diet and nutrition and much more.
PHOTO GALLERY.

Everybody knows Cory is a passionate animal lover, and the highlight of her tour (and ours) was the time she spent in our National Parks. We took her to Cleland Wildlife Park which is home to some of South Australia's most iconic inhabitants, twenty minutes from the Adelaide city centre. Cory did everything - cuddled a koala, scratched a wombat, posed with kangaroos, and fed the emus.
The DVD is rounded off with Cory's winning posing routine from the
1989 Ms. Olympia
. It's the Cory DVD that has everything.
1989 Ms. Olympia

CORY EVERSON TAKES NEW YORK! From Madison Square Garden, Cory narrowly defeats Sandy Riddell by only 3 points. Cory Everson (1), Sandy Riddell (2), Bev Francis (3), Jackie Paisley (4), Ellen Van Maris (5), Laura Creavalle (6), Diana Dennis (7), Marjo Selin (8), Maria Mahabir (9), Janet Tech (10), Claudia Profanter (11), Dona Oliveira (12), Laura Beaudry (13), Dorothy Herndon (14), Lisa Lorio (15), Lynn Lemieux (16), Renate Holland (17), Ina Lopulissa (18).


We also took Cory downtown. Here's the Cory nobody has ever seen before. She's strictly off duty and having a marvellous time, shopping and sightseeing. She also gave our locals something to see as well, as she was dressed in a very sexy outfit of leather hotpants and a metal studded vest - WOW!!
Cory Everson - Ms Olympia's Seminar & Posing

This is DVD #1 in our series of 3 DVDs we have produced on Cory. This is the seminar DVD to judge all the others against! It's educational and entertaining throughout, and gives you the hard facts, together with humour and amusing anecdotes about bodybuilding personalities.

The charisma and charm of Jeff and Cory is sheer magic and the camera captures the special way these people relate to each other and to the audience.

GMV-041_042DVD
Available in NTSC DVD, OPEN REGION