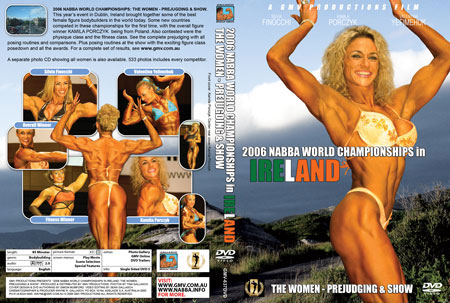 2006 NABBA World Championships: The Women - Prejudging & Show

Also on Digital Download.

Staged at the Helix Centre, on June 10th, this was the first ever World Championships held in Dublin, Rep. of Ireland. This year's event brought together some of the best female figure bodybuilders in the world today. Some new countries competed in these championships for the very first time, with the overall figure winner Kamila Porczyk being from Poland. Also contested was the women's physique class where Valentyna Yefymchuk from Ukraine was the winner.

You will see the complete prejudging with all posing routines and comparisons. Plus posing routines at the show with the exciting figure class posedown and all the awards. This is women's bodybuilding at its best!! The COMPLETE WOMEN'S RESULTS are below.

As an extra scene we have included the brilliant fitness routine performed by Livia Kallagova of Slovakia.

For a complete set of results for Men & Women click here.

Also includes a photo gallery. All photos by Tina Gallasch

Running time: 85 mins

2006 NABBA World Championships
10th June, 2006 Dublin, Rep. of Ireland
OVERALL WINNERS:
Men's Open: Billy Bourne, Rep. of Ireland
Figure: Kamila Porczyk, Poland
THE WOMEN
Miss Figure II
1 Silvia Finocchi, Brazil
2 Svitlana Oliynyk, Ukraine
3 Irene Alley, South Africa
4 Cheryl Steele, UK
5 Lilian Okubo, Brazil
6 Lisa Mann, UK
7 Cristina D'Oliviera, South Africa

Miss Figure I
1 Kamila Porczyk, Poland
2 Karen Bricklebank, UK
3 Malika Zitouni, N. Ireland
4 Sonia Chiarabini,Italy
5 Candy Donevon, Rep. of Ireland
6 Birgit Tiedke, Germany
DNP:
Cindy Hannes, Belgium
Andira Ward, Rep. of Ireland
Miss Physique
1 Valentyna Yefymchuk, Ukraine
2 Caroline Wang, Austria

A separate photo CD from the women's event shot at both prejudging and the show is also available. It contains 533 high quality images showing every single competitor. Please click here for Women's Photo CD which is GMV-637PCD.

2006 NABBA World Championships: The Women - Photo CD

The Photo CD is made up of 533 Superb High Quality JPEG images showing every single competitor from the prejudging and show. Shot by Tina Gallasch.

This Photo CD is a "must have" for all fans of women's bodybuilding. The images are copyright to GMV Productions for private viewing only and not for posting on web sites or for use for any other purpose.


2006 NABBA World Championships: The Men - The Show

The Men's Show DVD contains the complete posing routines from the top 6 men in each class at the finals plus the overall posedown and all of the awards. Highlights include BILLY BOURNE of the Republic of Ireland taking the overall crown of Mr. World, and BERNIE COOPER taking the Over 50 Masters title. Others to greatly impress were Junior winner DAMIAN CLOETE with his 20" arms and JARI SALMENAHO winning the Over 40 Masters.


2006 NABBA World Championships: The Men - Prejudging

This was the first ever World Championships held in Dublin, Ireland and the whole event reached a new level of excitement. All classes were keenly contested in a very even competition. Photos are by Tina Gallasch. The men's contest produced a super high standard and quality in every class which is rarely seen at an amateur level. In this DVD see the complete men's prejudging with all the posing routines and hard fought key comparisons.


* Available in NTSC DVD (region free)