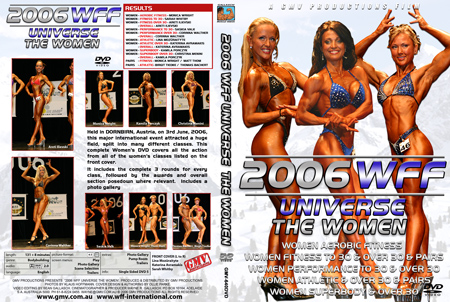 2006 WFF Universe - The Women
Also on Digital Download.

Held in Dornbirn, Austria, on June 3rd, 2006 this major event attracted the best female athletes from Europe, Australia and around the world. The huge field was split into many different classes and categories, all of which are included, along with mixed pairs in this one huge Women's DVD.
It includes the complete 3 rounds for all classes through to the posedowns and awards. The 4 Overall winners are listed below.
See the greatest collection of beautiful, athletic fit women in the world - one after the other as the beauties just keep on coming out on stage. These women are hot!! They do more than just quarter turns and comparisons. Some of the posing routines were sensational.
The complete posing routine of every single competitor is included. Apart from the basic 131 contest minutes of this DVD, we include an extra 8 closeup pumproom minutes of bonus footage from the backstage area.
Includes a photo gallery. This is an absolute must have for your DVD collection.
Complete WOMEN'S RESULTS as seen in this DVD:
Women-Aerobic Fitness
1 Monica Wright
2 Livia Kallagova
3 Veronika Bialobskova
4 Anna Maria Maggio
Women-Fitness to 30
1 Sarah Whitby
2 Athina Michaloudis
3 Jasmin Higgs
4 Beata Vrabelova
5 Victoria Goodall
Women-Fitness over 30
1 Areti Ilievski - Overall Winner
2 Susan Malekpur-Shirazi
3 Melanie Helfrich
4 Anita Kenyon
5 Doris Berauer
6 Carmela Pavlic
7 Nancy Van Reusel
Women-Performance to 30
1 Saskia Valk
2 Ivonne Schulze
3 Yvonne Wetzler
Women-Performance over 30
1 Corinna Walther - Overall Winner
2 Zivile Jankauskiene
3 Mojca Poljsak
Women-Athletic
1 Lina Mozüraityte
2 Angela Koekkoek
Women-Athletic over 30
1 Katerina Avramakis - Overall Winner
2 Inge Babel
3 Ute Köhler
4 Monika Vaclavikova
5 Pelagia Vlasiadi
Women-Superbody
1 Kamila Porczyk - Overall Winner
2 Brina Romih
Women-Superbody 0ver 30
1 Christina Menini
2 Ann Hewitt
3 Selma Gaßmann
4 Birgit Tiedke
Pairs Fitness
1 Monica Wright / Matt Thom - Australia
2 Corinna Walther / Andreas Trienbacher
3 Doris Berauer / Alexander Schroll
Pairs Athletic
1 Birgit Tiedke / Thomas Bachert
2 Pelagia Vlasiadi / Stelios Ktistakis
2006 WFF Universe - The Men Disc #1 and #2 (Special Deal)

Held in DORNBIRN, Austria, on 3rd June, 2006, this major international event attracted a huge field, split into many different classes. This Men's DVD #1 covers all the action from the men's classes listed below: Juniors - Fitness, Performance, Athletic & Superbody. Men's Fitness, over 30, over 40.

Men Over 50 & Over 60. Men's Performance, over 30 & over 40. Men's Athletic, over 30 & over 40. Men's Superbody, over 30 & over 40. Men's Extreme Body.


NTSC DVD, OPEN REGION