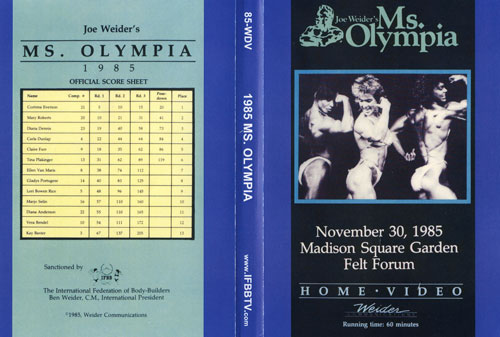 1985 Ms. Olympia (Historic DVD)

Cory Everson was the star of this contest when Joe Weider's Ms. Olympia was staged at the Madison Square Garden Felt Forum - November 30th, 1985.

In 1984 a new face emerged on the women's scene with the arrival of Cory Everson. Her physique would set a new standard for the sport. Cory won the NPC Nationals and then took the title away from Rachel McLish at the 1984 Ms. Olympia to take home the trophy.
Everson came into the show weighing 150 pounds at 5'9". She then went on to be the only woman to ever win six consecutive Ms. Olympia titles before she decided to retire.
1985 saw Cory take her second Ms. Olympia title. There were a total of 23 women in the field making it one of the largest and toughest ever Ms. Olympia events.
This was also the first ever official IFBB Ms. Olympia DVD release.

The main women featured in this DVD are: Cory Everson, Mary Roberts, Diana Dennis, Carla Dunlap, Claire Furr, Tina Plakinger, Ellen Van Maris, Gladys Portugese, Lori Bowen Rice, Marjo Selin, Diana Anderson, Vera Bendel and Kay Baxter.
Due to time constraints of editing in 1985, the posing routines of some of the lower placed women are not shown.

1985 Ms. Olympia Results

1 Cory Everson USA
2 Mary Roberts USA
3 Diana Dennis USA
4 Carla Dunlap USA
5 Clare Furr USA
6 Tina Plakinger USA
7 Ellen Van Maris Netherlands
8 Gladys Portugues Netherlands
9 Lori Bowen-Rice USA
10 Marjo Selin Finland
11 Dinah Anderson USA
12 Vera Bendal Germany
13 Kay Baxter USA
14 Erica Mes Netherlands
15 Juliette Bergmann Netherlands
16 Lynn Conkwright USA
17 Dona Oliviera USA
18 Joy Nichols Canada
19 Lynne Pirie USA
20 Carolyn Cheshire England
21 Anita Gandol USA
22 Kris Alexander USA
23 Lydia Cheng USA

Running time: 60 minutes.

* Available in NTSC DVD Only (Region Free)

Customers who viewed this DVD also viewed:








Click here for GMV Productions complete list of Female Muscle and Fitness DVDs.