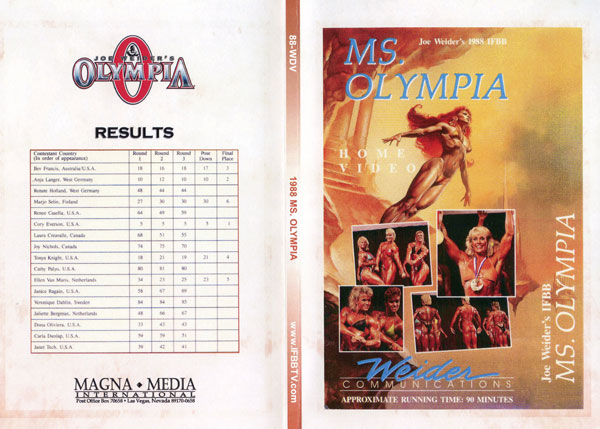 1988 Ms. Olympia (Historic DVD)

Starring Cory Everson, Anja Langer, Bev Francis, Tonya Knight, Ellen Van Maris, Renate Holland, Renee Cassella, Laura Creavalle, Joy Nichols, Cathy Palyo, Janice Ragain, Veronica Dahlen, Juliette Bergmann, Dona Oliveira, Carla Dunlap, Janet Tech.

1988 Ms. Olympia Results
1 Cory Everson USA
2 Anja Langer Germany
3 Bev Francis Australia
4 Tonya Knight* USA
5 Ellen Van Maris Netherlands
6 Marjo Selin Finland
7 Dona Oliveira USA
8 Janet Tech USA
9 Renate Holland Germany
10 Carla Dunlap USA
11 Laura Creavalle Canada
12 Renee Casella USA
13 Juliette Bergmann Netherlands
14 Janice Ragain USA
15 Joy Nichols Canada
16 Cathey Palyo USA
17 Veronica Dahlen Sweden
*Disqualified

This is an authorized and licensed copy made directly from the broadcast-quality master tape.

Running time: 90 minutes.

* Available in NTSC DVD Only (Region Free)

Customers who viewed this DVD also viewed:








Click here for GMV Productions complete list of Female Muscle and Fitness DVDs.