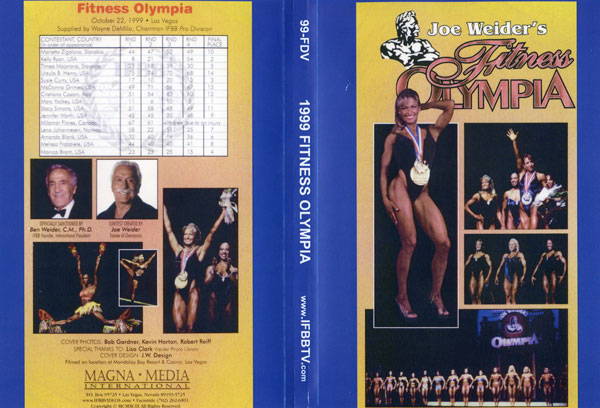 1999 Ms. Fitness Olympia (Historic DVD)

This year's video is entirely 100% Fitness Olympia.
MARY YOCKEY: ALL-NEW FITNESS CHAMPION!
Athletic and beautiful Mary Yockey becomes the fifth Fitness Olympia in five years with a spectacular and energetic fitness routine! See highlights of the physique rounds and the complete fitness routines (1-minute and 2-minute) of these dynamic ladies. Held in Las Vegas.

Starring Mary Yockey (1), Kelly Ryan (2), Susie Curry (3), Monica Brant (4), Timea Majorova (5), Mandy Blank (6), Lena Johannessen (7), Melissa Frabbiele (8), Jennifer Worth (9), Marietta Zigalova (10). Also shown: Cristiana Casoni, Milamar Flores, Madonna Grimes, Ursula Henry, Stacy Simons.

Brief interviews with all 14 competitors are shown preceding their routines. Highlights included the 2 point difference between KELLY RYAN 2nd, and SUSAN CURRY 3rd. Last year's winners MONICA BRANT 4th, just edging out a ripped and sensational TIMEA MAJOROVA into 5th place.

Beautiful AMANDA BLANK famous for her posing in "Muscle Elegance" magazine rounded out the top 6.
Please click here for her new 2009 DVD called MANDY BLANK INTIMATE, A-1322DVD.
1999 Fitness Olympia Results
1. Mary Yockey USA
2. Kelly Ryan USA
3. Susie Curry USA
4. Monica Brant USA
5. Timea Majorova Slovakia
6. Amanda Blank USA
7. Lena Johannesen Norway
8. Melissa Frabbiele USA
9. Jennifer Worth USA
10. Marietta Zigalova Slovakia
11. Stacy Simons USA
12. Cristiana Casoni Italy
13. Madonna Grimes USA
14. Ursula Buckanes-Henry USA
WD Milamar Flores-Sarcev Canada

"Sanctioned by the IFBB and Produced by Magna Media International."

Running time: 90 minutes.

Available in NTSC DVD Only (Region Free)


Customers who viewed this DVD also viewed:








Click here for GMV Productions complete list of Female Muscle and Fitness DVDs.