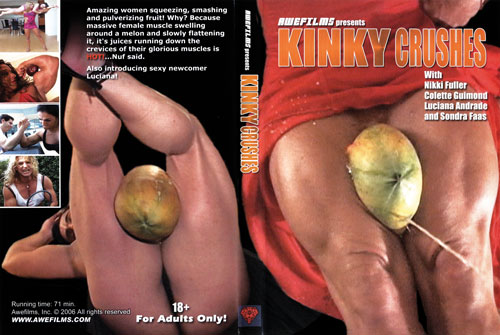 Click here to view a video preview


Kinky Crushes with Nikki Fuller - Colette Guimond - Luciana Andrade - Sondra Faas
(Dual price US$34.95 or A$44.95 in Australia. The shopping cart defaults to the US$ price)

Amazing women squeezing, smashing and pulverizing fruit. Why? Because massive female muscle swelling around a melon and slowly flattening it, it's juices running down the crevices of their glorious muscles is Hot!.....Nuf said. Also introducing sexy newcomer Luciana Andrade!
Running time: 71 minutes

* Available in NTSC ONLY (region free)

* All customers outside of Australia/New Zealand will be charged in US dollars. If the item has dual pricing (that is in Australian and US dollars), all customers outside of Australia and New Zealand will only be charged the US dollar price.
Unfortunately, our site cannot cope with dual pricing and will default to the US dollar price. Regardless of this, all customers will be charged the correct price.
Please refer to our FAQ section for any other questions, click here.

Customers who viewed this DVD also viewed:







Click here for GMV Productions complete list of Female Muscle and Fitness DVDs.