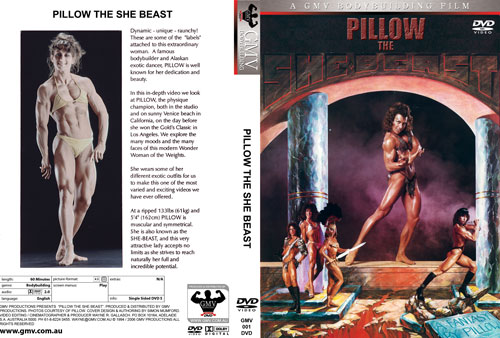 Click here for preview clip


Pillow - The She-Beast

Also available on Digital Download.

In this 60 minute DVD enjoy an in-depth look at PILLOW, the famous American bodybuilder and Alaskan exotic dancer. We explore the many moods and many faces of the modern 80s Wonder Woman of the Weights - PILLOW, a true champion of the sport.
This is an historic DVD from 1983, code numbered GMV #1, as it is the first GMV video release that was fully shot on video tape. Formerly all our productions were shot on film.

We taped PILLOW both in the studio and on sunny Venice Beach, California, on the day she won her class in the 1983 Gold's Classic in Los Angeles. Throughout the video she wears a number of different outfits, and she poses (briefly) topless in a short tasteful scene. We have included a series of colour stills from our private collection. They are dynamic, unique and often raunchy, and were taken with PILLOW in top condition, during the same period the video was shot.
PILLOW is also known as "The She-Beast". This very beautiful and muscular lady accepts no limits as she strives to reach naturally her full and incredible potential.
Pillow is now quite a cult figure of women's bodybuilding.
The DVD ends with the exciting and emotional overall contest victory by PILLOW at the Gold's Classic. We have now released our second DVD on PILLOW as she struts her stuff at PJ's in Alaska.

Running time: 60 mins

* Available in NTSC (region free)

Customers who viewed this DVD also viewed:








Click here for GMV Productions complete list of Female Muscle and Fitness DVDs.