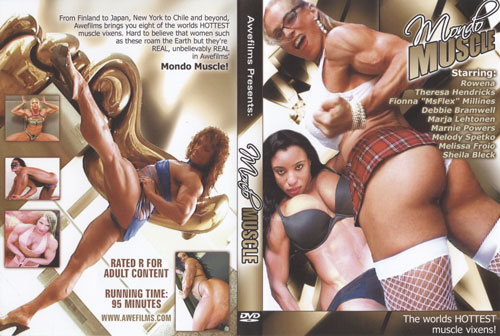 Click here to view a video preview

Mondo Muscle
(Dual price US$34.95 or A$44.95 in Australia. Shopping cart defaults to the US$ price)
From Finland to Japan, New York to Chile and beyond this truly is WORLD MUSCLE at its best. We brings you eight of the world's HOTTEST muscle vixens. Hard to believe that women such as these roam the Earth but they're REAL, unbelievably REAL in Mondo Muscle!

Featuring:
Rowena, Theresa Hendricks, Fionna "MsFlex" Millines, Debbie Bramwell, Marja Lehtonen, Marnie Powers, Melody Spetko, Melissa Froio and Sheila Bleck.
Please click here to see DEBBIE BRAMWELL competing in the 2008 Ms. Olympia, A-1287DVD.

Running time: 95 mins

Available in NTSC ONLY (region free)

Important GMV Dual pricing policy.
* All customers outside of Australia/New Zealand will be charged in US dollars. If an imported item has dual pricing, (that is in Australian and US dollars), all customers OUTSIDE of Australia and New Zealand will only be charged the US dollar price.

Unfortunately, our site cannot automatically cope with dual pricing based on your country of residence and will default to the US dollar price on the order form you see displayed. Regardless of this, all customers will be manually charged the correct price based on the above.
To refer to our FAQ section for this and any other questions, please click here.

Customers who viewed this DVD also viewed:







Click here for GMV Productions complete list of Female Muscle and Fitness DVDs.