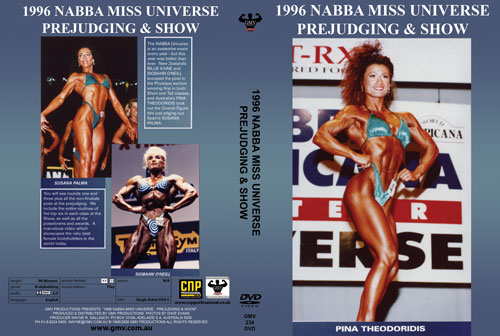 Click here for preview clip

1996 NABBA UNIVERSE: THE WOMEN - PREJUDGING & SHOW.
Also available as a Digital Download
We don't know how they do it, but the NABBA Universe simply gets better year by year.

In the Women's Physique New Zealand scooped the pool winning both classes. Billie Kaine got straight firsts from all the judges for her perfect score, and she also beat her countrywoman Siobhan O'Neill for the overall title.

The Women's Figure was a battle and a half. Pina Theodoridis of Australia (the Southern Hemisphere breeds fabulous women!!) easily won the Short Class from Brigitte Crepieux of France and she also won the Overall from Susana Palma, the Class One winner from Spain.
Pina was faultless in all areas and is the greatest Figure bodybuilder ever produced by Australia.
To see our DVD titled PINA - PURE CLASS, please click here for GMV-314DVD. Pina is now married to 1991 Masters NABBA Mr Universe Graeme Lancefield.

Running time: 90 mins


1996 NABBA Universe: The Men - Prejudging
In the Men's Prejudging tape, we present the Round 1 comparisons from every class, the key comparisons from Round 3, and the posing routines of all the non finalists.

The top 6 finalists in each class pose in the Show DVD, together with the posedowns and awards. The NABBA Universe is an awesome event each year, with the standard in Birmingham in 1996 being higher than ever. Italian superstar FEDERICO FOCHERINI took out the Overall Amateur Mr Universe title from SERGE DESSEL, BILLY JONES and JASON CORRICK.


GMV-232DVD

1996 NABBA Universe: The Men - The Show
The Men's Amateur Classes were - in a word - fantastic. You'll see for yourself, but it wouldn't have been easy to be a judge! Men's Class 4 was overwhelmed by Jason Corrick of the UK, with Australia's Quinn Lay in second. Men's Class 3 was Bill Jones from that all-time favourite poser Ramsford Smith. Men's Class 2 was Serge Dessel of France (who also won the 1996 NABBA Worlds), and Men's Class 1 was a whopping battle between first, second and third. Federico Focherini from Italy eventually won the class, with Russian Sergei Ogorodnikov in second and a disappointed Dayo Audi in third. Only a point separated second and third, it was that close!! Overall Amateur Mr Universe went to Federico Focherini. The Men's Professional Class was the biggest we have seen for some time with 12 competitors. At last "The Dinosaur" - Shaun Davis's dream came true.

GMV-233DVD.

Women's Results:

OVERALL FIGURE MISS UNIVERSE: Pina Theodoridis Australia
OVERALL PHYSIQUE MISS UNIVERSE: Billie Kaine N.Z.

MISS FIGURE – CLASS 2 SHORT

1. Pina Theodoridis (Australia)
2. Brigitte Crepieux (France)
3. Paula McCready (UK)
4. Lisa Morgan (UK)
5. Louise Krause (South Africa)
6. Tina Mirianou (Greece)
7. Laura Church (UK)
8. Anita Hibberd (UK)
NP
Edita Daubaraite (Lithuania)
Lynne Martin (USA)
Dianne Patterson (UK)

MISS FIGURE – CLASS 1 TALL

1. Susana Palma (Spain)
2. Lynn Perrott (UK)
3. Sonia Fraioli (Italy)
4. Claudia Mulhaus (Germany)
5. Paula Reynolds (UK)
6. Helga Tieben (Holland)
7. Ekaterina Karaban (Russia)
8. Debby Gubbels (Holland)
NP
Sandra Foubert (Belgium)
Yvonne Bignall (UK)
Denise Nevin (UK)
Anna Hatzivasilou (Australia)
Inga Norgialaite (Lithuania)
Pilar de Pedro Esteban (Spain)
Janine Payne (UK)
Jayne Shadbolt (N.Z.)

MISS PHYSIQUE CLASS 2 – SHORT

1. Billie Kaine (N.Z.)
2. Melody Leese (USA)
3. Cheryl Stewart (Australia)
4. Sharine Martis (Holland)
5. Nancy Steensens (Belgium)
6. Liz Odendaal (Holland)
7. Denise Richardson (USA)
8. Svetlana Janoniene (Lithuania)

MISS PHYSIQUE CLASS 1 – TALL

1. Siobhan O'Neil (N.Z.)
2. Ingrid Distler (Germany)
3. Julia Abell (UK)
4. Elke Poter (Holland)
5. Olga Tikhonova (Russia)
6. Sharon Austin (UK)
7. Drienkie Van Wyk (South Africa)

NTSC DVD, OPEN REGION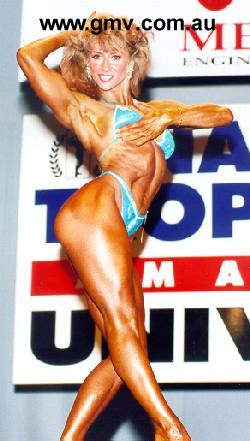 Brigitte Crepieux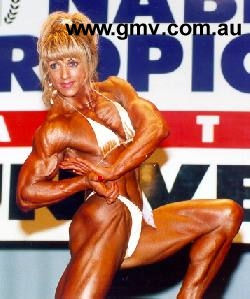 Billie Kaine
Siobahn O'Neill
Customers who viewed this DVD also viewed:





Click here
for GMV Productions complete list of Female Muscle and Fitness DVDs.