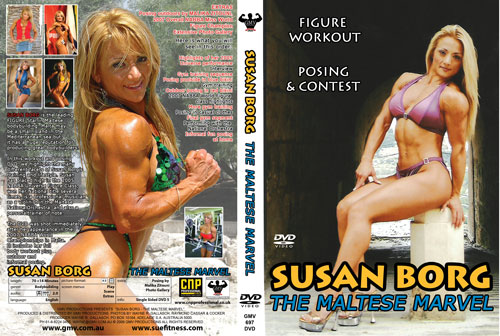 COVER #2 GLAMOUR POSE

The DVD is also available with the above DVD cover.
If you would like this cover instead of the Workout Pose cover at the top, COVER #1, please state in the special comments section of the order form that you would like to have COVER #2 GLAMOUR.

If you do not state a preference you will get the Workout Pose Cover #1.
SUSAN BORG - FIGURE CHAMPION - MAGNIFICENT MALTESE MUSCLE!
SUSAN BORG is the leading FIGURE STAR in Maltese bodybuilding. Malta may be a small island in the Mediterranean sea but it has a huge reputation for producing great bodybuilders.
In this workout and posing DVD, we highlight the many different facets of Susan Borg's training, posing and lifestyle. Susan has placed high in the 2005 NABBA Universe Figure Class, won her National title several times, is a professional musician as a violinist in the Maltese National Orchestra, and also a personal trainer and nutritionist of note.
The DVD was shot at FITNESS PLANET Gym immediately after her appearance in the 2007 NABBA World Championships in Malta. It includes her full body FIGURE workout plus outdoor and informal posing.

"This is one of the best, most informative FIGURE WORKOUT DVD we have ever produced."

Contents of the DVD seen in this order:
Highlights from 2005 Universe Figure Class performance
Interview
Gym training sequence
Posing poolside in blue bikini
Gym training
Outdoor posing in red bikini
2007 NABBA World Figure class highlights
More gym training
Posing in casual clothes
Final gym segment
Performing with the National Orchestra as a violinist
Informal fun posing at home
Extensive Photo gallery
Photos by:
Wayne Gallasch
Raymond Cassar
Cocker
Extra Scenes:
Posing outdoors by MALIKA ZITOUNI, 2007 Overall NABBA Miss World Figure champion. 14 mins
Please click here to see this 2007 Worlds Women's contest DVD featuring Susan and Malika, GMV-668DVD.
Main Movie: 70 mins PLUS Extra Scenes: TRT 84 mins.

Click here to view a preview from this DVD.
Now for a little biographical information on Susan Borg supplied by herself:
See her website at http://www.suefitness.com
Birth date:
29th November, 1970
Current residence:
St. Venera, Malta (Europe)
Occupations:
Personal Diet & Training Adviser and professional musician
Height:
1.54 Metres
Weight:
Off Season - 60kg
Pre-Contest - 53kg
Major Competitions:
2002 Nabba Universe Figure Championship.
2003 Nabba Universe Figure Championship.
2004 Nabba European Figure Championship.
2004 Nabba Universe Figure Championship.
2005 Nabba Universe Figure Championship (4th place).
2006 Nabba World Figure Championship.
2007 Nabba World Figure Championship.
Muscles that I train the most: Legs and Glutes.
Favourite Exercises: Decline bench press, Standing E-Z bar biceps curls.
Hobbies: Cooking, Dancing, Swimming & Travelling.
Favourite Food: Pizza & Chocolate.
Favourite Type of Music: From Classical to Rock.
Words that define my personality: Good hearted, Protective & Perfectionist.
Qualities that I admire: Sincerity, Respect & Love
Future plans: To continue participating in international competitions and learn more about helping people to accomplish their goals in health and fitness.

* Available in NTSC DVD Only (Region Free)
Customers who viewed this DVD also viewed:







Click here for GMV Productions complete list of Female Muscle and Fitness DVDs.